"My force let me down", says ASI Yunus Sheikh on being beaten by a mob
Parth MN
| Updated on: 14 February 2017, 5:48 IST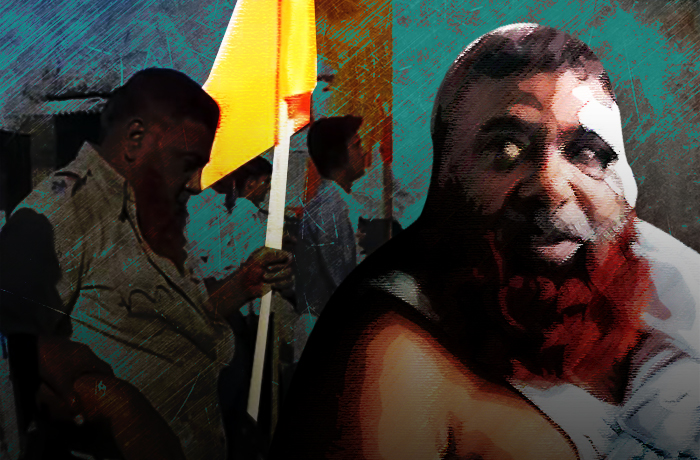 The situation
ASI Yunus Sheikh was beaten by a mob
His force did not back him
This incident is one of many. Lower rank officers are ill-treated
More in the story
Read stories of how sub-inspectors and others are abused
Why is there such unhealthy hierarchy in the police force?
"What's new?" retired ASI Baban Jadhav promptly said when asked about the lethargic manner in which the police force reacted to a brutal assault on Yunus Sheikh in Latur.
Jadhav, who retired nine years back, said the behaviour of the police department is hardly surprising, for the seniors have "never been bothered about the lower rank officers."
The night before Shiv Jayanti on 18 February, Assistant Sub Inspector (ASI) Yunus Sheikh and his colleague K Awaskar had stopped a right-wing group from hoisting a saffron flag near Ambedkar Chowk, since it was a "sensitive area". The next morning, a group of over 100 assembled in front of Sheikh's Pangaon police station and launched an attack.
Also read: Sinister cell: how Delhi police created fake terrorists
The attack began at around 8.30 AM, said Datta Thore, journalist with a local newspaper Lokmat. Awaskar managed to flee but Sheikh got trapped. The mob beat him up mercilessly, forced him to hold a saffron flag, compelled him to chant "Jai Bhawani Jai Shivaji" while parading him through town.
Speaking to The Indian Express, Sheikh said he had flagged the control room immediately but they failed to send reinforcement in time. "My force let me down," he said.
"The seniors are merely concerned about money and their vested interests," said Jadhav. "The constables and lower rank officers are treated like bonded labourers."
In October last year, the Director General of Police (DGP) issued a circular to IPS officers requesting them not to use their orderlies for household work. Senior IPS officers are entitled to lower-rung staffers to help them discharge their duties.
But many officers, according to a missive, make their constabulary work as domestic servants. "Officer's wife or women in the house not only ill-treat them but also force them to work like their domestic aid. If they refused to do house work, they are harassed by the officer," reads the circular.
Yunus Sheikh was beaten by a mob and his force failed to back him up
Former IPS officer Suresh Khopde shared an astonishing incident from 2004 in Nagpur at a dinner party of IPS officers. "All the officers and their families had come decked up for the evening," he recalled. "Two officers and their wives were stopped at the gate. They were the Superintendent of Police, which means Class 1 officers of the state government. The IPS officers refused to eat with them because they had not yet become IPS. When the Superintendents showed the invite, they said it must have been a mistake and shooed them away."
Khopde, author of Why Mumbai Burned and Bhiwandi Did Not, concluded if a Class 1 officer is treated with such contempt, "less said the better about constables".
Also read: Understaffed and abysmal: India's police story in numbers
A police constable, requesting anonymity, for he is still serving the force, said the superiors give a "big brother is watching you" sort of a treatment. "We are treated like worms," he said. "Even if we are ill, the superiors do not file the report requesting for 'with pay' leave. Therefore, the salary is trimmed. I had once gone to the washroom when the supervisor paid a visit. He scolded me and asked why I had not gone to the washroom in my house before coming for duty."
Another renowned and former IPS officer Sudhakar Suradkar recollected a personal experience where a sub-inspector wept after he asked him to take a seat. "He said no DCP had ever offered me a seat until now," Suradkar explained. "Little things matter a lot. Even a gentle 'hi' or an enquiry about the family goes a long way. Sadly, the human touch is missing."
The anonymous constable said it has been around two years but his constable friend has not yet received the entitled reimbursement of 90,000 rupees. This is what was spent for his treatment of tuberculosis. "His salary is 13,000 rupees," he said. "He borrowed money from his friends, his wife mortgaged her jewellery. Moreover, not a single senior visited him in the hospital."
The friend refused to comment, saying he still hoped he would get his money some day.
Suradkar, one of the rare officers who had initiated an inquiry into the president of the District Police Association and jailed him based on the complaint of constables, said that the subordinates have lost faith in their seniors. "The senior-junior relationship has steadily deteriorated over the years," Suradkar said. "It used to be like a father-son relationship. When I was a junior, my seniors were easily accessible to me."
"The seniors are merely concerned about money and their vested interests"
He recollected an incident when a constable in rural Maharashtra complained to the SP after a sub-inspector, in a drunken state, eve teased his wife. Instead of taking cognisance of the matter, the SP suspended the constable for showing up at his house unannounced.
Khopde, recipient of the Maharasthra Sahitya Parishad Award, said the senior officers discriminate on the basis of religion and caste as well, and Muslims and Dalits suffer the most. "Muslims are mocked and privately called 'Landya', Dalits are referred as 'Jai Bheem'. It reflects in the recruitment process as well," he said. "The superiors rarely consider the fact that juniors are also human beings with souls."
Suradkar opined the job of seniors is to guide and control the subordinates. Pointing out that there are exceptions, he said "the seniors, instead, shrug off responsibility and subordinates are left to fend for themselves."
Also read: Sassy and witty, Mumbai Police Twitter account is pure genius
In the infamous hit-and-run case of Salman Khan, his bodyguard and constable Ravindra Patil, two days before his death had reportedly said, "I stood by my statement till the end, but my department did not stand by me."
Patil, who had dutifully informed the police about the accident, had a non-bailable warrant issued against him for missing five hearings; while the accused Salman enjoyed 83 exemptions in 10 years. After being arrested, he was jailed along with hardened criminals.
Jadhav, the retired ASI, said the language used by the seniors for their subordinates is uncouth. "I remember my colleague had asked for leave because his mother passed away. The inspector snapped back and asked if she is going to come back by granting leave."
Khopde said the leaves of constables or lower rank officers is never looked at with a sensitive eye. "In case of a complaint, seldom do the bosses listen to the constable's side of the story," he said.
In 1982, a constable had been pilloried for behaving arrogantly with his sub-inspector. Suradkar, overseeing the matter, said the constable had asked for leave because his two-year-old son had been severely ill. The sub-inspector asked for a bribe.
After the constable's failure to pay the bribe, the sub-inspector rejected his leave. "The son died after three days," Suradkar said. "And the furious constable gave him a mouthful after receiving the news of his son's death."
The degeneration of the police force is a reflection of what's happening in society itself
Summing up the whole credibility crisis the police force is suffering from, former Deputy Commissioner of Police, Maharashtra, Shirish Inamdar, said the police department is merely a "reflection of society". "Every profession is a cross-section of society," he said.
"Social hierarchy and feudalism is in our blood. As long as our society discriminates on the basis of caste or religion, how do you expect the police department to rise above it? After all, the police officers are recruited from within society."
Edited by Anna Verghese
More in Catch:
How the Mumbai police 'cracked' the #HemaUpadhyayMurder
Mr Kejriwal, here's 7 things you can do to stop rape without the Delhi police