Mr President, please ensure Lingaram doesn't have to kill himself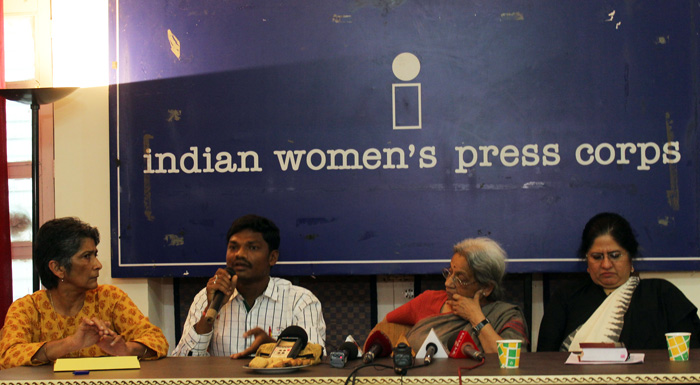 On 12 March Bastar-based activist and independent multi-media journalist Lingaram Kodopi posted a fairly long Facebook status in Hindi.
He talked about ending his life on 23 March: "I am happy and I do not fear death. Today or tomorrow, death will come. I don't know whether peace will prevail in Bastar or not. I accept my death. March 23rd is an auspicious date for my death. It will be good if I attain death on this date. Why should Kalluri decide my death? I will decide it myself. Why should my death come at the hands of a criminal," read a part of his Facebook post.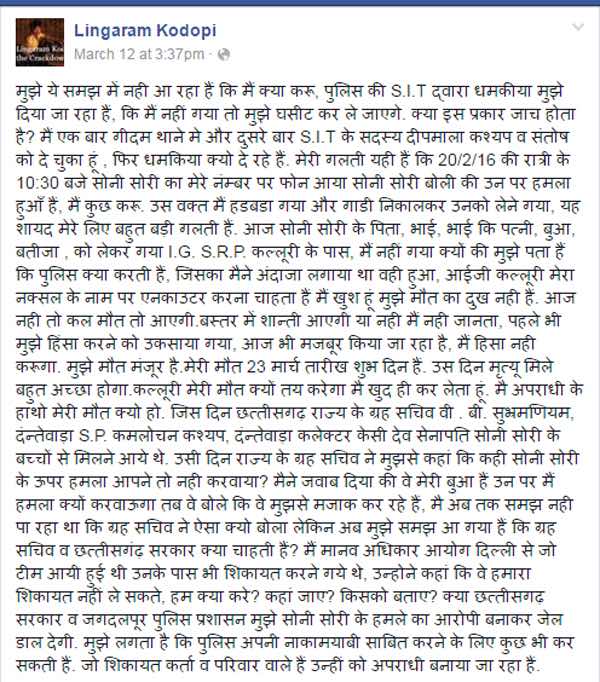 For many of us who have known Linga over the years, this has come as nothing short of a shock and surprise. The Linga that we knew was a brave and fearless young adivasi activist and journalist, always ready to fight against all odds and never willing to give up. Naturally, his announcement to take his own life was a matter of great concern and anxiety for many us.
Hinting at the reason behind such an extreme decision, he further wrote: "The SIT [special investigation team] of police is threatening me by saying that if I don't go (to Police), then they will drag me and take me away. Is this how an investigation should be carried out? . IG Kalluri wants to kill me in an encounter by accusing me of being a Naxalite."
However, this is not the first time when he is being accused of being a Naxalite or a Naxal sympathiser. However, the allegations against him are yet to be proved in any court of law. In fact, in April 2013, a local court in Dantewada acquitted Linga and his aunt, Soni Sori, along with 15 others in a 2010 case.
They were accused of planning and executing an attack in July 2010 on a local Congress leader and contractor, Avdesh Singh Gautam, in which two persons were killed. Similarly, in another case he was accused (along with Soni Sori) of acting as a courier between Essar Steel and Maoists, charges against them are yet to be proved.
Both of them are out on bail, which was granted by the Supreme Court. The Essar officials accused in the same case, of course, got bail from the local court itself.
Now the Chhattisgarh police has accused Linga of being part of an attack on Soni Sori on 20 February this year. Last week (17 March), when I met him at his aunt's (Soni Sori) house in Geedam in Daantewada, he was totally shaken and very low on confidence.
"I am not afraid of my life but I don't want to be killed like a dog," he told this writer. "I want to live a life with dignity. Tell me, if that is a crime," he asked. For Linga, the biggest shock has been that he is being accused of having conducted the attack on Soni Sori.
"How can I attack her and what will I benefit out of it?" he wondered. He was almost on the verge of tears.
Linga has been working as a human rights defender and multi-media journalist, video documenting human rights violence in the region. He was also the points person for journalists and human rights groups from outside Chhattisgarh, especially Bastar.
And Linga believes he is being targeted because of his work both as an activist and an independent journalist. In 2009, he was brutally tortured during illegal detention when he refused to join Salwa Judum.
Hence, yesterday when during a press conference in Delhi he said: "I am in danger of being eliminated; there is threat to my life", he was not exaggerating a bit. Because the situation for human rights defenders and journalists in Bastar these days are really bad.
Only yesterday, local journalist Prabhat Singh went missing. Later the local police said he had been picked up for questioning under some section of the IT Act. However, his friends and colleagues believe that he is being targeted because of fearless reporting from the ground.
It can be noted that in less than one year Prabhat Singh is the fifth reporter being targeted by the police in a way or the other.
Linga left for Bastar yesterday after addressing the press conference as he had to be present before a local court on 22 March regarding a new fabricated case against him. He was still shaken when I met him at the conference.
At the conference, he urged the President of India to urgently intervene in to the matter. "Under Schedule 5 of the Constitution of India, you are the chosen representative to secure the rights of the adivasis of this country. Hence we urge you to urgently grant us a meeting as a first step to restoring peace and democracy in Chhattisgarh," Linga appealed to the President of India in his letter.
One sincerely hopes that the President will intervene in the matter, at least to ensure that this is still a country for adivasis and that they don't need to take their own lives in order to prove their innocence.
Is His Excellency listening?
Edited by Joyjeet Das