Move over 'Bal Narendra', 'Reham Dil Mulayam' is the new comic book hero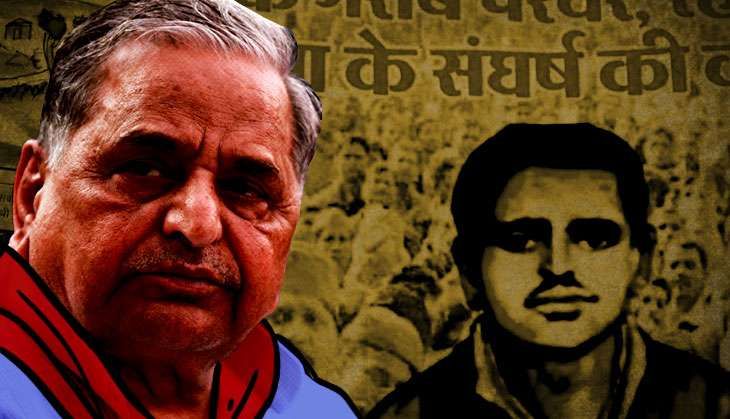 If Narendra Modi can have an illustrated comic book-like publication on his life, why can't Mulayam Singh Yadav?
Taking a cue from the Bal Narendra series of books depicting Modi's "life" in pictures and captions, the Samajwadi Party has come out with an illustrated account of the wrestler-politician from Saifai in Etawah.
The 30-page book, which has hand-drawn illustrations, was released by Shivpal Yadav on 24 November, two days after Mulayam's birthday.
Also Read: From 'Maulana Mulayam' to Hindu 'Hriday Samrat': the SP makeover
The book has a long-winded title -- Ek Ghareeb-Parwar, Reham Dil Ki Kahani (The Story of a Messiah of the Poor, Kind-hearted Leader) -- and talks not only of the SP president's childhood years in his then little known village of Saifai, but also of his role as chief minister of Uttar Pradesh during the Ayodhya movement.
Edited by the SP's women's wing president Sonia Sharma, it has been brought out as a tribute to the veteran politician by a party functionary.
While describing the SP chief's early childhood, the story-teller gives it a touch of legend: a sadhu walking by their old hut had foretold Mulayam's parents, Sughad Singh and Murti Devi, that the boy was destined to make a name for himself and the family.
The cover of the book Ek Ghareeb-Parwar, Reham Dil Ki Kahani.
His political opponents may criticise him for being anti-Dalit and pro-Yadav, but the book projects him in a different light. The caption on page 5 says that as a young lad, Mulayam did not believe in untouchability based on caste and once taught an upper caste boy a lesson for assaulting a Jatav boy.
The point is further emphasised on page 8 where it claims that Mulayam fought caste-based segregation by playing Holi with Dalit youths "in the interest of social harmony".
Elsewhere in the book, he is depicted as a freedom fighter, a Lohiaite, a Dhartiputra (son of the soil).
Also Read: Vishnu's avatar, Mahatma, economist: 10 crazy things Modi has been called
The book's open message is to make Mulayam the country's prime minister, which perhaps explains the thrust on his pro-Dalit image.
Neither Mulayam nor his son and chief minister Akhilesh Yadav was present at the book launch, signifying its insignificance as well as of the event. Since it's just another in a series of hagiographic but sketchy accounts of the SP chief's life, not many members of the party have taken it seriously either.
Asked what he thought of the comic book, a senior SP leader said he had not seen it. Nor did he intend to even flip through it.