Modi's army of fans in the Valley makes BJP uneasy
Catch Team
| Updated on: 14 February 2017, 6:06 IST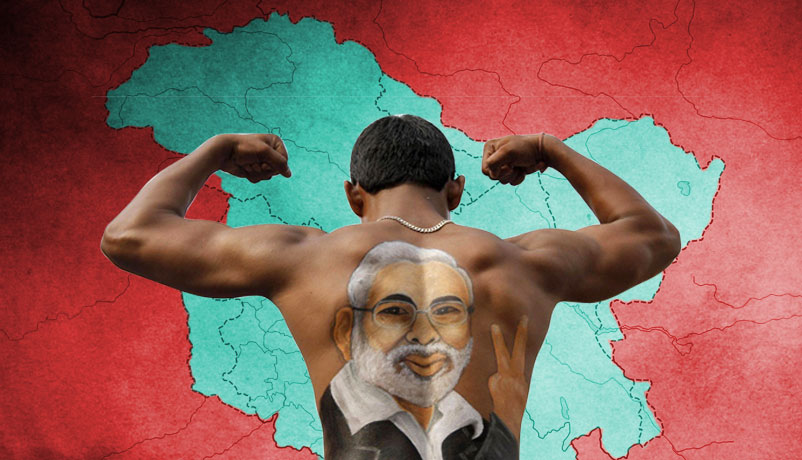 The organisation
Manzoor Khan runs Bharatiya Modi Army in J&K
It claims to have 11,000 members
More in the story
Why is the BJP wary of BMA\'s growing influence
What are the things BMA does
Manzoor Ahmad Khan prefers to dress like Prime Minister Narendra Modi. He is usually turned out in Modi's trademark waist coat. He emulates PM's gait, sports a watch with the picture of a lotus and carries a pen inscribed with Modi's image. What is more, his phone's dialler tune plays the title song of the old Amitabh Bachhan movie Desh Premi.
Khan is no Modi's Bhakt but a "proud fan". And he heads the Bharatiya Modi Army (BMA) in Kashmir, which claims to have 11,000 members in the state - 9,000 in the Valley, 2,000 in the Jammu region and around 100 in Ladakh. His mission is "to propagate Modi's ideology and mission". And to fulfil this objective Khan and his associates travel to the interiors of the Valley and areas along the Line of Control, "informing people about Modiji's development plans and the central government schemes".
Read- Modi 2.0: Tussauds came to town and got a measure of NaMo
"We have been to Harneth. You know where it is? In a forest 25 kilometres (km) from Uri (the border town in North Kashmir). We walked 6 km to get there," Khan says. "We also went to Dood Kol in south Kashmir, just 5 km short of Kishtawar in Jammu province. We went to Kreeri, Baba Rishi and to many other places."
What do they do in these distant places? "We collect villagers. And spread message about Modiji's enlightened leadership and his schemes for the poor such as Beti Bachao, Beti Padhao, Mudra loans, Swachh Bharat Abhiyan etc," Khan says. "This way we empower villagers to demand their rights and bring them closer to Modiji".
The Bharatiya Modi Army in Kashmir claims to have 11,000 members in the state - 9,000 in the Valley, 2,000 in the Jammu region and around 100 in Ladakh
BMA, Khan says, was set up in the Kashmir Valley six months ago. It is the J&K chapter of the BMA, which was established in Panipat around six years ago and claims to have 18 lakh members across India. Incidentally, the BMA office in Srinagar is in Rajbagh opposite the office of Hurriyat Conference, J&K's separatist conglomerate.
Last month, Khan organised a convention at Sher-i-Kashmir International Convention Centre. The hall was packed. Khan claims that around 1,500 people attended the event. BMA president Rajeev Ahuja, its national youth president Vijay Vikram Singh, leaders from Muslim Rashtriya Manch and Khan himself spoke on the occasion. They called on PM Modi to recruit more army men and establish paramilitary battalions in Kashmir to employ alienated local youth.
However, the local BJP is not amused with Khan's growing influence. The party has dissociated from the BMA, saying the group was out to exploit the PM Modi's name. It also formally wrote to the police to check BMA's antecedents and take appropriate action.
"These people should be unmasked and exposed before people. BJP has no affiliation with any group using Modiji's name," BJP General Secretary Ashok Kaul says. "We won't let this group exploit gullible people. We also urge people to be cautious."
Also read- Where are the Achche Din: 5 promises that have come back to haunt PM Modi
But Khan remains unfazed. He accuses the BJP's leadership of getting "unnerved" by BMA's work. "First, I want to make it clear that we are not affiliated to BJP but to Modiji. We are his fans. Second, we are not a party but a sangathan (group)," Khan said. "BJP people here think we are encroaching on their space. They are also not happy about the good work we are doing".
Khan hails from Brar, a remote village in north Kashmir's Bandipora district. He was a medical practitioner before joining politics. In 2008, he unsuccessfully fought the state Assembly polls as a candidate of the All India Forward Bloc. He later joined the Kissan Morcha and then the BMA.
Khan boasts of receiving Bharat Modi Ratan Award from the BJP National Vice-president Parshottam Rupala. And he speaks proudly of meeting Modi at the launch of Kissan channel at the Udyog Bhawan.
BJP is not amused with BMA growing influence. The party has formally wrote to the police to check BMA's antecedents and take appropriate action
"I don't need anybody to certify my political credentials," Khan says. "My job is to spread Modiji's message and I will continue doing this".
However, in Kashmir, the BMA's activities are viewed with deep scepticism, more so, the word 'Army' in the group's name. "Why do they call themselves Army? Is this another counter-insurgent group like Ikhwan in disguise? We need answers from the government," said Ghulam Mohammad Lone, a businessman from downtown Srinagar. "Or is it the RSS spreading its tentacles in the Valley under various guises? We suspect this could be the game plan".
But Khan puts such fears to rest. "No, we do not carry weapons. We are also not associated with police or Army," he said. "However, we are ready to work with security forces in so far as they help our mission to provide succour to the people".
Edited by Cyril Sam
More in Catch:
Govt says no more discounts in e-retail. Can Flipkart, Amazon & Co. survive?
Cong gears up to deal with Uttarakhand-like situation in Himachal
Uttarakhand roller-coaster continues: HC stays floor test till 7 April
Madhuri Gupta: the Indian spy I met in Pakistan