Modi's 'action-reaction' theory comes to defence of Gulberg massacre convicts
Rathin Das
| Updated on: 10 February 2017, 1:49 IST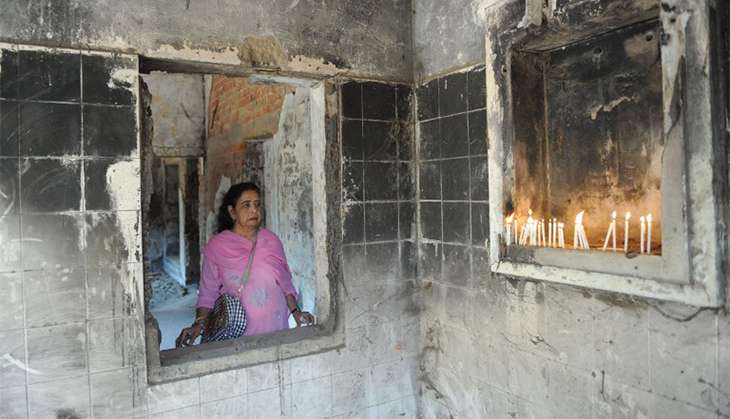 When the Gujarat pogrom took place, some people justified it as a "reaction" to the "action" of the killings at Godhra on 27 February 2002. Fourteen years later, the theory is being offered again to request leniency for the 24 people convicted in the massacre of 69 people at the Gulberg Society in Ahmedabad.
The defence counsel pleaded for a lesser quantum of punishment as he said that the killings were a spontaneous "reaction" to the "action" of firing by former Congress MP Ehsan Jafri.
Also read -Ehsan Jafri called Modi for help, I heard Modi abuse him: Gulberg survivor
Special SIT court of Judge PB Desai, which had last week pronounced 24 of the 66 accused as guilty for the Gulberg Society massacre, heard the arguments for deciding quantum of punishment for the individual convicts on Monday.
Defence counsel Ajay Bhardwaj told the court that the convicts killed 69 people in response to Jafri's act of firing at the crowd that had gathered at the Gulberg Society on 28 February. Of course, Bhardwaj didn't name the person who had originally come up with the action-reaction theory for the Gujarat riots - the then chief minister Narendra Modi.
He was responding to the prosecution lawyer's argument that the 24 convicts be given capital punishment as the murders were committed in a cold blooded manner and without provocation.
Bhardwaj countered this charge by saying that the crowd had not entered Jafri's house until he fired at them.
Jafri's firing had killed one and injured 15 among the crowd which stormed the Gulberg Society and Bhardwaj argued that the attack on the MP's house wasn't without provocation.
The 'action-reaction' metaphor may have lot of political utility for its proponents and also gets a great deal of TRP in the media, but its judicial relevance seems negligible.
The judge did not disclose his mind on the quantum of punishment on Monday. The arguments from both the sides are yet to be concluded. It is only when the Special Court judge pronounces the quantum of punishment that we would know whether the defence's action-reaction theory cut any ice. This is likely to happen some time next week.
Of the 24 convicted by the Special Court last week, 11 have been held guilty on charges of murder while the remaining 13, including local VHP leader Atul Vaidya, have been convicted for lesser crimes in the Gulberg Society massacre.
More in Catch - State itself the culprit in Gulberg massacre: Teesta Setalvad
Gulberg: Not just Zakia, verdict bad news for other riot victims as well