Militants are using civilian crowd-cover to escalate unrest in Kashmir: CRPF
Catch Team
| Updated on: 10 February 2017, 1:49 IST
Security forces on the ground in Kashmir say that they've been attacked with petrol bombs, bullets and hand grenades over the past couple of days.
All this doesn't seem to be work of civilians, a senior CRPF officer added, suggesting that some of the militants could be using crowd cover to attack forces and escalate tensions.
"Bullets have been fired at us, we've been attacked with petrol bombs and grenades. This is not what civilians can pull off. We can definitely sense the presence of some militants among the civilian protesters. This is challenging. The idea behind firing from the shoulders of civilians is obviously to escalate this unrest as much as possible," said the official.
While this may be a cause of concern, there is also some reason to be hopeful about the situation.
According to another officer, the number of clashes between security forces and civilians has reduced in the last 24 hours. But the force is still on a wait-and-watch policy.
After dark
"The thing is that though the number of clashes has come down, as have the number of injured, we still have to see what happens at nightfall. A lot of movement takes place after dusk. We have contained and reduced the initial momentum of violence to an extent. Now the next two days will be crucial. We will consider it an improvement if we see a day or two go off without any incident," said the official.
According to this officer, the brief for dealing with the ongoing crisis in Kashmir hasn't changed. A senior official on the ground said that the official orders were to not retaliate till the troops are fired upon.
A grenade was thrown on a CRPF convoy in downtown Nowhatta in Srinagar on Monday evening, injuring 12 soldiers.
A huge cache of weapons is missing in the valley after mobs set fire to and looted four police stations on Saturday and Sunday.
This cache has forty weapons including AK-47 rifles, INSAS rifles, one light machine gun and several magazines and hundreds of rounds of ammunition.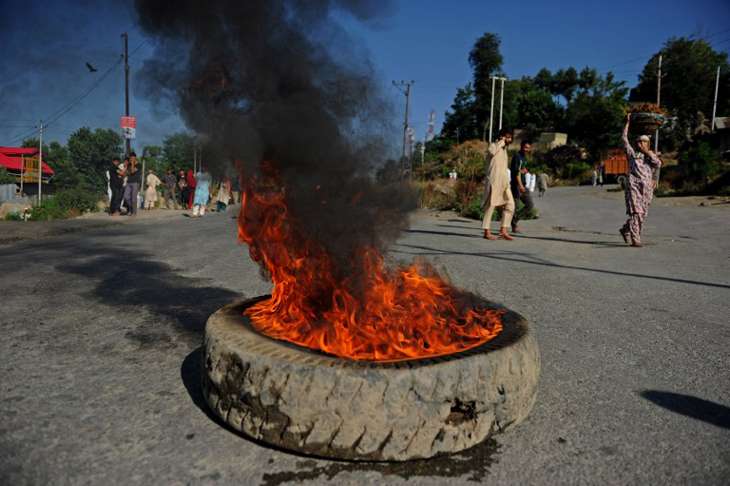 A tyre burns on a national highway during a curfew in Srinagar on 9 July. At least four protesters were killed and 60 injured in Indian-administered Kashmir on 9 July after thousands defied a curfew following the death of a top rebel commander, officials said. Clashes spread across the disputed territory as protesters angry at the killing on 8 July of Hizbul Mujahideen (HM) leader Burhan Wani torched police stations and threw rocks at army camps in the south of the restive region (AFP photo/Tauseef Mustafa)
A total of 31 people are said to have lost their lives in the ongoing unrest in Kashmir so far - 14 in Anantnag, eight in Kulgam, four in Shopian, three in Pulwama, one in Srinagar and recently on in Kupwara district.
CRPF has recently rushed 800 additional forces to the valley. This is in addition to the soldiers already posted there to aid state police.
Also Read: Pampore attack: why is Kashmir becoming deadlier for the CRPF?
Also Read: One hour after Pampore attack, Army, CRPF engage in Twitter battle over credit
Also Read: CRPF raising special tribals-only battalion for Chhattisgarh's Maoist areas
Also Read: Now, women CRPF battalion to fight naxals