Mercedes hit-and-run case: Should parental inaction be punished?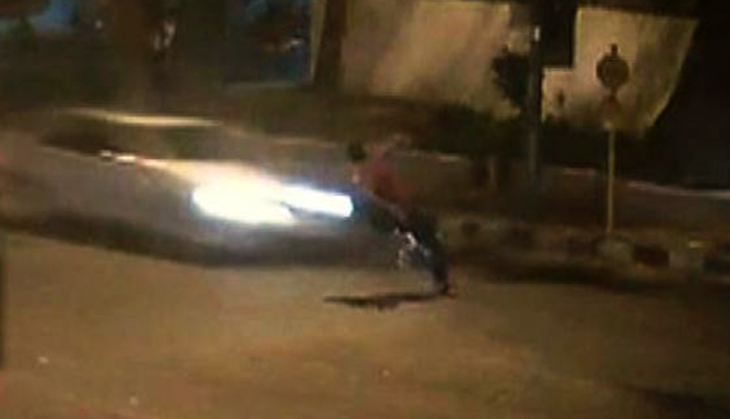 As the old adage goes, "The sins of the father should not be visited upon the son". Should that hold true in law as well – that a father should not be punished for his son's delinquency?
Especiallyif this punishment entails prosecution under stringent provisions of criminal law?
Would that be within the boundaries of the principles of criminal jurisprudence and fundamental rights of a person?
Police high-handedness
On 9 April, while granting bail to the father of the juvenile offender in the recent hit-and-run case in Delhi, the concerned magistrate observed that the police has "miserably failed" to prove its charges – abetment to an offence and culpable homicide – against him.
It is true that judicial observations, especially in a bail hearing (where courts are not supposed to decide upon the legality of charges, but only judge whether the alleged offender might abscond from the long arms of the law) have no bearing upon the outcome of criminal cases.
Nonetheless,they remain significant. 
The Delhi Police has been at the receiving end of public ire for not arresting anyone until after five days after 32-year old Sidharth Sharma was gruesomely mowed down by a juvenile speeding along in a Mercedes.
Sharma'sfamily has been repeatedly demanding that both the juvenile and his father be arrested, prosecuted and given the strictest punishment.
Their reason – the juvenile's father, despite knowing that his son was a repeat traffic offender (only in February he was involved in a serious traffic accident) had allowed him to take his car for a spin. Moreover, he should have known that it is illegal for a minor to drive, since those below 18 aren't eligible for getting a licence for any vehicle other than scooters.
Read- Mercedes hit-and-run CCTV visuals: Sidharth tried running for his life but was hit within seconds
Now, the police has arrested the juvenile's father and charged him with abetment to an offence , and culpable homicide not amounting to murder, under the under the Indian Penal Code. Both are serious offences and carry strict penalties in terms of imprisonment and fine.
The police's action, which might have been taken as a "damage control measure", also raises moral questions. 
It cannot be denied that parents are, to a large extent, responsible for their children's upbringing. But to say that parents alone should be held liable for their wards' delinquent actions isn't correct.
It is true that the father (perhaps) knowingly let his son take the car out on frequent occasions. But should that make him criminally liable?
The causation question
Thepolice have booked the juvenile's father under Sections 109 and 304 of the Indian Penal Code. The former provision defines and deals with "abetment" and criminal negligence as leading to a consequence to /of a criminal offence. The latter deals with culpable homicide.
Andhere lies the catch.
Howcan the police prove in court that the juvenile's father's wilful negligence led to thekilling of Siddharth Sharma?
Accordingto the established tenets of jurisprudence, criminal liability can be affixed only when it can be proved, beyond reasonable doubt.           
Canthe prosecution prove that the juvenile's father actions led to and caused thetragic death of Sharma ? Highly unlikely.
Onecan impose financial liability on a parent – and no one is disputing that – but holding someone criminally liable is a different matter.
Incriminal law, for any act to be branded and proved as an offence, two essential ingredients are required- mens rea and actus reas.
Theformer term (Latin) means intention, while the latter means the allegedly criminal act itself.
The father here did not intentionally send out his juvenile son to take the car illegally and mow down a person. 
'Curfew Laws' and their problems
Inforeign jurisdictions, there are laws and rules which hold parents liable for their children's offence. For instance, in the US, there is the Madison Heights Ordinance of 1963, which puts criminal liability for every offence committed by their offspring(s).
Theselaws named as "Curfew Laws", are being continually challenged in courts, and there has been no definitive ruling till date. The central question in these cases is - can criminal law ever be allowed to defend the bounds of parental care and caution ?
On Sunday, Sharma's kin held a meeting at Connaught Place's Central Park and demanded "the strictest punishment for the culprits". The people gathered there voiced their support.
Itis an indubitable fact that every death is a tragedy for family and friends, but a protest meet, declaring people as "culprits", is nothing short of a kangaroo court.
(The views expressed here are personal and do not necessarily reflect those of the organisation.)
More in Catch:
Shankaracharya Swaroopanand Saraswati is a misogynist. Thankfully, he's irrelevant
For Bharat Mata: why Modi cannot let the talks with Pakistan stall
Need to store 455 billion gigs of data? All it takes is a gram of DNA
SunEdison and SkyPower: How India's solar dream is becoming unviable