Shankaracharya Swaroopanand Saraswati is a misogynist. Thankfully, he's irrelevant
Wisdom, they say, grows with age but in the case of Shankaracharya Swaroopanand Saraswati of Dwarka Peeth, 91, wisdom can safely be replaced with senility.
Remarking on the end of the 400-year-old ban on women's entry into Shani Shingnapur temple, he told the media Monday, "If Shani casts his vision on women, the incidents of rape will only increase in India."
Activists are enraged. Flavia Agnes, prominent feminist and human rights lawyer, argues that Saraswati's remarks amount to contempt of court. "If the court has allowed both men and women to worship the deity, who is he to say anything? The court should take action and charge him with contempt of court."
As for the main argument against letting women inside the temple, Agnes counters, "Menstruation is not dirty. It leads to reproduction. It is a gift of god."
Not just feminists, the twitterati erupted in outrage, with some calling Saraswati a perfect example of "naam bade aur darshan chote", which roughly means a person of "big reputation, but petty mindedness". Others remarked that women who believe in Saraswati need protection from God.
People familiar with his ways say Saraswati is used to shooting off his mouth without a care for even political correctness.
Indeed, he recently expressed his opinion on the drought in Maharashtra, which cannot be described but as senile. According to him, the recurring calamity is punishment for the continuing worship of the "unworthy" Sai Baba of Shirdi – against which he has waged a battle for years.
Saraswati insists that people like Sai Baba – a "Muslim fakir" – and the Kanchi Shankaracharya must not be worshipped because unlike Ram and Krishna, they left their mortal remains on earth and so can't be called gods.
Two years ago, after several PILs and FIRs were registered against his such remarks by devotees of Sai Baba, he was forced to issue an apology.
Political avatar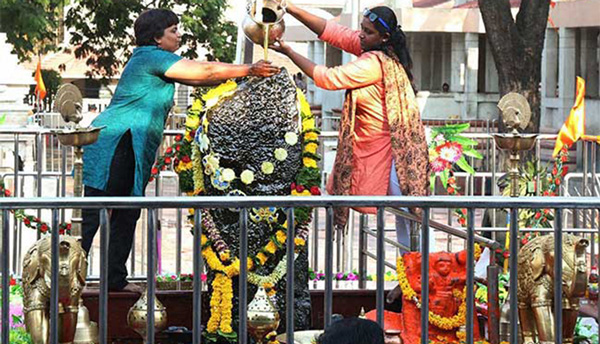 Photo: PTI

Saraswati does not deal in religion alone. He was an influential political operative in the 1990s, patronised by the Congress. Digvijaya Singh, when he was the chief minister of Madhya Pradesh from 1993 to 2003, had appointed Saraswati his "guru". Apparently, the two of them shared a close relationship based on their shared passion for matters of religion and love for politics and power.

Those were Saraswati's "hay days", says Rasheed Kidwai, the journalist and biographer of Sonia Gandhi. Since Saraswati too was opposed to the BJP and the VHP, he was a natural ally of the Congress.

In July 2013, defending himself against accusations of being "anti-Hindu", Digvijaya disclosed that he had received diksha from Saraswati. "Would all those who believe I am anti-Hindu please take note of this? Or do they know a more devout Hindu in the BJP and the RSS? If they do, I would like to meet him," he wrote on his blog.

It was Digvijaya who had persuaded Saraswati, on the asking of the then prime minister PV Narasimha Rao, to lead the Ramalaya Trust, which was meant to steer an ambitious, and ultimately unsuccessful, attempt to build a Ram Mandir in Ayodhya. Saraswati had agreed because he didn't want the VHP to get "credit" for leading the effort to build the temple.

"The Shankaracharya has been conveniently used by the Congress whenever its leaders have felt necessary," says Kidwai. 'And he knows that."

Saraswati, originally from Seoni district in Madhya Pradesh, boasts a steady stream of followers from villages and small towns across his native state and Uttar Pradesh. But he has long lost his political influence. His latest remarks, therefore, are seen as those of a senile old man trying for "relevance". That he's too irrelevant now for his comments to cause a stir may be the best part of this whole episode.