Meet the 23 cops who embody Gujarat's carrot-and-stick policy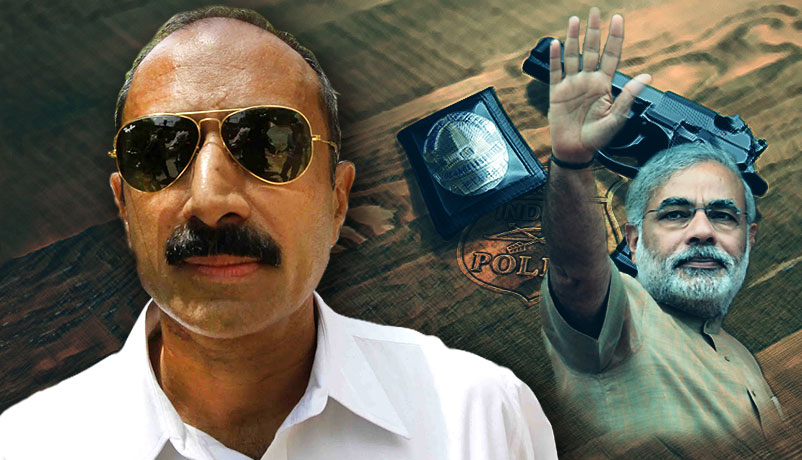 A partisan Gujarat government has hounded several police officers committed to protecting constitutional ideals. The same regime has protected and rewarded those cops who helped it subvert the law-and-order machinery. Take a look:
The cops who were punished:
After a 13-year-long cat-and-mouse game of punishment postings and suspensions he was dismissed from the Indian Police Service on 19 August. On his Facebook page, Bhatt called it a sham.
He earned the ire of Narendra Modi, then Gujarat's chief minister, during the 2002 post-Godhra riots when he was the deputy commissioner of intelligence with the state's Intelligence Bureau in Gandhinagar.
Bhatt alleged that Modi told officials to be "indifferent" towards rioters as Muslims needed to be "taught a lesson".
It's not Bhatt alone. Several top police officers in Gujarat suffered for opposing the official line, refusing to cooperate with an administration that had turned starkly partisan.
The list includes officers who played a leading role in highlighting extra-judicial killings during Modi's tenure - killings officially described as encounters of terrorists and gangsters.
Such officers were transferred, sometimes to remote locations, overlooked for promotion, kept without posting or suspended from service.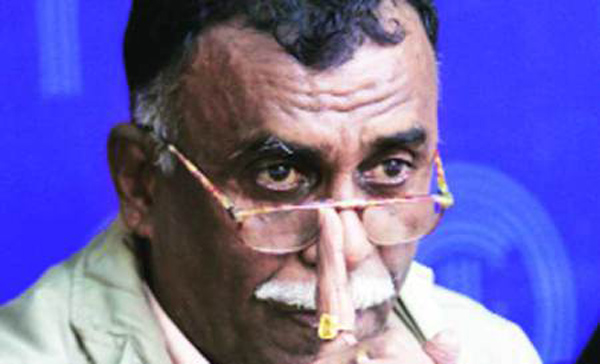 The additional director general (ADG), Intelligence during the riots was transferred along with Sanjiv Bhatt for providing the Minorities Commission a speech of Modi in which he allegedly passed derogatory remarks about Muslims.
Sreekumar filed various affidavits before the Nanavati-Shah Commission between July 2002 and October 2005, providing evidence of complicity by the Modi regime in the riots and its efforts to conceal information.
In early 2005, he was superseded for promotion to DG. He filed a defamation and conspiracy case against Modi and other BJP leaders, accusing them of launching a malicious campaign against him.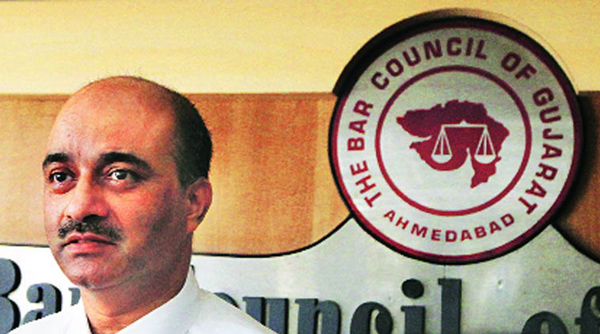 The Bhavnagar superintendent of police (during the riots) is counted among a handful of senior officers who acted with force to control the riots.
Sharma was denied promotion continuously and transferred out of turn allegedly for refusing to go with the 'official' version in charge sheets.
In 2004 he gave a CD to the Nanavati-Shah Commission that had 5 lakh mobile phone call records of politicians, policemen and the riot-accused.
Sharma was chargesheeted for "gross misconduct" in 2011. Eventually, he resigned last February after fighting a case over denial of promotion and is now reportedly practicing in the Gujarat High Court.
The 1992-batch IPS officer tried to expose the nexus between senior officers who followed illegal orders of the political leadership and were subsequently rewarded by the administration.
Rai arrested former DIG Dahyaji Gobarji Vanzara for extra-judicial killings carried out allegedly at the behest of the chief minister.
He had to suffer several transfers, long stretches of being without charge, and innocuous postings including one with the Uranium Corporation of India in Jharkhand's remote Jaduguda district
Rai also moved the Central Administrative Tribunal (CAT) alleging his confidential report was tampered with.
The SP (prohibition) in Ahmedabad re-investigated riot cases in Dahod and Panchmahal districts and reopened some of them successfully.
She was asked to end her probe in September 2004 and forced to go on CBI deputation after she ordered the arrest of a sub-inspector for burning the bodies of 13 victims - all Muslims - of the Ambika Society massacre in Kalol, in an attempt to destroy evidence.
She was also instrumental in pursuing arrests in the Delol massacre case, which the same sub-inspector had closed "for want of evidence".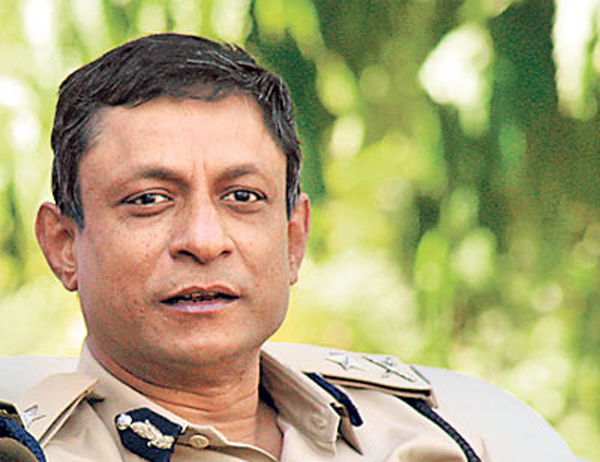 The former DIG, Bhuj, was reportedly transferred after ordering the arrest of Shankar Chowdhary, a BJP MLA from Banaskantha, for being involved in the murder of two Muslim boys during the riots.
Verma also gave an 80-page affidavit to the Gujarat High Court, concluding that Ishrat Jehan's encounter was fake. He, too, had moved the CAT alleging victimization.
As SP, Bharuch, Antani reportedly dealt harshly with Vishwa Hindu Parishad (VHP) and BJP activists to stop them from spreading trouble in 2002. He was immediately transferred to Narmada district, then Godhra and finally deputed as the Regional Passport Officer, Gujarat for many years.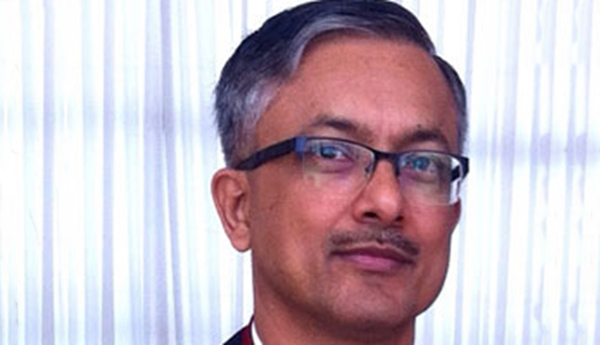 He was the SP for Kutch during the riots and faced swift action after arresting a VHP leader despite instructions to the contrary from the Chief Minister's Office. He was shifted out of the district overnight and eventually sent on deputation to Delhi.
As SP, Banaskantha, he suspended a sub-inspector leading a Hindu mob. Ironically, the sub-inspector was sent back to his post and Bhatt was shunted out as SP, Intelligence to Gandhinagar.
As SP, Mehsana, he reportedly saved more than 1,000 people during the riots, following which he was transferred from Mehsana, sidelined and given punitive postings.
The cops who were protected:
Nearly 40 senior and middle-level officers of Gujarat, Rajasthan and Andhra Pradesh police were arrested and chargesheeted for four encounters in Gujarat between 2003 and 2006, which were later declared fake. Alarmingly, the Gujarat and Rajasthan governments have reinstated many of them who are out on bail.
Topping the ignominious list is DG Vanzara, who was the DIG of Gujarat Police at the time of his arrest in 2007. Vanzara, released in February 2015 from Sabarmati Prison, can't return to the force, where he was known as a super cop, as he retired on 31 May, 2014.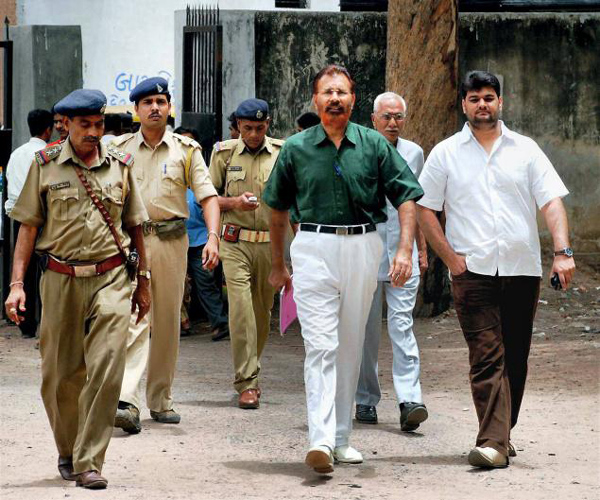 But several others have been reinstated: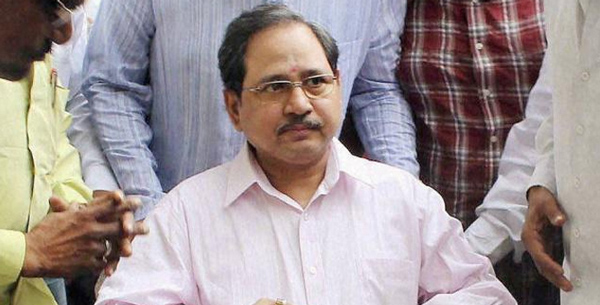 When he headed the Crime Branch of Ahmedabad Police, his officers allegedly killed 19-year-old Ishrat Jehan.
Pandey was jailed following his surrender in August 2013, but got bail from a CBI court earlier this month. He has been reinstated in service and is posted as the ADG law and order in the Gujarat Police.
The DCP (Crime Branch) was arrested in April 2010 for being involved in the killing of Sohrabuddin Sheikh and his wife Kausar Bi in 2005.
The Bombay High Court granted him bail in April 2014, and four months later he was back in service as SP, Vigilance Squad.
The former ACP (Crime Branch) is accused in both the Ishrat case and the Sohrabuddin encounter. He was arrested in February 2013 but released on bail by a special CBI court just three months later.
In May 2014, he was reinstated and is now serving as the group commandant of the State Reserve Police, Gandhinagar.
The SP, Intelligence Bureau was arrested in April 2007 for the Sohrabuddin murder and was in prison for seven years before the Supreme Court released on bail in March 2014, but did not allow him to leave Mumbai.
The Gujarat government made him the liaison officer at the Gujarat Industrial Development Corporation in Mumbai.
Investigations in the Sohrabuddin case also led to the arrest of this former SP with Rajasthan Police in April 2007. The Bombay High Court released him on bail in May 2014 and the Rajasthan government reinstated him soon after.
The Gujarat Cadre IPS was arrested in the same case in 2010 and released on bail in October 2014. He was reinstated by the Gujarat government just a month later.
The Anti-terrorism Squad sub-inspector had spent seven years in jail in connection with the Sohrabuddin case before getting bail from the Supreme Court. He also has been reinstated.
The Gujarat Reserve Police commando was arrested in the Ishrat case in February 2013 and released on bail after just three months. He is now posted in Godhra.
The inspector spent four years in jail in the Tulsiram Prajapati case after being arrested in 2010. The Bombay High Court released him on bail in December 2014, and now he is reportedly the Circle Police Inspector in Rapar Taluka of Bhuj district.
The deputy SP is accused in both Sohrabuddin and Ishrat Jehan cases. According to the CBI chargesheet, Amin led one of the shooting squads formed by Vanzara.
The CBI had found him to be a key accused who plotted and executed the encounters of Ishrat, Pranesh Pillai alias Javed Shaikh, Zeeshan Johar and Amjad Ali Rana.
He spent more than eight years in the Sabarmati Central Jail in the Sohrabuddin case and was shifted to Nadiad sub-jail and later to the Vadodara Central Jail. Amin received bail earlier this year in the Ishrat case and the Gujarat government reinstated him on 5 June at the Crime Record Bureau in Gandhinagar.
The former additional DGP was the head of CID (crime) during the Sohrabuddin and Tulsiram Prajapati cases.
He is facing charges of criminal conspiracy and destruction of evidence. Following his retirement, Mathur was appointed as the director general of Raksha Shakti University despite the pending criminal prosecution against him.
The retired DSP accused in the Sohrabuddin fake encounter case had moved a discharge application before a special CBI court in Mumbai in January 2015.
The former IG's landmark investigation in the Sohrabuddin case initially proved the encounter to be fake and exposed the involvement of the police officers later arrested.
The CBI, however, believes that although it was Johri's investigations that showed that the policemen who killed Sohraubddin and Kauser wanted promotions and rewards, she steered clear of linking them to a political conspiracy.
The CBI believes she destroyed crucial documents. In April 2015, Johri was promoted to DGP rank, days after a special CBI court dropped charges against her.
--
The releases gives rise to misgivings since bail is not routine in our judicial system. Despite the Supreme Court maintaining that jail is an exception and bail the norm, 70% of the inmates in Indian prisons are undertrials.
A chargesheet is a serious document, prepared by the police after due examination of an FIR, statements of witnesses, written opinions of experts, spot panchnama and various reports.
If we argue that chargesheeted politicians should be barred from contesting elections, how can chargesheeted cops be deemed fit to be in charge of our law and order?