Meet poet Haldhar Nag, the school dropout who won the Padma Shri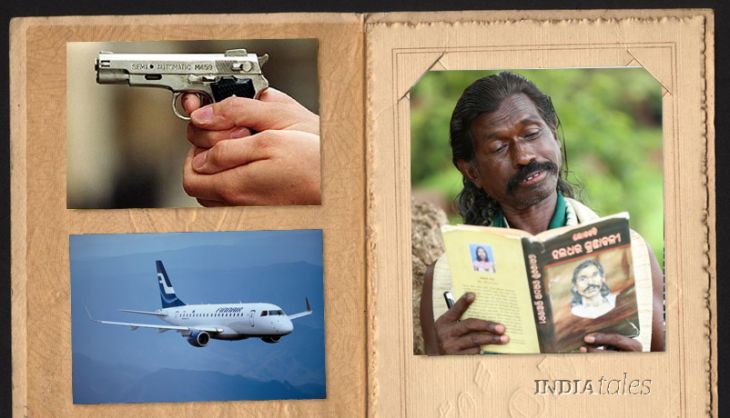 School dropout, cook, poet, Padma Shri: the incredible story of Haldhar Nag
Talent doesn't need academic certification. Nobody epitomises this better than Haldhar Nag, 66, a poet and writer from western Odisha who recently received the Padma Shri from President Pranab Mukherjee.
A class III dropout, Nag has written hundreds of poems and 20 epics in Kosli language. And he remembers all his work by heart.
Also read - Vet devotes life to serving injured animals, develops new prosthetic limb
Nag's work has been cited in at least five PhD theses.
Most of his writings are centered on religion, society, nature and mythology.
He first poem, Dhodo Bargachh (The Old Banyan Tree), was published by a local magazine in 1990.
"I was felicitated and that encouraged me to write more. I started touring nearby villages to recite my poems and got a huge response," Nag says.
Popular as Lok Kabi Ratna in Odisha, Nag was born in a poor family in Bargarh district. He lost his father very early and the abject poverty forced him to drop out in Class III. He had to work as a cook in a high school to support his family.
"I worked as a cook for 16 years. Then, I got a Rs 1,000 loan from a bank and started a small shop selling stationery and eatables to school students," he says.
Nag is always seen wearing a white dhoti and a vest. He has never worn footwear. "I feel free in this attire."
Now, the Sambalpur University has decided to compile his writings and include his poetry in the syllabus.
How two men robbed a Bhopal bank, armed with just fake pistols
Two masked men looted Rs 5.72 lakh from a UCO Bank branch in Bhopal - armed with no more than fake pistols.
According to the eyewitnesses, the robbers entered the bank as soon as it opened and put a pistol to the head of a female employee who was pregnant. Only later when one of the robbers lost his pistol while fleeing did everyone realise that it was fake.
The two men walked away on foot, rising suspicion that they were local residents. Some distance from the bank, they were spotted with the money by half a dozen youngsters playing cricket, who got suspicious and gave them a chase. The robbers, however, managed to escape.
Also read - Housewife not taken to party ends life, cop 'wishing' boss on New Year loses job
The police were called to the bank just minutes after the robbery. They questioned the bank staff but did not bother going after the robbers. The police are now claiming the culprits would be caught within two days. They have been caught on CCTV camera.
This UCO bank branch has an annual turnover of Rs 52 crore. Curiously, there is no security guard at the bank.
'Wealth drain': 4,000 Indian millionaires moved overseas in 2015
India is home to the fourth largest number of millionaires in the Asia-Pacific region - about 2.36 lakh. But many of these super rich seem to prefer staying overseas.
A report released recently by the wealth service company New World Wealth claims that nearly 4,000 Indian millionaires moved overseas in 2015, making it the country with the fourth biggest outflow of millionaires in the world.
A millionaire is described as an individual with net assets of $1 million or more, excluding primary residences.
France tops this list with as many as 10,000 super rich leaving the country last year. China follows with 9,000 and Italy with 6,000.
However, the report states that this "draining of wealth" is not something to be concerned about for countries like India and China as they are "producing far more super rich than they are losing'. Besides, it adds, "once the standard of living in these countries improves, we expect several wealthy people to move back".
This may not be the case for the European nations. The report predicts that the migration of millionaires from countries such as France and Italy would accelerate in the next decade due to rising social tensions between Christians and Muslims.
In all, according to the New World Wealth report, nearly 61,000 millionaires have left India since 2000. Most of them have moved to Australia, the US and Canada.
More in Catch - Buffalo makes Alwar farmer 'rich', the sun is unusually kind to Madhya Pradesh
Key to a scam: how 3 low-level Rajasthan employees skimmed off Rs 1 crore