Mathura violence prime accused's family resurfaces, claims he's not dead
The wife and daughter of Ram Vriksh Yadav - the self-styled chief of the Swadhin Bharat Vidhik Satyagrah and the key perpetrator behind the Jawahar Bagh violence in Mathura last month - have finally surfaced.
Catch has managed to get a video interview with the two - Yadav's wife Kalawati and his daughter Gudiya. You can watch it here:
Though the police claim that Yadav was also killed in the police action, his family believes otherwise.
Kalawati has also sent a 10-page letter to Allahabad High Court's Chief Justice and National Human Rights Commission (NHRC). A copy of this letter has been accessed by Catch.
Also read - What's the Mathura Mayhem all about
The two, fearing for their lives, have been moving from one location to another. All their attempts to locate Raj Narayan, Yadav's eldest son, have failed so far.
A day of madness
On 2 June, Uttar Pradesh Police and paramilitary forces had launched an armed operation to vacate the Jawahar Bagh, a state-owned property occupied by Yadav's followers for the past two years.
Yadav was killed, along with 26 of his followers, in the clash that followed when over 3,000 of his followers led an attack on the police team.
Mathura SP (City) Mukul Dwivedi and Farah Police Station Officer Santosh Yadav also lost their lives on that fateful Thursday. The local administration then went on to arrest at least 300 so-called 'satyagrahis'.
Something fishy?
Some 48 hours after the incident, IG (Law and Order) SR Sharma told the media that Yadav was among the 11 people who were charred to death in the fire that was caused by gas cylinder explosions set off by the encroachers.
However, Yadav's death has not been verified just yet. According to Gudiya, the police refused to hand over the dead body and said that it had already been cremated.
Then on 16 June, a lower court in Mathura demanded forensic evidence from the police to prove this claim. Gudiya says she tried to give her blood samples for a DNA test through her lawyer Tarni Kumar Gautam ever since the court order.
Also read -Mathura violence: Who is Ram Vriksha Yadav and what does his group of 'satyagrahis' want?
On 9 July, Kalawati and Gudiya had visited Ghaziabad to sign the letter to be sent to the Allahabad High Court through their lawyer. They used the occasion to record their brief statements on camera. Kalawati said her younger son Lakhu was preparing for MBBS entrance examination and he had nothing to do with the Jawahar Bagh incident. Gudiya, on the other hand, has demanded security to go to Mathura to give her DNA sample.
Kalawati has said that Yadav had offered to surrender and had appealed the administration to stop firing at his followers. However, she says, no one heard him out and the result was the carnage that followed.
The letter sent to the Chief Justice of Allahabad High Court states: "The economic condition of the supplicants does not allow them to file a petition through their lawyer. This is the reason they are submitting this letter and appeal it to be considered as a Public Interest Litigation (PIL). We pray to the court to order an independent CBI enquiry into the Jawahar Bagh incident."
The letter includes:
1. My husband, as well as 95% of 'Satyagrahis', belong to poor families. Neither my husband nor any of his followers had any links with anti-social/Naxal organisations.
2. My husband had acquired written permission from the district administration for satyagraha in Mathura's Jawahar Bagh.
3. A memorandum was sent to the President of India, Chief Justice of India, RBI Governor, Mathura DM and 29 public servants, including those of the UP government while doing Satyagraha.
4. When the administration cut off the power supply to Jawahar Bagh, my husband bought diesel from his own money and operated the submersible pumps available through his own pump sets to ensure the irrigation of plants in Jawhar Bagh. He and his followers never damaged even a single tree. A solar plant was bought in Badaun and installed in the park to ensure water supply.
5. Ramvriksh Yadav and Swadhin Bharat Vidhik Satyagraha were not made a party to the Vijaypal Singh vs Debashish Panda, DM, SSP Writ Petition No- 28807, 2015. This petition was filed in relation to the Jawahar Bagh. Therefore, the order passed on this petition does not apply to Ramvriksh Yadav and Swadhin Bharat Vidhik Satyagraha.
6. The DM and SSP of Mathura ordered the indiscriminate firing leading to the "death of 500-600 satyagrahis". When my husband saw people dying and getting injured, he made an appeal to stop firing. He told the administration that all the protestors, including Ramvriksh himself, were willing to vacate Jawahar Bagh. Yet, the police continued firing. My husband had asked for it all to be recorded on video.
7. There were goods worth Rs 4 lakh and Rs 12 lakh cash in the canteen. Besides, well-to-do families also possessed valuable items like laptops, gold and silver jewellery. In all, there were 100 laptops. All this has gone missing.
8. My husband was declared absconding and a bounty was announced against his name at one point in time. Then the police claimed he was charred to death along with 11 followers. Yet the police interrogated a man resembling my husband in appearance. The police have maintained ambiguity over the living status of my husband.
9. The police force had sealed the Jawahar Bagh from all sides for three days after the violence. The mortal remains of the dead satyagrahis were disposed of at an unidentified location during this period. The bones were sieved and blood stains removed by levelling the land with JCB machine. It was then washed with water. Even Mathura MP Hema Malini was not allowed to enter Jawahar Bagh during these three days.
10. The chairman of the judicial probe commission is close to the government. Its secretary was a district judge in Mathura. His wife was appointed as an Additional Commissioner in Agra. The chairman of the probe commission has not met with the victims of the violence till date. He will give a biased report to the government.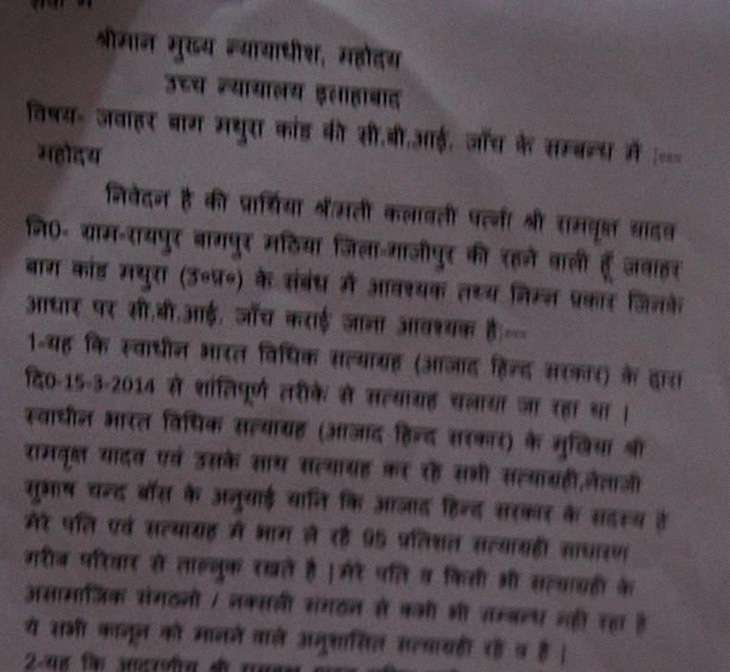 Edited by Aleesha Matharu
More in Catch - The Bose cult behind Mathura violence and how it became so menacing
Mathura violence: how the SP regime is trying to brazen it out