Mamata's Kanyashree scheme bags top award at UN Public Service Forum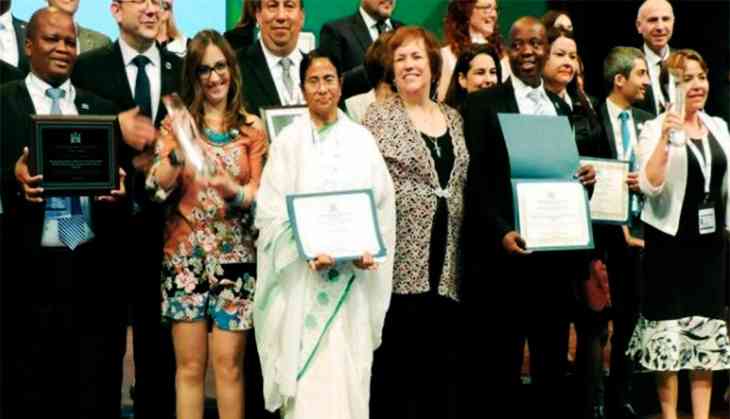 West Bengal Chief Minister Mamata Banerjee stands with others after West Bengal won an award for 'Kanyasree Prakalpa' during an event of United Nations in Netherlands on Friday. (PTI)
West Bengal government's Kanyashree project has bagged its first award at the United Nations Public Service Forum in Hague on Friday. This comes on the heels of the project being recognised by the United Kingdom's Department For International Development (DFID) and the UNICEF.
What is the Kanyashree?
The Kanyashree project was launched on 1 October 2013, by the All India Trinamool Congress (AITC).
The scheme, designed by the Department of Women Development and Social Welfare, Government of West Bengal (DWD&SW) is "a conditional cash transfer scheme with the aim of improving the status and well-being of the girl child in West Bengal by incentivising schooling of all teenage girls and delaying their marriages until the age of 18, the legal age of marriage."
Presently 80,31,000 girls have been enrolled in the scheme. Under this scheme, the state government provides an annual scholarship of Rs 500 to girls between 12-18 years and a one-time grant of Rs 25,000 once the girl attains 18 years of age so that she can pursue higher studies.
The state government has also marked 14 August as Kanyashree Divas to increase awareness regarding the project.
Senior officials of the state government said that out of the 552 projects from 63 different countries, the Kanyashree Prakalpa has received the first prize in the category – 'Tackling Child Marriage and Involving Community Leaders'.
"After the project was initiated, a survey has been carried out in various districts in the state where it was found that there has been a 56% decrease in school dropouts and there has been a decrease of 33% in child marriages in the state. West Bengal CM Mamata Banerjee received the award on behalf of the state government on Friday," a senior official of the state government told Catch over the phone.
"It's a great honour to receive such an award from United Nations Public Service Forum and at Bengal, we convene administrative meetings at various blocks in the districts and involve all the public servants, including the block development officers, for better co-ordination and smooth functioning of several projects," Mamata said while receiving the award.