Mamata hands over land to Singur farmers, sows the first seeds
Chief Minister Mamata Banerjee's dream of giving back agricultural land to the farmers of Singur came a full circle after 10 years on 20 October when the chief minister planted mustard and potato seeds at Gopalnagar village at Singur now that around 931 acres out of 997.11 acres has been made cultivable again.
After handing over the physical possession of 103 acres to around 2,216 farmers, Banerjee also promised that work on the 65 acres of land where there are concrete structure should be expedited. She has told officials that the work be completed by 8 November, ahead of the 12 weeks order of the Supreme Court.
Also read - With land deeds in hand, Singur farmers celebrate Durga Puja with fervour
A mammoth task
The Tata shed is yet to be removed from the site and the plot has 66 buildings with 24 under construction buildings and 32 full constructed buildings and also has a 25 kilometre long concrete road, and as a result it is requiring time to break the entire structure to make the land cultivable.
Although Mamata has involved a huge task force to complete the work, district officials admit it's a mammoth task to again convert the land into agricultural land and to work within the deadline.
Mamata also promised to set up a monument at Singur in tribute to those who died in Singur Andolon and also said that memorial of Tapashi Malick and Rajkumar Bul will be placed at the monument.
"I am happy that I can hand over the physical possession of land to the farmers after my long struggle and Singur will be a model for the entire world," Banerjee added.
A full circle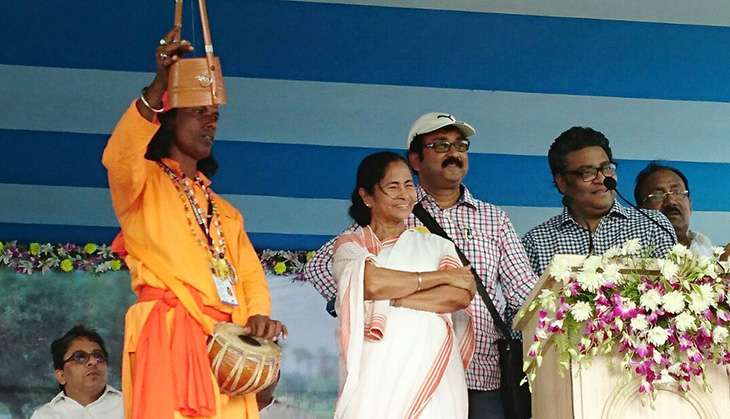 PTI
It was 10 year ago on 26 November 2006 that Banerjee, then an opposition leader, sowed seeds of potato at Singur to launch her protest against forcible land acquisition.
According to the latest figure collected from the state government officials, till now 298 plots have been identified in 931 acres of land and 10,436 parcha has already been distributed to the farmers, and 2,300 verification is yet to be completed.
A long fight
Banerjee also alleged that farmers who were not owners of land were given cheques by the erstwhile Left Front government and its once again got clear after an enquiry was conducted during the demarcation of land of Singur.
"I told during my Singur Andolon, 10 years back that false cheques were issued by the erstwhile government to those people who were not owners of land and it became true as enquiry revealed many false cheques have been issued to those people who were not owners of land," Banerjee maintained.
On 31 August 31, the Supreme Court, while quashing land acquisition in Singur for the Tata group's Nano car project, had asked the state government to return land to farmers within 12 weeks. Accordingly, Mamata had set a deadline to complete the process by 10 November.
Edited by Aleesha Matharu
More in Catch - Singur redux: farmer agitation in Kolkata's Rajarhat may bite Mamata
Dismantling Singur: power cuts as work to return land to farmers is sped up