Mainpuri: why the Dalit couple's brutal killing wasn't about Rs 15 debt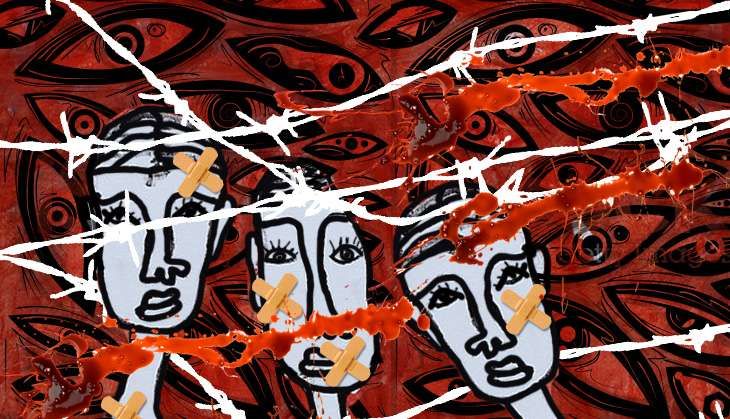 Bharat Nat, 48, was returning home after buying a packet of biscuits for Rs 5. But before he could open the packet, he was deprived of his life along with his wife Mamta, 45. They were hacked to death with an axe, two innocent lives ended in broad daylight.
The couple paid with their lives for a debt of a mere Rs 15. But it wasn't the indebtedness that was their "crime", it was the fact that they were Dalits.

Also Read: UP Police thrashes Dalit couple and allegedly strips them
The tragedy occurred in Lakhanipur village, Mainpuri district. The village is barely 15 km from Saifai, the de facto seat of power in Uttar Pradesh. Saifai is the ancestral residence of the ruling Mulayam Singh Yadav clan. That this brutal double murder took place so close to Saifai, and in broad daylight, is a grim reminder of the dire state of Dalits in UP - indeed, in the country, when seen together with the recent cases of atrocities against Dalits in Gujarat and elsewhere.
Social causes, not economic
The dispute that led to the Dalit couple's killing started a few days ago. Bharat bought tobacco for Rs 15 from an upper caste shopkeeper Ashok Mishra. He was a regular customer of Mishra, so he promised to pay the money later. On Thursday, though, Bharat went to another shop to buy the biscuits as he did not have the money to pay Mishra's debt. This was enough to enrage Mishra. He allegedly abused Bharat while he was walking home with the biscuits.
Also Read: What a U-turn, milord! Guj judge deletes quota remark to avoid impeachment
This led to a heated argument. Soon, Mishra picked up an axe and chopped Bharat's head off. Mishra then attacked Mamta and killed her as well. Both died on the spot.
Pictures of the crime scene are horrifying. They show scattered biscuits and Mamta's broken bangles smeared in blood near the bodies lying on the road. They narrate a story of savagery and age-old caste brutality.
This was not just another crime for money. "The killings did not happen for Rs 15. The couple were murdered because Ashok Mishra could not tolerate Bharat going to another shopkeeper. It was an insult to him. He thought how could this man go to another shopkeeper after borrowing from me," says a local journalist who reported the killings from the village.
In the opinion of another journalist, "The crime would not have taken place had the couple not belonged to a lower caste. Ashok Mishra would not have dared to attack him if Bharat was, say, a Yadav. Ashok vented his anger, not on a couple but on a Dalit couple."
Also Read: 'My son was forced to thrash Dalits to prove Muslims are anti-beef': Father of Una accused