Lockdown 4.0: Indian Railways to start non-AC trains from June 1; read booking details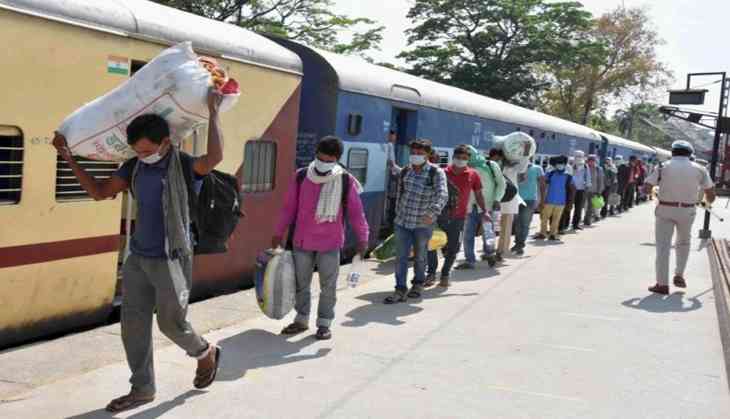 Amid a spike in COVID-19 cases in India, the Indian Railways has decided to run its non-air conditioned trains from June 1. As per the reports, Indian Railways will run 200 new time-tabled non-AC trains.
In a bid to evacuate the stranded migrant people across the country, Railways has already run its 15 passenger trains since May 12, which were air-conditioned trains.
According to the Railways officials, "The fare of these trains will be minimal sleeper rates and can be availed by all categories of people."
राज्य सरकारों से अनुरोध किया गया है कि जो श्रमिक रास्ते में हैं उन्हें राज्य सरकारें मैन लाइन रेलवे स्टेशन के नजदीक पंजीकृत करें एवं इसकी लिस्ट रेलवे को दें जिससे कि श्रमिक स्पेशल ट्रेन द्वारा उन्हें उनके गंतव्य स्थान तक पहुंचाया जा सके।

— Ministry of Railways (@RailMinIndia) May 19, 2020
The other non-AC trains will be plied in addition to the Shramik special and ACs special trains which are currently operational across the nation on the Rajdhani routes connecting 15 major stations to Delhi.
Passengers should keep a note in mind that no train tickets will be sold at any railway station. All categories of passengers need to book their tickets online through IRCTC official website.
Indian Railways will soon resume the online booking facilities for non-AC trains too.
Also, the routes and schedule of these trains will be intimated soon.
Railways is yet to announce which routes these trains will run on.
Previously, all the passengers' trains were cancelled by Indian Railways till June 30 due to the coronavirus outbreak.
After migrant workers were facing troubles, Indian Railways has resumed its services and allowed 200 trains to help the migrants.
Reports also suggested that Indian Railways is going to increase the number of Shramik trains in a bid to provide relief to the migrant workers or stranded people due to the coronavirus pandemic.
Meanwhile, India is observing the fourth phase of lockdown that was started from May 18 and will continue till May 31.
Also Read: Coronavirus Lockdown: Migrants resort to desperate means to reach home