Kollam fire kills over 100. Temple authorities violated official order
A fireworks explosion killed more than 100 people at a temple festival in Paravur in Kerala's Kollam district in the early hours of Sunday. This is the biggest such tragedy ever in the state. It seems to have been the result of total neglect of safety precautions by the authorities concerned.
It has transpired that the Additional District Magistrate (ADM) of Kollam, on Saturday, had issued an order denying permission to the Puttingal Temple authority to conduct the fireworks display. Apparently the reason for his refusal was that the festival organisers were planning to do it not as a mere display of pyrotechnics, but as a competitive event. In competitive fireworks—matshara kambam in local parlance—local groups vie with one another to come out with the best fireworks display.
Read: Early morning temple fire in Kerala kills 102, injures 200
The denial of permission notwithstanding, the temple people went ahead with their planned event and neither the revenue authorities, nor the police, interfered. The pyrotechnics began around 1 AM and went on uninterrupted till around 3.30 AM, when the explosion took place. The police, present in full strength at the festival place, looked the other way as the competitive fireworks was going on.
There are allegations that local Congress leaders had put pressure on the government on behalf of the festival organisers to push the ADM's order under the carpet. But these could not be confirmed.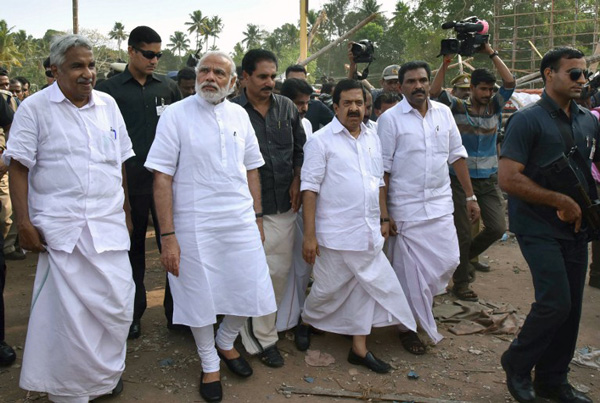 Photo: Press Information Bureau

Treating the accident as a national calamity, Prime Minister Narendra Modi rushed all the way from New Delhi to Kerala to personally assess the situation and initiate Central assistance to the victims. He spent more than 10 minutes at the District Hospital in Kollam talking to the injured. He was accompanied by a 15-member team of specialist doctors from New Delhi. Naval helicopters were put at the services of the state government for transporting injured people to specialist hospitals from the hospitals in Kollam for better medical attention in required cases.

Also read- Permission for fireworks had been denied: background of Kollam fire tragedy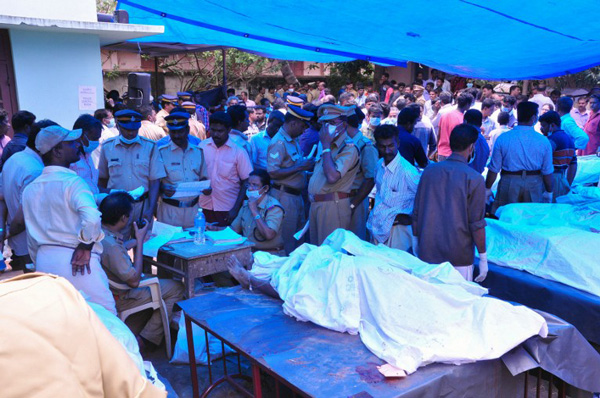 Photo: AFP

BJP president Amit Shah and Union Health Minister JP Nadda are in Kerala, while the Congress vice president Rahul Gandhi is expected to reach the state in the evening. Top UDF leaders, including Chief Minister Oommen Chandy, and those of the LDF too visited the accident site and the hospitals where the injured have been admitted.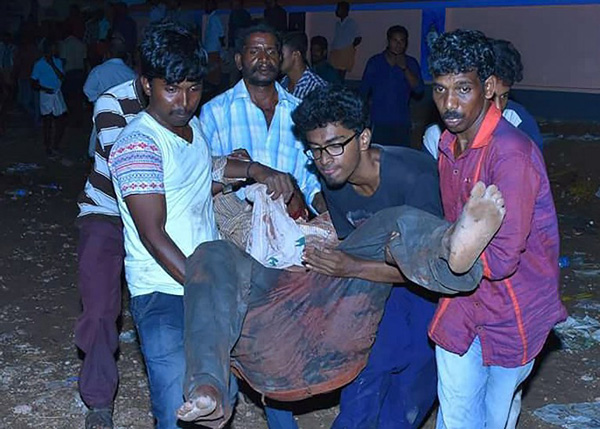 Photo: STR/ AFP

The Centre announced an immediate assistance of Rs 2 lakhs each to the next of kin of those killed in the accident and Rs.50,000 each to those injured. The state Cabinet, which met in Kollam in the afternoon, decided to give an assistance of Rs 10 lakhs each to the next of kin of those killed and Rs 2 lakhs each to those injured.

After an emergency meeting of the Cabinet, CM Chandy announced two separate investigations into the accident—one a judicial probe by a retired High Court judge and the other by the Additional Director General Police, Crime Branch.

Edited by Aditya Menon

More in Catch:

Assam's invisible money trail: how hawala is driving the election campaign

IIMC again: student accuses lecturer of sexual harassment

Farmers threatening to quit the business completely. Is Vidarbha the tip of the iceberg?

The Jungle Book Box-Office: Phenomenal start for Mowgli and gang in India