Kolkata Police, Bengal govt tell public to ignore WhatsApp rumours about masked criminals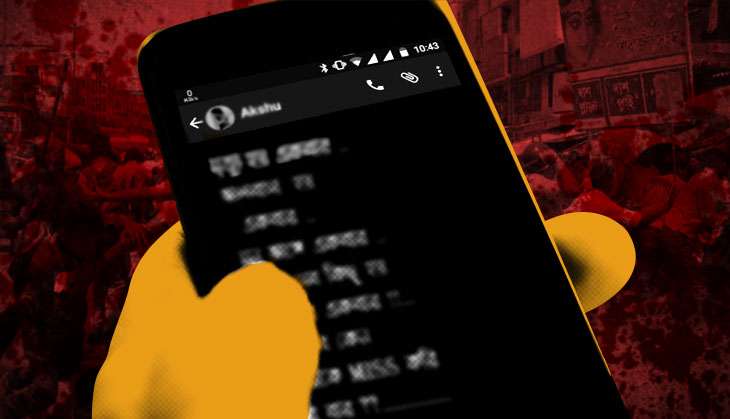 Bengal has recently witnessed a rumour doing the rounds on social media, primarily through WhatsApp, that is warning people to be wary of masked men who might be child-lifters, terrorists and anti-socials.
While the message, written in Bengali, has been asking people to be cautious, people have been taking it as an opportunity to take law in their hands - many incidents have been reported where civilians have physically assaulted anyone they consider an 'outsider' in their locality.
In the light of these incidents the Bengal government has instructed all district magistrates (DM) to create a counter WhatsApp message group urging all people to not pay heed to the rumours.
After the social media message went viral in the state, on Saturday, a 75-year-old NRI women and her daughter were dragged from their car and assaulted by a mob at Asanpur village in Hooghly. They were suspected to be child-lifters.
Whoddunits
Top officials in the state home department said that they were trying to find out the brainchild behind these rumours. Already the police have arrested about 25 people in this connection.
Senior officials of the state government said the state Investigation Bureau (IB) has already given them some crucial information regarding this rumour mongering.
They said that possibly some Opposition party leaders might be behind these rumours as CM Mamata Banerjee has been very vocal about her displeasure regarding demonetisation.
Sources in the Kolkata Police said that a close group which has a nexus in almost all districts is trying to create fear, and they are hopeful of arresting the main accused behind the entire plan.
A senior police officer from Kolkata Police said, "We suspect that a huge racket is operating in the state, and they is trying to defame Bengal. That's why they are trying to spread rumours and instigating the mob to take law into their own hands."
Sources in the state government said that at least six districts - Nadia, Burdwan , Hooghly , Bankura , North 24 Parganas and South 24 Parganas - have been worst hit due to these rumours.
Strict punishment
The state government has also decided that the mob that tries to take law in their own hands and assaults anyone, will not only be arrested , but they will also have to pay a hefty fine of about Rs 20,000.
On Monday, state DGP Surajit Kar Purkayastha, along with Kolkata Police Commissioner Rajeev Kumar, held a press conference where they appealed to all people to stay away from these baseless rumours.
Purkayastha said, "Stern action will be taken against those who are trying to spread rumours. Some people are trying to create disturbances. We appeal to the people to stay away from these baseless rumours and not to pay any heed to it."
Last Friday, one person, Anil Biswas, and his four friends hailing from Ranaghat in Nadia were lynched by a mob on the suspicions of being child-lifters in the Baruipara locality at Kalna, Burdwan town.
Biswas and his four friends were labourers working as assistants at a horticulture farm in Burdwan.
Even cops have not been spared by the mob. A few days ago, the ASP(Rural) of Burdwan and the IC of Haringhata, Nadia were assaulted by a mob in Dhattigram village at Kalna on suspicions of being child-lifters.
According to the locals of Kalna, two weeks ago, some masked men entered the village and they were thought them to be child-lifters or dacoits and that is what resulted in such a rumour being circulated on Whats App.
Saibal Roy, who owns a grocery shop at Kalna said, "We are really tensed after we found some masked men entering the village and that is why local people have decided not to allow any outsider inside."
On 16 January one person was lynched at Kalna on the suspicion of being a thief , and four were seriously injured after a mob assaulted them in the same area.
Edited by Jhinuk Sen