Kashmir unrest: why is SAS Geelani's son Naeem being probed for funding it?
Catch Team
| Updated on: 10 February 2017, 1:47 IST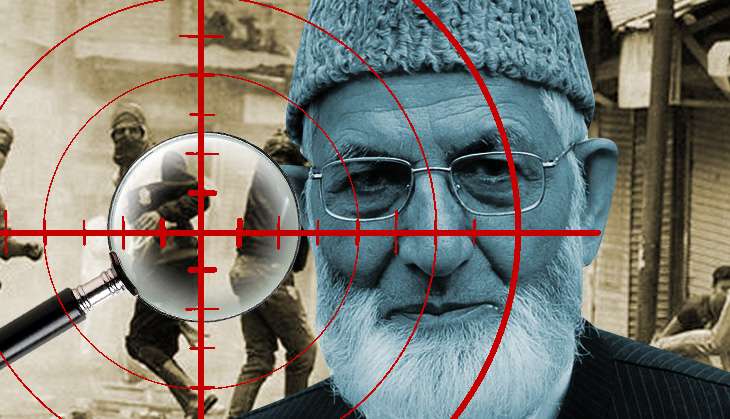 In November 2010, when Kashmir had just emerged from a five-month long unrest which led to the killings of 120 youth, Dr Syed Naeem Geelani, son of Syed Ali Shah Geelani, who had shifted to Pakistan 12 years prior to that, permanently returned to Kashmir.
His smooth return in very contentious political circumstances became a favourite subject of gossip in Kashmir, with a section of people suspecting a 'deal' between Geelani's faction of the Hurriyat Conference and the government, reinforced by the fact that shortly before that, Geelani had been detained at a hut at Chashma Shahi, Srinagar, as part of the efforts to quell the prevailing strife.
Naeem wasn't even called for routine questioning, otherwise deemed necessary for a person who had returned after a long time from Pakistan. And for a while, the reason for Naeem's sudden return was also thought to be a precursor to his succession as leader of the Hurriyat faction led by his father.
Though the past five years have abated all this speculation, with Naeem settling down to a low-key family life, his name is suddenly back in the spotlight. This time, he's the focus of an NIA-led investigation into the money trail behind the ongoing unrest.
The Twitter handle run by his supporters in Geelani's name carried the following tweet on Monday, 29 August.
Geelani Sahab's elder son Dr Naeem has been issued a notice from NIA to report to interrogation centre in Shivpora https://t.co/MBq5r3Q2sQ

— Syed Ali Geelani (@sageelani) August 29, 2016
Geelani's Hurriyat faction has reacted with the expected bitterness, terming the questioning of its leaders a "pre-planned psychological crackdown".
"A much notorious National Investigation Agency (NIA) seems to have been given the task to cook up these fabricated cases to pressurize the (Hurriyat) leadership," a Hurriyat statement said. "Geelani Sahab and his family [are] being terrified and maligned in a well-knit conspiracy of Indian imperialist agencies. Their local faces are providing them ample support and encouragement for these acts."
What the NIA has been up to
The NIA has already questioned senior Hurriyat leaders and Geelani's confidantes, Muhammad Ashraf Sehrai and Peer Saifullah. Sehrai was grilled at Shivpora while Saifullah was interrogated at Humhama. A half a dozen more people are reportedly to be questioned in the coming days.
An NIA team comprising a Superintendent of Police, a Deputy Superintendent of Police and another 'officer-level' cop has been camping in Kashmir for the past week to probe the suspicious banking transactions over the past 50 days and their links to the ongoing protests.
The agency has approached the banks under Section 91 of the Code of Criminal Procedure (CrPc) and 43F of the Unlawful Activities Prevention Act (UAPA) to provide information about bank accounts which have received massive deposits, and subsequently seen quick withdrawals during the unrest period. The NIA, according to sources, has 90 days to prepare the report.
The agency, in its preliminary inquiry, is reported to have identified 17 accounts with cumulative deposits of around Rs 38 crore. However, the account holders are yet to be identified. The NIA seeks to conclusively establish the dubious nature of these accounts, and ascertain their links to the unrest.
Repeated phone calls and a text message to NIA PRO SK Singh for more information went unanswered.
What happened in the past
The NIA probe has so far only targeted Geelani's Hurriyat faction as against the other separatist groups, a move that is seen as influenced by the existing political state of affairs in the Valley, whereby Geelani is regarded as the lynchpin of the ongoing ferment.
The government has, for the first time, arrested moderate Hurriyat chairman Mirwaiz Umar Farooq and moved him to sub jail near Chashma Shahi, on the outskirts of Srinagar.
JKLF supremo Yasin Malik was arrested at the beginning of the ongoing strife and has now been shifted to Srinagar Central Jail.
In the past, all of them have been the subject of probes into Hawala transactions.
In April 2014, a special money laundering court in New Delhi ordered the freezing of Rs 55 lakh cash of fugitive businessman Nasir Safi Mir, who is said to have been the financial brain behind separatist groups in the Valley, and someone with close ties to Mirwaiz.
Similarly, in 2002, J&K Police claimed to have recovered $100,000 from a young Kashmiri woman at a check-post on the Jammu-Srinagar highway. The money allegedly was meant for Yasin Malik.
And in January 2011, two months after another spate of mass unrest was over, the Delhi Police arrested Ghulam Mohammad Bhat, a close associate of Geelani and head of his faction's legal cell, and claimed to have recovered Rs 21.20 lakh from him.
But such seizures and arrests are always seen as suspect in the Valley. What is, however, never denied is that the separatist groups duly receive funds from Pakistan. In fact, a senior leader in the moderate Hurriyat camp has never made a secret of having been the recipient of such funds - albeit there are times when such funds are withheld or drastically reduced when leaders are thought to have strayed too far away from Pakistan's policies.
For example, when Geelani chose to oppose former Pakistan President Pervez Musharraf's four point proposal for a Kashmir settlement, Islamabad not only turned its back on the hawk, but also financially crippled his faction.
Public left head-scratching
This is why the renewed NIA inquiry into separatist funding has evoked some amusement in the Valley. "The government knows all along, as do people in the Valley, that separatist leaders receive funds from Pakistan. So, why this inquiry now?" wondered Amjad Wani, a businessman.
Some people also don't buy the NIA's disclosure that some accounts have witnessed suspicious transactions during the ongoing unrest.
"Banks in the Valley have by and large been shut down over the past 54 days, with separatists calling specifically for their closure in their protest rosters, even encouraging the protesters to take action should they see a branch open. Why would they also use banks for their transactions, knowing full well that it could be immediately detected?" asked Muhammad Farooq Dar, a government employee.
Why Naeem is a target
The only way people can make some sort of sense of the ongoing probe is through its most prominent target - Dr Naeem.
And now, in 2016, Naeem is being questioned. Is it to press some necessary pressure points, with one of its possible objectives being to get his father around to some engagement?
In 2010, his return from Pakistan at the end of the unrest had been the topic of much discussion and gossip, something that the government had allowed "under mysterious circumstances".
Naeem who did his MBBS in Kashmir, completed his Masters in Surgery at the Pakistan Institute of Medical Sciences during his stay in the country. In 1999, the reason for his migration to Pakistan was his alleged harassment by Ikhwanies, the pro-government insurgents.
"He was assaulted by Ikhwanies at Bones and Joints Hospital, where he was posted then," Hurriyat spokesman Ayaz Akber had told the media in 2010. "Fearing for his life, he left for Pakistan."
Edited by Shreyas Sharma
More in Catch
NIA summons Syed Ali Shah Geelani's elder son for questioning
Kashmir unrest: Hurriyat leader Geelani detained during protest march towards Anantnag
Geelani's ignored memoir: Musharraf wanted a deal, I refused