JNU: nothing comes of meet with VC, hunger strike continues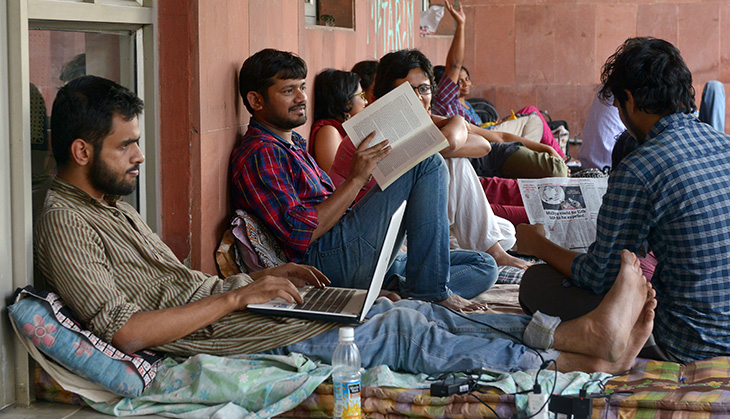 Students and teachers protesting the punishment - rustication and imposition of fines ranging from Rs 10,000 to Rs 20,000 - meted out to 14 students for, among other charges, arousing "communal and caste feelings" and indulging in "sloganeering" had held a rather eventful meeting with the administration, including the vice chancellor Jagadesh Kumar, on Wednesday.
Over a dozen of the protesting students have been on hunger strike for 13 days now.
The meeting, called by the university's chief decision-making body the Academic Council, was meant to discuss a range of issues, including the enquiry committee report which had imposed the punishment on the 14 students, reservation for OBCs in admissions, and the demand for more hostels.
According to the JNU Students Union, when its general secretary Rama Naga and Vice President Shehla Rashid tried to enter the room where the meeting was to be held, they were initially barred by the guards. After a while though, they were allowed to attend the meeting, where the vice chancellor allocated 20 minutes to discuss the protestors' issues.
"The meeting ended abruptly. The VC just walked off without saying if the meeting was adjourned or cancelled. I tried to persuade the VC to continue the meeting and revoke the punishments, but to no avail," said Shehla.
The meeting, however, passed a resolution stating that the punishment given to the students was harsh and unreasonable and should be revoked. "Nothing came of today's meeting. The VC continued to ignore the students on hunger strike; he did not even meet them," said Ashutosh Kumar, former JNUSU president.
The students, therefore, have little choice but continue the hunger strike until the Vice Chancellor revokes the enquiry committee report, Rashid said.
In a related development, the Delhi High Court, hearing a petition filed by Umar Khalid, stayed the payment of the Rs 20,000 fine imposed on him by the university. The court said the university administration cannot coerce a student to pay fine. Khalid had been told to pay the fine by 12 May.
"The administration has been asked to file an affidavit on the fine, but there has been no stay on the fine against other students yet. This, however, opens up the prospect for the scrapping of fine against all 14 students," Khalid said.