International Yoga Day 2020: How Yoga Day is being observed across India [Pics]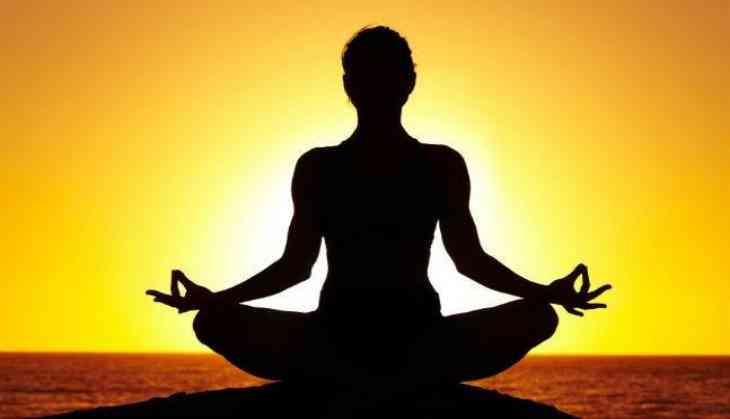 International Yoga Day 2020
The 6th International Yoga Day started of Sunday with people around the world participating in various yoga events to mark the day. International Yoga Day was Prime Minister Narendra Modi's idea who proposed the idea in 2014, as soon as assuming charge as the Prime Minister during his first term.
On one instance, the Indian Prime Minister gave an address to the nation and emphasized the importance of yoga, meditation and pranayama.
"The world is taking the need to practise yoga more seriously in the wake of Covid-19. Yoga has many asanas to boost our immunity. These asanas strengthen our muscles and metabolism. Coronavirus attacks our respiratory system, and pranayama (breathing exercise) is the best exercise to keep ourselves safe," PM Modi said.
In the current year Yoga Day is being celebrated differently in the midst of the coronavirus pandemic as most of the world is in lockdown and large social congregation are strictly prohibited.
President of India Ram Nath Kovind took to Twitter and shared pictures of him performing yoga.
Take a glance at how Yoga Day is being observed in India:
Delhi: President Ram Nath Kovind performs yoga today on #InternationalYogaDay pic.twitter.com/5UoM61pexI

— ANI (@ANI) June 21, 2020
Delhi: Chief Minister Arvind Kejriwal performs yoga at his residence, on #InternationalYogaDay today. pic.twitter.com/rPFfss9bDE

— ANI (@ANI) June 21, 2020
Delhi: Lok Sabha Speaker Om Birla performs yoga at his residence on #InternationalYogaDay today. pic.twitter.com/yr03xcf9m0

— ANI (@ANI) June 21, 2020
Delhi: BJP National President Jagat Prakash Nadda performs yoga at his residence on #InternationalYogaDay today. pic.twitter.com/NrGNAXiNsa

— ANI (@ANI) June 21, 2020
Ladakh: ITBP (Indo-Tibetan Border Police) personnel and Buddhist monks practice yoga at Thiksay monastery in Leh on #InternationalYogaDay today. pic.twitter.com/CkJf71WokJ

— ANI (@ANI) June 21, 2020
Karnataka: People perform yoga at a garden in Kalaburagi on #InternationalYogaDay today. pic.twitter.com/Et65hA51lK

— ANI (@ANI) June 21, 2020
Jammu and Kashmir: Indian Army's Jammu Kashmir Light Infantry (JKLI) Battalion performs yoga in Rangreth of Srinagar on #InternationalYogaDay today. pic.twitter.com/SBmofO7yRZ

— ANI (@ANI) June 21, 2020
Uttarakhand: ITBP (Indo-Tibetan Border Police) personnel perform yoga at an altitude of 10,000 feet in Auli on #InternationalYogaDay today. pic.twitter.com/qLkLjmTs7B

— ANI (@ANI) June 21, 2020
Sikkim: ITBP (Indo-Tibetan Border Police) personnel perform yoga at an altitude of 18,800 feet in North Sikkim on #InternationalYogaDay today. (Source: ITBP) pic.twitter.com/rqhge9GA8f

— ANI (@ANI) June 21, 2020
Delhi: Union Ministers Prahlad Patel, Giriraj Singh and Prakash Javadekar perform yoga on #InternationalYogaDay today. pic.twitter.com/JA5ykFN1zE

— ANI (@ANI) June 21, 2020
Uttarakhand: Chief Minister Trivendra Singh Rawat performs yoga on #InternationalYogaDay today. pic.twitter.com/GOs9zI75Mw

— ANI (@ANI) June 21, 2020
Ladakh: ITBP (Indo-Tibetan Border Police) personnel perform yoga at Khardung La, at an altitude of 18000 feet, on #InternationalYogaDay today. pic.twitter.com/EiJQdWV711

— ANI (@ANI) June 21, 2020
Chhattisgarh: Chief Minister Bhupesh Baghel performs yoga at his residence in Raipur, on #InternationalYogaDay today. pic.twitter.com/bMZ0eL0Ngm

— ANI (@ANI) June 21, 2020
Madhya Pradesh: BJP leader Pragya Singh Thakur and party leaders & workers perform yoga at party office in Bhopal on #InternationalYogaDay today. pic.twitter.com/YXfpaR74gJ

— ANI (@ANI) June 21, 2020
Jammu & Kashmir: CRPF (Central Reserve Police Force) perform yoga in Jammu, on #InternationalYogaDay today. pic.twitter.com/WMGllvN4TH

— ANI (@ANI) June 21, 2020
Arunachal Pradesh: ITBP (Indo-Tibetan Border Police) personnel of Animal Training School (ATS), Lohitpur perform yoga with horses on #InternationalYogaDay today. (Source: ITBP) pic.twitter.com/HBhENuUeA0

— ANI (@ANI) June 21, 2020
Delhi: Union Minister Dharmendra Pradhan performs yoga at his residence, along with his family, on #InternationalYogaDay today. pic.twitter.com/YX95YmSSQp

— ANI (@ANI) June 21, 2020
Delhi: Union Minister Mukhtar Abbas Naqvi performs yoga with people from different communities, on #InternationalYogaDay today. pic.twitter.com/xMHlzEI24f

— ANI (@ANI) June 21, 2020
Uttarakhand: Yoga guru Baba Ramdev performs yoga at Patanjali Yogpeeth in Haridwar on #Internationalyogaday2020 . pic.twitter.com/K8Me1MkKoG

— ANI (@ANI) June 21, 2020
Gujarat: Vadodara's Yoga Niketan observed #InternationalYogaDay by organising a virtual event where participants from 15 countries performed 108 Surya Namaskar to pay gratitude to #COVID19 frontline workers. pic.twitter.com/40O36r9IH9

— ANI (@ANI) June 20, 2020
Also Read: Yoga goes beyond race, colour, gender and faith: PM Modi
Also Read: International Yoga Day: Using Yoga to treat respiratory, lung, mental complications caused due to Covid