Industrious Didi: At Singur Utsav, Mamata tells 'Tata Babus' where to build
Chief Minister Mamata Banerjee who, 10 years ago, spearheaded the movement for the ouster of Tata Motors from Singur, on 14 September invited the Tata's to invest in Bengal once again and offered the company 1,000 acres of land at Goaltore in West Midnapore district.
Addressing the crowd at the Singur victory day programme, Banerjee declared "Tata Babus, your insistence on having your factory at Singur has cost you this project. Now I give you one month's time. You set up automobile manufacturing factory at Goaltore where state government has 1,000 acres of land."
Mamata also made it clear that she will not allow for any industries at any other site other than on state-owned land.
Speaking of how the state government has a land bank and a land use map, the chief minister also said that the government has land in places like Panagarh in Burdwan (300 acres), Goaltore (1,000 acres) and also at Kharagpur. She even urged BMW to set up factories on that land.
Banerjee added: "On Thursday (15 September), the state government is going to sign an MOU with Tata Group for skill development and for the Industrial Training Institute (ITI) for young professionals. Already, the Tata Group has on various projects with the state government in the field of panchayat and rural development."
As Tata's factory shed and other equipments are still lying at the site in Singur, Banerjee said, "The equipments and materials can be kept at a nearby vacant place owned by West Bengal Industrial Development Corporation on the 12 acres land there."
Farm focus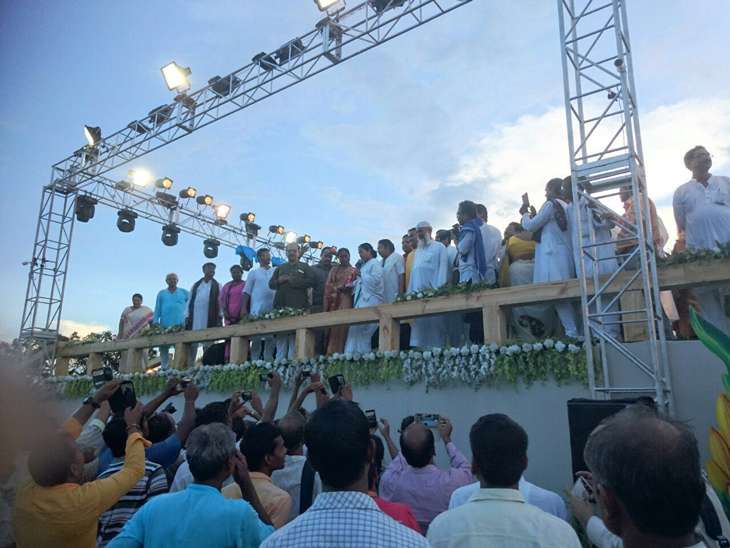 Sulagna Sengupta/Catch News
Mamata's focus for the farmers to get back to farming was also evident at the celebration. She announced a slew of sops for the farmers to make the land cultivable. These include a grant of Rs 10,000, the setting up of a centre under West Bengal Agro Marketing Corporation where loans upto Rs 24 lakhs would be given to farmers, setting up of check dams for better irrigation and also training farmers to make the land more cultivable.
This is a significant offer as at present, farmers in Singur are divided - a few want industries to set up in the area whereas others want to simply go back to cultivating their land.
Lambasting the CPI(M) Mamata said, "There were four tubewells which were uprooted by the CPI(M) government in Singur. We will build check dams in their place so that better irrigation can be available to farmers."
She once again reiterated that the "state government will do everything that is needed to make the land cultivable."
Victory cheer
Sulagna Sengupta/Catch News
Manoranjan Mullick, the father of Tapasi Mullick who died in Singur Andolon, heaved a sigh of relief today and said, "My daughter can now rest in peace as the victory of Singur was only possible because of the continuous agitation spearheaded by Banerjee."
Sahiba Bibi, 48, who owns 10 cottah land at Beraberi in Singur said, "We are happy that we got our land back. Now we will utilise our land whichever way we please."
Jayanta Naskar, a resident of Gopalnagar in Singur who received Rs 4.73 lakhs compensation for about five acres of land said, "We are not actually against industry, but we are actually against the way the land was snatched away. We had ripened paddy on the field, but the ersthwile Left Front government did not allow us to collect paddy and it was left to rot."
Meanwhile amidst the loud cheer, Mamata told the crowd: "I gave you a promise that I will return the land and the promise has been kept."
From now on, on 14 September, Singur victory day will be observed and a Singur Memorial will be constructed at a suitable site.
The current state of affairs:
The unwilling farmers will continue to receive the money of Rs 2,000 per month till land becomes cultivable.
The farmers of Singur will continue to receive rice worth Rs 2 a kilo under Khadya Sathi scheme of West Bengal.
Around 806 cheques, 9,117 parcha has been handed over to the farmers.
If there are any malpractice in claims for the compensation, an FIR will be lodged against wrong doer.
Edited by Aleesha Matharu
Also read - Dismantling Singur: power cuts as work to return land to farmers is sped up
More in Catch - As Mamata meets car companies in Germany, is Bengal equipped to take on new industries?
Singur verdict just the beginning. A Pandora's box awaits Mamata