Indian Lovers Party: meet the politician who asks for votes & deals in love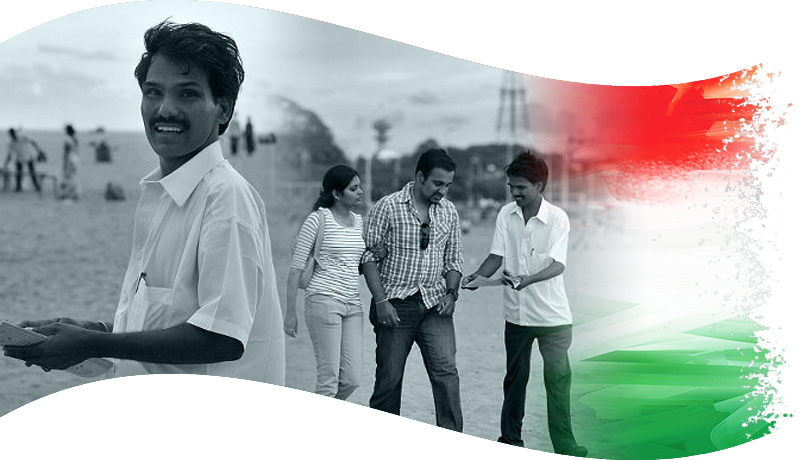 The dream
Sri Sri Kumar B is a quixotic man. He believes he can fight for love. And win votes
He formed the Indian Lovers Party - ILP -- in 2008 to help thwarted lovers unite
The party has helped 70 couples already
It claims to have 2 lakh supporters across the world; 10,000 in Chennai
The trigger
Kumar and his wife faced stiff parental opposition in their early days
The way lovers are treated by the police and society moved him to act
The politics
ILP vows to fight caste, dowry and moral policing
Kumar has fought two elections already. He won only 5,000 votes. That doesn\'t reduce his ambition. Or its worth.
He dreams of making ILP a national party. The logo he wants is a pink cassata with the Taj Mahal, pierced by a Cupid\'s bow
Given the state of Indian politics, this might just be the logo the country needs
Sri Sri Kumar B is an unusual politician. He asks for votes but deals in love. He believes he has a strong constituency in India. He is the founder of the Indian Lovers Party (ILP). His target voter is the thwarted lover.
Given India's culture and politics, he should be winning hands down; he should be the single largest political party. There are enough sundered lovers in India to ensure that.
Kumar hasn't quite got there yet. He founded the party on Valentine's Day in 2008 and has fought two elections from Chennai as an Independent since then.
Read: all our hopeful, funny, poignant, celebratory Independence Day stories in one place
In the 2011 state elections, the ILP polled 3,000 votes. It lost by a margin of 56 percent to the All India Anna Dravida Munnetra Kazhagam (AIADMK), which now rules the state.
Last year, the ILP contested in the general elections. It polled 5,000 votes.
But Kumar is not deterred. He believes he can forge a national party. The logo he dreams of is a pink cassata heart with the Taj Mahal at its centre and a Cupid's arrow piercing through it.
The politics of dreaming
It could be easy to mock Kumar; except, it's worthwhile remembering the world is always reimagined by the quixotic. "There are political parties to represent numerous needs of people. But who works to meet the needs of vulnerable lovers?" he asks.
Kumar believes that the freedom to love -- or 'laouu' -- as he makes it sound in his accented English, will rid the world of all its problems. That sounds ridiculously simple.
But it's a ridiculousness probably worth holding on to.
Since it began, ILP has helped 70 couples get married by providing funds and moral support. Typically, the battles are against caste, dowry and dissenting parents.
"India has 125 crore people with a youth population of 54 crore. Most of India's youth have been in love at least once in their lifetime and at least two third of them have been through humiliation. They know the relevance of this party. This is how large my potential vote bank is," says Kumar.
"There is no place where nobody has loved. Even our great leaders like Jayalalithaa, MGR, Akhilesh Yadav or Sonia Gandhi have been in love," he says proudly.
He's prone to a certain degree of ingenious euphoria. But in the face of the usual bombast and false claims politicians make, Kumar's self-delusions are delightful.
"The Taj Mahal might be gone in 5,000 years. But the values of my party should remain to always protect lovers everywhere," he says.
Kumar boasts of over 2 lakh fans across the world and around 10,000 party members in Chennai.
The counting seems a bit suspect given his Facebook page has 51 likes and his twitter account 172 followers.
Kumar, however, is convinced his party has started an international revolution. "I get calls from UK, Bangladesh, Sri Lanka, Singapore and Germany that they want to emulate my party and take up the issues of lovers in their respective countries," says a proud Kumar.
Media coverage by BBC News and The Wall Street Journal has indeed made him somewhat famous.
What seems more plausible though is that 46-year-old Kumar gets around 20 phone calls a day from distressed lovers or their friends, sometimes even from Hyderabad and Coimbatore.
How does he deal with them?
"There are many issues to evaluate before I intervene. I need to know the details of a couple - is it one-sided love? It there a dowry issue? Is it caste? Are they deep? Is it lust?" says Kumar.
"He's somebody who understands and sympathises with your concerns," says Thyagaraj, a driver and member of Kumar's ILP.
A vote bank of love
Kumar's ideas about love is not always as avant garde as his commitment to it.
His first advice to couples is to get married as that provides a "legal" platform, which makes it easier to deal with parents, police and society.
Kumar boasts of over 2 lakh fans across the world and around 10,000 party members in Chennai
This is good pragmatic advice. But what if couples want a live in relationship and not get married at all?
Kumar thinks for a moment then declares that then it is not true love. "The problem with young people nowadays is they don't want to stick through the tough times. They don't want their partner having rights over them. You can't say you love somebody if you won't be there for life. Loving and leaving is not love. An average human being lives 75 years. How many people will you love in one lifetime?"
What about gay love. Does his party support that? "No, no, such acts are banned in our society. It is illegal, no?" he says, somewhat unsure.
His party's Facebook page, however, sounds more positive - Views on Homos: That is also a kind of love only.
Clearly, he has someone more self-confidently liberal on his team.
His doubts about love out of marriage, notwithstanding, once convinced a couple is serious, Kumar is ready to commit great involvement. He has fought pitched battles for lovers oppressed by caste, dowry and religious divides.
Seenu and Mary's story is a case in point.
The two had fallen in love while working at a textile export unit. Mary's parents were tailors; Seenu's were daily wagers.
One was a Christian, the other Hindu. Naturally, the family resistance was huge.
Seenu's friend, who was a party worker, took him to the ILP office to meet Kumar. "He was really angry. He wanted to file a police complaint against Mary's parents for harassing her and forcing her to marry someone else. I cautioned against it," says Kumar.
Kumar spoke to Mary on the phone and made sure she wanted the marriage as much as Seenu; then he met both parents. Seenu's parents relented. Mary's were worried she would shed her Christianity.
They refused to enter a temple or allow the marriage to be conducted there. "I told her parents, what's in a religion or caste, look at their love. They can choose the gods they want to worship later, for now, lets make their marriage happen in any which way," recalls Kumar.
Finally, Seenu and Mary got married in a low-key Hindu ceremony on Valentine's Day in 2012. Mary's mother attended the wedding. Her father refused.
Kumar used money from the Lovers Party Trust to provide the customary Thali (mangal sutra), spending Rs 5,000 to get it made with 2 grams of gold.
The couple was ecstatically grateful.
This story echoes through the stories of other ILP members. So what does Kumar do to break down the opposition?
He has fought pitched battles for lovers oppressed by caste, dowry and religious divides
"I tell parents, when there is such pure understanding and love between two people, what's the need for dowry?" Kumar replies. His demeanour, it seems, is often enough to bring down hostilities. His conviction helps many parents overcome theirs. Now even parents have begun to turn up for Kumar's help when the marriages of their children go awry.
"I counsel such couples. Many times they just need good advice and the encouragement to stick through the rough times," says Kumar.
The back story
Kumar's tryst with couples and their problems started with his own love story.He was born in Ravulapenta, a village in Telangana's Nalgonda district, to farmer parents.
A part role in a low-budget Telugu film left him starry-eyed and, at 17, he landed up in Chennai hoping to make it big in films.
His acting career never really took off, but he found love in the city. Almost next door.
As he eked out a living as a junior make-up artist, he met Manga Devi, who lived in the house opposite his on a narrow alley in south Chennai's Kodambakkam neighbourhood. The Telugu-speaking family made Kumar feel at home and he started visiting them frequently, gradually developing feelings for Devi.
"I fell in love with her in 1991. But the proposal was accepted only in 1994," Kumar says matter-of-factly, as if love is a wait-listed train ticket. Meanwhile, as the girl's parents realised Kumar had fallen in love - and was from a different caste than theirs - they withdrew his access to their home.
His parents, on the other hand, wanted a hefty dowry. Kumar, however, pursued Devi for three years; the couple would meet surreptitiously, spending hot summer evenings at the sandy Marina Beach.
It is during these assignations that Kumar realised how difficult life was for young couples. The police would pull the boys away by their shirt collars, note down their addresses and phone numbers and threaten to contact their parents. They would let go of the lovers after humiliating them publicly and emptying their wallets.
The catholic embrace
"Why should it be this way?" asks Kumar, who discontinued studies after clearing his secondary board exams.
"Love has been around since the beginning of time. Why should we pretend it's wrong? Why is there nobody to protect lovers from such humiliation, from marrying against their wish or from committing suicide?"
Kumar and Devi eventually married in 2000 - they had to elope - but the idea of doing something for the city's lovers remained with him.
That's how the Indian Lovers Party was formed. With Kumar distributing sweets to couples on Marina Beach.In addition to helping troubled lovers, the party vows to eradicate poverty, hunger, famine, starvation, stop atrocities against women, fight terrorism -- and much more.How do these issues tie to love?
"If there is love, one can achieve anything," Kumar responds.
The hazards of love-defence
Normally, Kumar's concern would have led him to create an NGO. He has an interesting argument for why he chose the political route instead.
"A party means love can become a political issue. If this is a political issue, the police and the government will have to listen. One can sit in Parliament and create solutions. NGOs don't have such power," he says.
Love has been around since the beginning of time. Why should we pretend it's wrong?
Not all of Kumar's supporters are young lovers. Shankar, a 31-year old taxi driver, discovered the ILP after his marriage - an arranged one - in 2009. The party's promises struck such a chord with him, he signed on as a member.
Ask him why did he not have a love marriage and his response is straight out of a Tamil movie: "So what? I treat my wife like a lover!"
Not all of the picture is so taffeta and rose though.
In a society where caste runs deep, fundamentalist parties such as the Hindu Makkal Katchi, Ram Sene or Shiv Sena consider Kumar an anathema.
He has received enough death threats to seek police protection. "Now I've started keeping a low profile. I want to first build my party on solid ground before I talk about my principles openly. My biggest concern is funds," says Kumar, who has been part-timing as a make-up artist and a real-estate broker.
So what has he achieved?
"The police are now more sensitive to lovers on Marina Beach due to our party's efforts," says Kumar.
The gold-brick road
In the movie 'Annie Hall', an excitable Woody Allen holds a blushing Diane Keaton and fumbles to express himself: "Love is too weak a word for what I feel - I lurve you, you know, I loave you, I loff you, two Fs, yes I have to invent, of course I do..."
With his cassata-coloured party flag fluttering outside his Kodambakkam office in Chennai, against all odds, Kumar strikes his blows for love. Against barbaric histories.
"My party is the beginning of the end of caste," he says confidently.
This Independence Day -- even if only as a dream -- that's a goal worth pursuing.
India is based on some soaring ideals: liberty, equality, freedom, justice and plurality. On the 68th anniversary of independence, this series focuses on the little battles for freedom that keep those values alive.