India Tales: lakhs of rupees accidentally found in table at Vyapam board office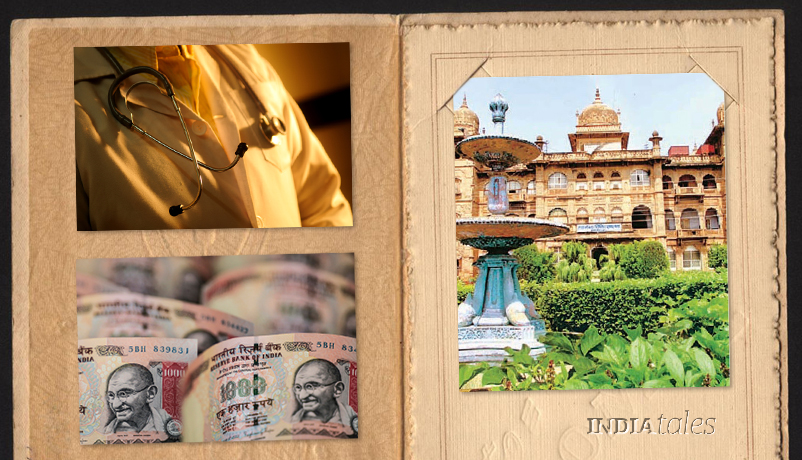 01
Treasure haul: lakhs of rupees found in table from Vyapam Board office
The sinister Vyapam scam has countless mysterious deaths to its name, ensuring we read about it each day as the CBI investigation continues. This time though, it was a table from the Madhya Pradesh Professional Examination Board (Vyapam) office that was in the news - for spewing lakhs of rupees.
On 24 August, Rs 11.96 lakh was recovered from the drawers of an old table that belonged to former Assistant Programmer CK Mishra - who's now in jail on charges of corruption.
Police sources said the cash was recovered when Ramavtar Vishvakarma, daily wage carpenter, was asked by an official to replace the handle of his table. Vishvakarma was removing the handle when the money tumbled out.
According to media reports, the money was wrapped in a Hindi daily newspaper from April 2013 - two months before Mishra was arrested. The currency was in the denominations of Rs 1,000, Rs 500, and Rs 100 notes with the seals from banks in Lucknow and Rewa.
The contents of the drawer also included a cheque of Rs 75,000 in the name of Nitin Mohindra. Mohindra was the chief system analyst with the board till his arrest in the scam. Mishra and Mohindra are both at Bhopal Central Jail.
Documents related to the registration of a car owned by Mohindra's brother and some chits with few names and mobile numbers were also seized from the same treasure trove.
As the Special Task Force failed to recover this trove despite extensive investigation, the cash is being considered crucial evidence. "We have confiscated the cash. The source of the money will ascertained only after the interrogation of CK Mishra. We have informed STF and CBI regarding the matter," says Anshuman Singh, SP (south).
02
Doctor death: Alwar doc fined Rs 7.6 lakh for negligence
A doctor from Alwar, Rajasthan, has been fined Rs 7.6 lakh by the city consumer forum for negligence leading to death from an incident eight years ago.
The patient, Shobha, had been admitted to a maternity hospital in Alwar on 28 November 2007. Dr Kalpana Mathur, who operated on her the following day, left a tissue paper in Shobha's body.
This led to an infection that eventually killed Shobha a few months later. Doctors in Jaipur confirmed that Shobha had died as both her livers failed due to the infection.
Not much after her death, Shobha's husband Gajraj Saini went to a consumer forum - Rajasthan Medicare Relief Society and New India Insurance Company - and filed a complaint against Dr Mathur.
The forum found merit in Gajraj's plea and ordered a compensation of Rs 7.96 lakh with 9% annual interest.
03
Gwalior: busy hospital plays lavish host to accused MLA
The Jaya Arogya Hospital of Gwalior is a place where a majority of the patients find it hard to get a bed.
However, this didn't stop the hospital from generously hosting Tikamgarh MLA KK Shrivastava - a minister who's accused of abducting a CEO of a company.
The arrested MLA was admitted to the ICU ward of the hospital on Sunday after he complained of pain in the stomach.
Neither Shrivastava's nor his visitor's movements have been restricted, as is mandated by law. "Nobody is allowed to meet a patient who is in police custody. Only his lawyer is permitted to meet him. He cannot even have any attendant in the hospital," says Dinesh Kaushal, Additional SP.
Contrary to these claims, a Rajasthan Patrika sting on Monday confirmed that BJP district president Abhay Chaudhary was among those who met Shrivastava. Chaudhary himself confirmed to Patrika that he went to see the accused MLA in the hospital.
Rules clearly state that an arrested person can only be referred to the concerned district hospital. Based on that, Shrivastava should have been admitted to Sagar Medical College.
But as it happens very often, political clout obviously allowed him to circumvent the law.