India's economy flagging? PM Modi has a genius solution with tallest tricolour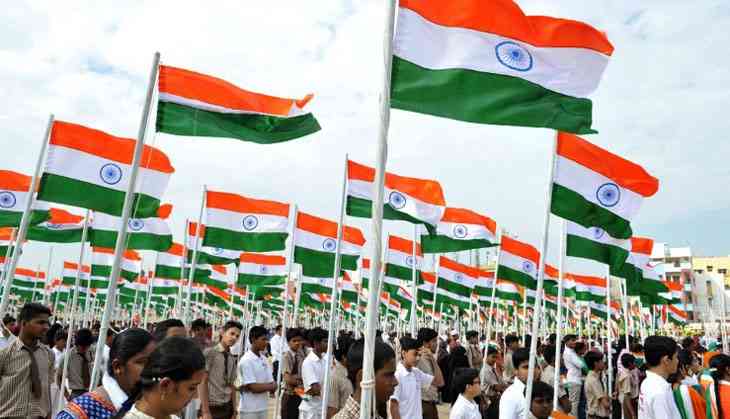 (Photo: AFP PHOTO/ NOAH SEELAM)
Evaluating India's economy based on the recent GDP growth forecast from the Central Statistics Office is like driving a car with a broken fuel gauge. Sure, the indicator says everything is perfectly fine, but that isn't necessarily the truth. With various reports showing slowdowns in many sectors of the economy as a result of demonetisation, the CSO's GDP forecast seems optimistic to say the very least.

However, even if the economy is in a slump, the Modi government has a secret plan. A plan that will not only compensate for the slump in other sectors, but also be a huge win for Modi's Make in India project. In fact, not only is this masterstroke already in action, but the plan took a giant step forward today when India hoisted its tallest tricolour in Attari.
Flagging fortunes
While lesser mortals may look at more conventional measures to help the economy, Narendra Modi is a certified genius (though no one is allowed to scrutinise said certificate). He swept to power on a wave of nationalism, and, by Ram, he's out to ensure the same wave carries the Indian economy to safer shores. His plan is simple – boost the economy by achieving record sales of the Indian flag. The latest tricolour in Attari, commissioned by a BJP councillor, is merely a grand advert to drive sales.
Modi's logic is flawless. Sure the Attari tricolour cost over Rs 3 crore, money that could have been spent on schools and hospitals, but is there anything more valuable than good advertising? No. The fact that Modi is PM today despite allegedly overseeing a pogrom scarcely 15 years ago, is living proof of just what good advertising can do, and Attari is a perfect example of good advertising.

Not only is the flag massive, it's record-breakingly massive. Thus, not only will it be a great advertisement for Indian flags in Attari, it will grab headlines across India and around the world, sending tricolour sales skyrocketing. This will be great for both Modi's Make in India plan and, consequently, the Indian economy.
Fighting Pakistan
What's more, the flag can be seen all the way from Lahore! This means that Pakistanis are going to see it and want one. How could they not, after all, have you seen that abomination they call a flag? After years of terrorist-loving Kashmiris hoisting Pakistan's flag, we'll finally get our own back. See, this is the genius of Modi – he can kill two birds with one stone. And get a clean chit, but that's a matter for another time.

Even better, Pakistan has actually complained about the flag, worried that it could be used to spy on Lahore! While this may not be true, it is yet another masterstroke, if it is.
Only the latest step
But this isn't the first time the Modi government has tried to boost flag sales. A little over a year ago, Smriti Z Irani, India's most qualified HRD minister, resolved to have the tricolour flying in 39 central universities, including the ever-so-anti-national JNU. That was only meant to be the start, though. The larger plan was to have the tricolour flying everywhere. Yes, this would instill nationalism, but think of the economic boost from flag sales, it would be astronomical! Economics is all about trade-offs, Modinomics is win-win.
Unfortunately, anti-national types like Gurmehar Kaur would refuse to fly the flag. But that's where the ABVP and assorted right-wing fringe elements come in. By dubbing everyone anti-national, and then proceeding to lynch these anti-nationals, the Modi government provides further incentive for people to own flags. After all, what better proof of nationalism is there? Flag sales will soar among those hoping to avoid Delhi University style mob violence, further boosting the flag sector.

Soon, demands for flags will be so high Reliance will have to open up factories dedicated to manufacturing flags. Ram knows they won't mind as long as they can use Narendra bhai as they're brand ambassador. After all, with him as the face, the sky is, quite literally, the limit.