Independence Day 2019, Wishes, Quotes: Send these greetings to your friends, family members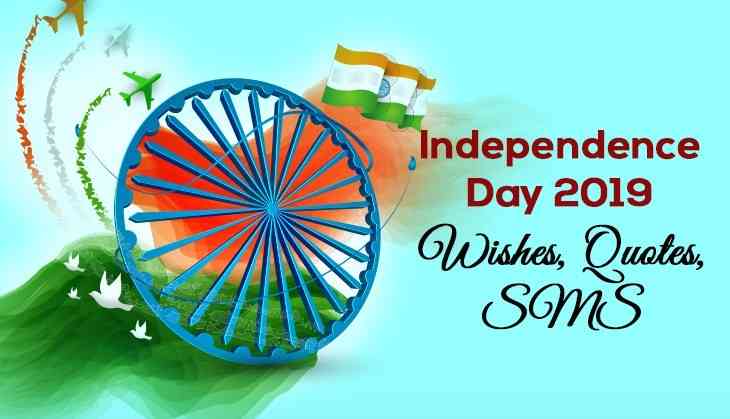 It's been now 72 years of India's freedom from British rule but the sacrifices of our freedom fighter still in the heart and mind of every Indian. Since 15th August 1947, India has seen major changes in the various field like technology, agriculture, academics military and Science.
Every year, 15th August is celebrated as the national holiday across the country. Because after 200 years of British Raj, the struggle of our freedom fighter got the success and finally India got its complete freedom. This year, we will celebrate the 73rd Independence Day.
On this day, the Prime Minister of India hoists the Indian flag on the ramparts of the historical site of Red Fort in Delhi.
Indeed, the day is so important and it needs to be celebrated with full joy and happiness with our friends, family. Also, one should wish their near and dear ones with some heartfelt wishes, quotes, greetings.
We have collected some greetings and wishes that you can send this Independence Day 2019.
So copy and paste wishes, quotes from here:
1. May the future bring more glory to our great nation. Wishing all a very happy Independence Day
2. This wonderful day is a reminder of the sacrifices our freedom fighters made for the country. Happy Independence Day!
3. May this Independence Day bring harmony between all the communities. Happy Independence Day!
4. Salute to our Martyrs who laid their lives for us..
Happy Independence Day to you and your family.
5. Let us come together to felicitate our glorious nation and proud to be an Indian!
Wish you a Happy independence Day
6. Celebrate the free spirit of India.
May this Independence Day Fills your life happiness and prosperity.
Happy Independence Day.
7. Let's Take Decision
To Value Our Nation
Won't Forget Those Sacrifices,
Who Gave Us Freedom
Happy independence day
8. August 15 is the most memorable day. It is the day we got freedom from colonial rule. Happy Independence Day!
9. Our freedom fighters gave us a great lesson. Never to lose hope no matter how tough the situation is. Happy Independence Day!
Also Read: Independence Day 2019: These rare pictures of India's struggle for freedom will take you back to 1947 horror!