'I will become a Hindu, but don't hurt my family': Muslim pradhan in Dadri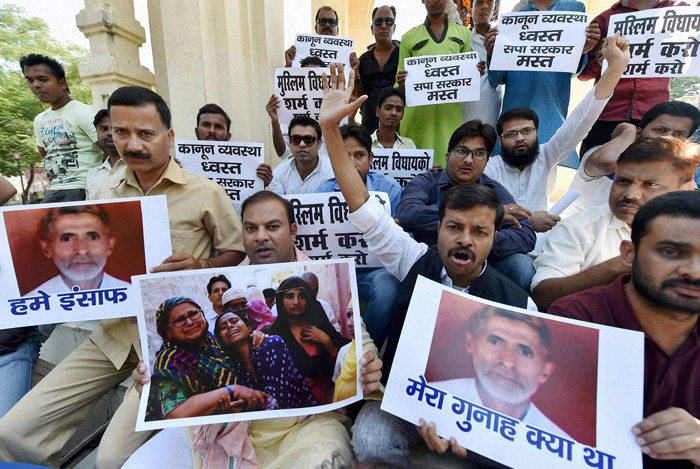 The fear
After the lynching of Akhlaq, Muslims living in adjoining villages fear for their lives
One Muslim pradhan was even willing to become a Hindu to keep his family safe
Photographs of the scene of Akhlaq\'s murder have further fueled fears
The mobilisation
There has been a concerted effort to mobilise Hindus in Dadri on the issue of cow slaughter
New outfits have sprouted across the region, mainly headed by BJP workers and supporters
More in the story
How BJP functionaries are using cow slaughter to gain political prominence
Why Muslims fear a repeat of the 2013 Muzaffarnagar riots
To understand the social dynamics that led to Mohammad Akhlaq's murder for "eating beef", visit the villages around Bishara.
Here, hatred whipped up by newly-empowered Hindutva extremists has riven apart two communities that had long lived together in relative harmony. Now, fear and distrust reign.
The Muslim pradhan of a village near Bishara is so scared he is ready to trade even his religion for the safety of his family.
Also read - #DadriLynching: India needs you to speak up, Mr PM
"I'll become a Hindu tomorrow. I will accept Ghar Wapsi. But please don't hurt my wife and children. Whatever it is these people want, I am ready to surrender," he says, breaking into tears.
Indeed, the communal tension in the rural belt of Dadri isn't much different from the pre-riots Muzaffarnagar.
And it's largely because of people like Sangeet Som, BJP MLA from Sardhana, who is accused of instigating the Muzaffarnagar riots.
Importance of being Sangeet Som
He is the founding member of one of the many groups spreading "awareness" about cow slaughter and other "excesses" being committed by the Muslims.
These groups have become quite active in the past few months and have been holding panchayats to "solve" these issues. They are also visiting schools and colleges to enlist the youth to their "cause".
The thread that binds these groups is the BJP. Their members brag about holding senior positions in the party's local units, or admit to having actively worked for it in the past.
Muslims living near Akhlaq's village fear a repeat of the 2013 Muzaffarnagar riots
In Ooncha Amirpur, a group of these "activists" has gathered in a house for a meeting. They are looking at pictures of the bloodied body of Akhlaq on a mobile phone.
The pictures, apparently taken by his killers, have been widely circulated in these parts through WhatsApp, along with pictures of an animal carcass that is being passed off as the remains of the slaughtered cow.
The day after Akhlaq's murder, Ooncha Amirpur's Thakurs had taken to the streets to protest the alleged cow slaughter. They had clashed with the police, who retaliated with firing and inured a villager.
'Everybody wants to be a Narendra Modi'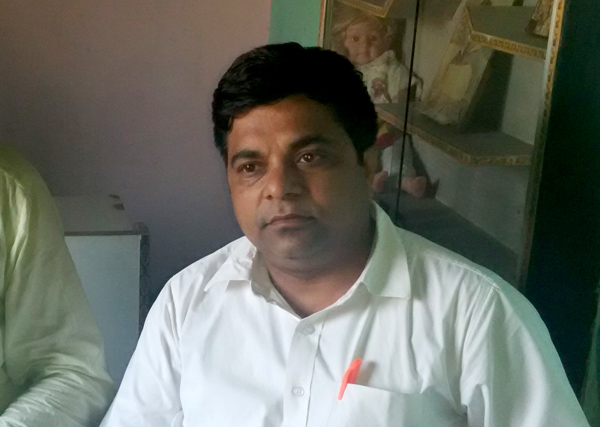 Lalit Rana is presiding over the meeting. He is president of the Rashtrawadi Pratap Sena, the outfit that campaigned for Sher Singh Rana, the alleged killer of Phoolan Devi, when he contested the Jewar assembly seat in 2012 from Tihar Jail.
"What we basically want are strong laws against cow slaughter and laws against reservation. We basically want development of this area," says Rana.
Asked about his political background, Rana recounts the time he spent campaigning for Rajnath Singh in 2009. Later, he "felt the need" to launch a movement of his own, and along with his colleagues formed the Sena. To lead it, they chose Sangeet Som.
The urge to find a foothold of his own prompted Govind Chaudhary to found the Samadhan Sena (SS).
"I thought I would become big in the BJP. I was coordinating BJP rallies and leading the campaign for Satyapal Singh in Baghpat for the Lok Sabha elections. Then I thought I should have an organisation of my own. And there's no problem in doing that. Yogi Adityanathji also has a sanstha of his own. But I'm always on the BJP's call," he says at his house in village Virpura.
According to a media report, Chaudhary was recently asked to leave Baghpat district after provisions of the Uttar Pradesh Goondas Act were invoked against him. Chaudhary was also arrested for attacking the Jarcha village pradhan's son, a Muslim.
The third such outfit in the area to have opened up in the last few months is the Chaudhary Charan Singh Sena. But this outfit hasn't been as active as the other two.
It is hard to establish whether these radicalisation campaigns are being orchestrated by one party or organisation. Or whether several small time party workers are looking at a short-cut to political success.
As one village pradhan puts it, "the problem is that everybody wants to become a Narendra Modi".
Muzaffarnagar redux?
The efforts of these outfits are already paying off. The two communities, especially the youth, are getting polarised.
At a Muslim wedding in village Jarcha, youths were outraged at Akhlaq's murder. This resentment is likely to intensify if something happens to Akhlaq's son, who is fighting for his life in hospital.
"Maamla keda ho jayega sir (Things will become quite tough)," said one of the young men.
We want strong laws against cow slaughter and reservation: Lalit Rana of Rashtrawadi Pratap Sena
Recounting the tensions that took place on the morning after Akhlaq's murder, the youth said "We saw several trucks full of people rushing towards Ooncha Amirpur. They shouted obscenities at us and said they were about to take us out one by one. Thankfully, the UP police PAC [Provincial Armed Constabulary] arrived in time."
The main fear of the Muslim community is a repeat of the 2013 Muzaffarnagar riots.
"My family has been attacked. My son, daughter and several other members of my family have been attacked. Now cows and buffaloes seem to be vanishing all the time. I don't want things to worsen," said Ehsan Ilahi, pradhan of Jarcha village.
He doesn't have any other line of defence against a mob attack. "I've put all my faith in the administration. That's all I can do."
Also read - No remorse: villagers in Bishara say 'beef-eating' Akhlaq deserved to die
Azmat Khan, the pradhan of Kalaunda village, said he doesn't understand why people are getting swayed "by nobodys"after so many years of peaceful co-existence.
"This is the most beautiful part of the country. There have never been communal issues here. We are all the sons of this soil. We do not want any trouble. But now I don't understand why people are talking about cow slaughter and beef consumption. Why are these people hell bent on ruining this place which has remained free from communal strife for the last 70 years?"