Hit and run case: Scorpio skids sideways to crash into bikers in Jaipur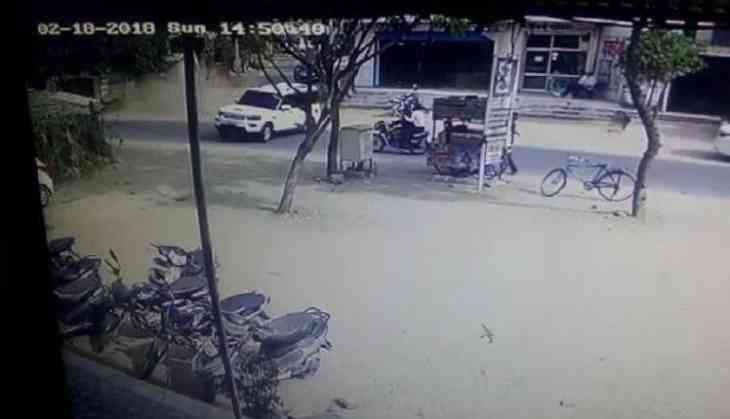 In a hit-and-run case in Jaipur, an SUV crashed a bike and injured a 36-year-old man while another man on the bike was killed. The incident took place at the VT Road in Mansarovar under the limits of Muhana police station area where the bike was hit by a speeding Mahindra Scorpio SUV. The incident was caught on CCTV footage, the SUV skid sideways which caused this incident.
The victim who died in the crash has been identified as Surendra Vaishnav, a resident of Mansarovar area. His friend Laxman Choudhary was rushed to the hospital and his condition is critical. Muhana police said that they will file a case against the Mahindra SUV who fled away from the incident.
The sub-inspector Banne Singh posted at the Muhana police station told, the CCTV footage showed the Mahindra SUV was coming in a high speed from the VT Road lost control and crashed into the bike and injuring a food cart owner also.
Banne Singh said, "The bike was coming from behind; the SUV which had lost control rammed into the bike. While Surendra was killed on the spot, Laxman was found still breathing by the people who rushed him to a hospital and informed the control room about the accident."
"The accused may have been drunk because a heavy SUV like the one which he was driving doesn't lose control easily. We have scanned the footage of nearby areas to understand which way he fled," an official said, adding that an FIR will be filed soon in the case.
The police said, " Laxman Singh is admitted to an ICU and is in a serious condition. He is battling for life, the accident was very severe. He has sustained serious injuries on the head and has internal fractures."
The police official at Muhana police station had found the Mahindra SUV outside an elderly woman's house at Muhana. Police is trying to trace the owner and the driver of the car responsible for the crash.
Deshraj Singh Yadav, Assistant Commissioner of Police (Mansarovar) said, "We received information from a resident of Muhana area in the morning that a damaged SUV is parked in Muhana. We immediately went there. They parked the SUV at a house in Muhana. An elderly woman told us that a person parked the car outside her home but she does not know the person."