Hinduism vs Hindutva: Trinamool to perform Hanuman Puja to take on Sangh Parivar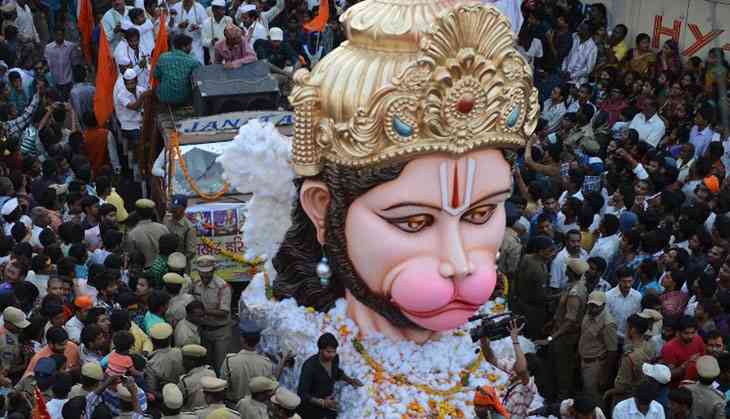 For representation only (AFP Photo/Noah Seelam)
The All India Trinamool Congress (AITC) has opened a new ideological front in its battle against the Sangh Parivar. To counter the Hindutva outfits' Ram Navami celebrations, the AITC has decided to celebrate Lord Hanuman across West Bengal on Wednesday.
Sources in the AITC said that there will be around 500 Hanuman Pujas across the state, out of which as many as 161 will be in Birbhum district alone.
The focus on Birbhum is not a coincidence. It is one of the districts where the BJP has become relatively stronger of late. Also, it is the same district where the Sangh Parivar had raised a hue and cry last year about Durga Pujas being prohibited in certain areas to allegedly appease the minority community.
Now with the AITC itself organising Hanuman Pujas, it has taken the ideological battle to the Sangh Parivar's doorstep. It is the party's way of telling the Hindutva lobby that they don't hold a monopoly over Hinduism.
"We have urged the local district administration to take necessary steps to avoid any untoward incident on Wednesday as Ram Navami celebration will also take place on the same day," a senior AITC leader said.
According to Anubrata Mondal, an AITC leader from Birbhum "If Sangh Parivar can celebrate Ram Navami we can also worship Lord Hanuman as he is an ardent devotee of Lord Ram".
Apart from that, AITC has also decided to organise religious processions in various streets as a part of the celebration of Hanuman Puja.
Senior AITC leaders said that this year they are organising Hanuman Puja in a big way. In some districts, there will be street plays to celebrate Lord Hanuman.
Meanwhile, on Tuesday the Calcutta High Court pulled up the South Dum Dum municipality for not allowing a Ram Navami Puja committee to conduct Puja at Lake Town ward number 30. It ordered the municipality to give permission to conduct the Puja .
Terming this incident as unfortunate, Sachin Singha zonal organising secretary of the Vishwa Hindu Parishad said "We condemn what happened at Lake Town and we feel that the state government should take necessary measures on Wednesday that such things don't happen".
The VHP has already decided to celebrate Ram Navami in a big way and around 1200 Pujas will be performed by the Parishad in different parts of the state.
The BJP, which, has been accusing AITC of being excessively pro-minority, seems to be finding it difficult to respond to the AITC's new initiative.
State BJP president Dilip Ghosh ended up congratulating the AITC.
"It is good that the AITC has decided to celebrate Lord Hanuman Puja. This will help in consolidating the Hindus in the state," Ghosh said.