Ground report: Drought-stricken Marathwada limps from bad to worse
Parth MN
| Updated on: 14 February 2017, 6:02 IST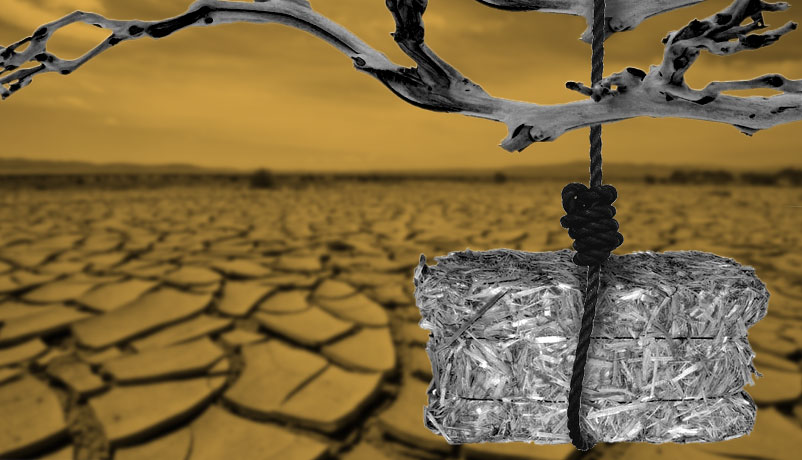 Jagannath Kokate nervously sits across his three robust bovines in the scorching heat around noon. Clad in a white dhoti and kurta, he is engaged in a tense conversation with his farmer friend at the cattle camp set up in the village of Wathoda in Marathwada's Osmanabad district.
Dr. Harshavardhan Raut of the Raj Pratishthan NGO, who founded this cattle camp, has hinted about its closure if the Maharashtra state government does not reimburse the amount spent on the camp.
In the hushed village of Wathoda, the cattle camp spreads across a rugged four-acre land with more than 1,000 animals being fed and looked after since 12 January, this year. Animals rest under temporary sheds installed with bamboos and covered with a green cotton cloth. Fodder and water occupy the periphery of the animals. Their owners have virtually shifted from their respective villages to the camp to supervise the livestock. They go back home only to dine and sleep.
No money, no camp?
The cattle camp has been a great source of comfort and a significant burden off the chest of beleaguered farmers from villages within a 15-kilometer radius. "Water and fodder expenses amount to around 5,000 rupees a month behind one animal," says 80-year old Kokate as his pink turban shines with the reflection of the sun beating down mercilessly. "The drought has already ensured our income dwindles to a quarter of what we would earn. Had it not been for the camp, we would have been even more miserable."
"The drought has already ensured our income dwindles to a quarter of what we would earn," syas 80-year-old farmer
However, this relief could be short-lived, for the state government has not lived up to its promise. The organizers have incurred in excess of 20 lakh rupees so far but the assured reimbursement has still not found its way.
"It is getting increasingly difficult to sustain," says Raut. "The farmers are hugely depended on it but I will not be able to drag on post April."
The government has fixed 70 rupees behind every grownup animal and 35 for a baby bovine, but the actual expenses cross 100 rupees, says Raut. "70 bucks merely cover for water and fodder," he adds. "Who will account for the labor and transport costs?"
The paucity of fodder has compelled them to procure it 50 kilometers from the camp-site, increasing the transport cost. The water suppliers have doubled the tanker costs due to water scarcity. And the situation can only intensify with April and May ominously lurking around. "We would have to go as far as 150 kilometers for fodder," predicts Raut, adding they require 10 tons of it every day.
Moreover, 2.5 lakh rupees spent on installing the cattle camp is not covered in government reimbursement, adds Satish Patil, manager of the camp.
After a lot of clamor, the administration informed camp owners that 60 lakh rupees have been released, which would be divided between seven camps located in the vicinity; meaning around 8 lakh would be the share of this particular camp at Wathoda. "It does not even cover our monthly expense," says Patil.
Umakant Dangat, divisional commissioner of Aurangabad and the officer in charge of eight districts of Marathwada, admitted the bills were pending but assured the camps that they "would get the full payment by the end of this week".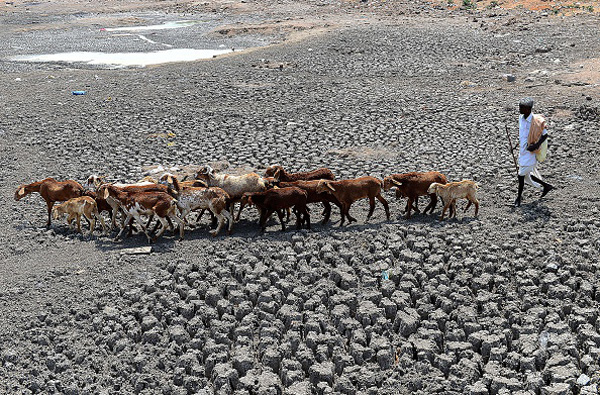 If and when the money is released, a section of the amount, around 20% as per Raut, would be reduced for cow dung, for the camp owners would be able to make money out of the dung produced at the camp. "Cow dung is rich organic manure, which is a revenue generator," says Dangat. "Therefore, the government deducts a reasonable amount." Patil, though, says it would be impossible to recover the trimmed amount.
The cattle camps across Marathwada have earned fair amount of credit to the state government but they are basically functioning because of well-intentioned moneyed people, believes Latur-based Author and Environmental Journalist Atul Deulgaonkar.
While traveling through Beed and Osmanabad, along with parched riverbeds, one also comes across cattle camps at fairly regular intervals. Farmers from Latur, though, have been less fortunate, where there are merely three in the whole district, which consists of more than 6 lakh animals.
Farmers from Latur, have been less fortunate, where there are merely three cattle camps in the whole district
"The response of local NGOs has been better in Beed and Osmanabad compared to Latur," says Dangat. "But the collector has been asked to address the issue and we will make sure there are enough camps set up in Latur."
Setting up a cattle camp
The pre-requisites to set up a cattle camp have been made more stringent in the new regime led by Devendra Fadnavis. It includes a mandatory deposit of 10 lakh rupees and an assurance letter of 30 lakh rupees among other things. As a result, many of the camps have called it quits.
"The experience with relaxed norms was terrible," clarifies Dangat. "The guidelines are to ensure financially sound NGOs, who would be able to tend to the animals, are given a go ahead and there is no corruption."
The pre-requisites to set up a cattle camp have been made more stringent in the new regime led by Devendra Fadnavis
The agrarian crisis in Marathwada has steadily deteriorated with every passing year. The water situation has emerged as a prime headache. Dams have dried up. The administration seems to be floundering. The suicide toll has already crossed 200 in 2016.
The scarcity of water and the failure to raise capital from last season's Kharif crops has meant many of the farmers have not been able to sow for the Rabi season. Kokate, 80, who has been a farmer all his life, says he remembers only two such precedents: Way back during the infamous drought of 1972 and then directly in 2014.
The others who managed to raise funds for the Rabi season met with tantalizing fate. Shirish Girwalkar from Latur's Bhatangali village was one of them.
"The experience with relaxed norms for cattle camps was terrible," clarifies Dangat, divisional commissioner of Aurangabad
Loans, mortgages; the plight of farmers
In November last year, Girwalkar started preparing for the Rabi season by sowing Jowar and Gram in his 6-acre farmland. From November to February, he spent 20,000 rupees per acre, including all the requirements like seeds, pesticides, fertilizers and labor. He approached a registered moneylender and borrowed some amount, hoping to repay the loan in April since the crop was expected by March end. The script seemed to be working for Girwalkar until unseasonal rains in March first week devoured his investment and efforts of the past four months.
"70% of the crop wasted, significant amount of the fodder rendered inedible," he says as his wife picks up two huge utensils and heads out to fill water. "If the rains had been delayed by 15-20 days, I would have incurred zero losses."
"If the rains had been delayed by 15-20 days, I would have incurred zero losses," says Latur's Girwalkar
Girwalkar has admirably not thrown in the towel and has now pinned his hopes on a decent monsoon season. However, his debts are likely to pile up. The pre-sowing process, which would start in April, has already begun. His farmland has abruptly come back to square one with brown soil once again plowed in the hope it would one day glitter with potential crop yield, like it did merely 20 days ago until the untimely rains washed it off.
With an unpaid loan palpably hanging around his neck, Girwalkar believes he may have to mortgage his land or house. "It is a risk I will have to take," he says. "What other option do I have?"
Fourth year of unseasonal rains
For the consecutive fourth year, unseasonal rains have ruptured an almost procured crop, and shattered the hopes of many. It is a clear consequence of climate change, which has not been taken seriously by our administration, says Deulgaonkar, who was an invitee at the recently held high-profile climate change conference in Paris.
"It is high time we take proactive steps and use advance technology to adapt to climate change," he says, adding that even Bangladesh, which has developed a sort of rice that would endure excessive flooding, seemed better prepared to tackle climate change. "Swaminathan Commission has many such suggestions but it is languishing with the centre for almost a decade."
In the last few months, journalists and politicians have visited Marathwada to gauge the gravity of the crisis, which has given a ray of hope to farmers, only to wither away. "Media asks us about our quagmire, politicians promise better days," says Girwalkar. "But it hardly makes any tangible difference to our daily agony."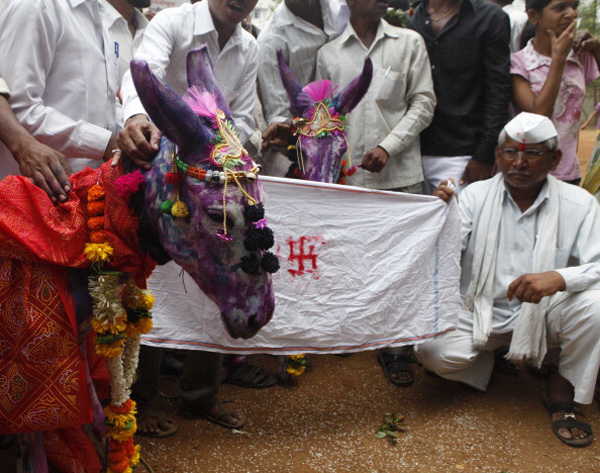 The budget of the state government had rural Maharashtra as its focal point. The tax on sugarcane purchase has been waived off. Weather centers in every district have been promised, which seems to be the first step in eventually countering natural disasters.
"Media asks us about our quagmire, politicians promise better days," says farmer Girwalkar
Government alloted money a joke
The government has allotted 3,360 crores, a significant amount, to the farmers who have suffered from natural disasters. But the moot question is how much a household would receive behind every hectare. After last monsoons failed the Kharif crop, the amount allotted by the government translated into 6,800 rupees per hectare.
Girwalkar says even a mediocre soil throws up 20 quintals of food crop in one hectare, eventually amounting to the yield worth rupees 60,000 if we go by a conservative rate of 3000 per quintal. "Therefore, 6.800 rupees is a joke," he says.
The overall agrarian crisis has caused remarkable reduction of the farm activity in Marathwada, as a result of which we have seen a huge influx of farmers and agriculture laborers to cities like Mumbai and Pune. From Latur alone, more than 50,000 people have migrated. Observers note that they would hardly come across a spectacle where farmers sit under a tree in the afternoon and spend hours chatting with each other, something that has now become usual.
Multiple groups working for the poor
The unemployment and lack of avenues, experts say, has endangered the social fabric of the region. In Latur, there are more than 250 registered groups, which claim to work for the rights of the poor. In reality, they engage in extortion, chanting unnecessary slogans and bullying. Locals say the members of all such groups travel in SUVs.
One of the most respected builders in Latur, Vaijnath Kore, says several groups have barged into his office at odd hours for money. "It is increasing by the day," he says. "Identity crisis drives people towards mob mentality."
Randhir Surwase, 31, of Lashkar-e-Bhima, founded in 2011, says they self-finance their activities. The group has many cases registered against it but Surwase says all the social activists have been charged with those sections in the past.
The groups may have been registered 15 years back but their numbers have mushroomed in the last 2-3 years. Many of its members hail from farm families. The groups keep engaging in constant one upmanship, intensifying the civil strife.
The recent attack in Latur where a Muslim policeman was paraded with a saffron flag was just one of many instances. A week ago, one of the groups attacked an inter-caste couple hanging out in Latur.
"All of them seem to be following the footsteps of Shivsena," says Deulgaonkar. "The riots in Mumbai did not recur after 1992-93 because many got work after the economic liberalization. The increasing unemployment in Marathwada does not augur well for us."
Nonetheless, the drought has had a trickle down impact and the buying capacity of farmers, which makes up almost all of Marathwada, has been substantially encumbered. Farmers have started sidelining critical medical expenses, kids' education and marriages.
Number of patients on the rise
Doctor Ajit Jagtap of the Apex Hospital in Latur city says except for the emergency ward, the OPD patients have decreased by 40% in the last two months. "Even when I offer to treat them at 60% of the cost, they are reluctant," he says. "After realizing the importance of the procedure, they mortgage their jewelry or borrow money."
Nilkanth Kale from Samsapur village in Latur had been putting off a medical checkup for more than a year before he was finally admitted to the hospital last week. "He kept enduring the pain thinking of the bill amount after a check up," says his brother Suresh. "Last week, his situation scared us all and I admitted him to the hospital."
He is scheduled to have a hernia surgery this week. The cost of the operation would amount to around 10,000 rupees after concession.
Both Suresh and Nilkanth work as agriculture laborers. The recent recession in work has compelled them to borrow money from an unregistered moneylender at an interest rate of 4% per month. "I get 250 rupees per day and a good week is a three-day working week these days," says Suresh. "We have also borrowed 3,000 rupees from our relatives."
Students plight
Not even a kilometer's distance from the Apex Hospital, lies a local Agriculture Produce Market, where, even during the droughts of previous years, around 25,000 kilograms of Gram would be deposited per day. After steady decline since the conclusion of the last few monsoon rains, it has dwindled to 3,000 today. Other crops have met similar fate. Around 2,500 coolies sit idle in the yard or spend the day watching the television.
The market committee also runs a hostel where around 200 students across Latur district live at a subsidized rate, for many of the educational institutes are located in Latur city.
The students here, however, are a little fidgety these days. The paucity of water has forced the collector to issue a summons to all educational institutes to be done with the impending exams quickly and pack the students off to their respective villages, in order to reduce the water load of the city.
Many of the students, though, would be preparing for their GMATs and other such exams that transpire after the college exams. Going back to their village would not allow them to concentrate on their studies, they say.
Sheikh Sattar from Bhoyra says since the family has not been able to make much due to the drought, parents expect kids to earn instead of "wasting time on studies". "All of us are doing odd-jobs and funding our living in the city," he says. "But we cannot earn enough to save for the family."
And these are still the ones who have managed to get into a senior college or a post-graduation program. Many have shelved their education after studying till the 12th standard in their village school.
Mohini's story
One such girl, Mohini Bhise from Latur's remote village of Bhise Wagholi, secured 70% in her 12th standard board exams. She wanted to become a nurse but her parents could not afford to send her to a medical program. A year went by, and she turned 18, an age where parents start looking for a groom to suit their daughter.
Bright, beautiful and talented. Even so, families turned Mohini down, for her father, Pandurang, could not afford a dowry of 4 lakh rupees. Pandurang's 1-acre farmland had not thrown up a crop good enough to raise an amount as high as that. He also works as a pygmy agent, earning a salary of 1,100 rupees. His wife, Kantabai, lost her job two years back when the company she worked for had closed down.
Eventually, Pandurang mooted the idea of selling the land off. He along with Kantabai, pondered upon it. Mohini overheard the conversation.
On 20 January, when Kantabai stepped out to visit the neighbour, Mohini hanged herself in the house with a dupatta.
Before committing suicide, Kantabai says, Mohini tended to her during her illness and was a pillar of support during the wretched drought.
"She did say she felt a bit uneasy but we never thought she would take the extreme step," says an inconsolable Kantabai, as she sits in her mildly lit house against the wall with a beautiful painting by Mohini. "Poverty cost me my daughter."
Mohini's elder sister, Ashwini, is married. Aniket, 14, and Nikita, 11, are her younger siblings. Aniket wants to be a policeman and Nikita a teacher. Their faces clearly indicate they have grown up too soon.
The police recovered a suicide note in which Mohini questioned the dowry system and implored her father not to sell off the land. "Why should only a daughter's father have to suffer?" she asked.
"Why should only a daughter's father have to suffer?" said Mohini in her suicide note talking about dowry
"Please do not waste money on the customary function conducted to ensure the departed soul rests in peace. I am already at peace, knowing I have saved you the money you would have otherwise spent on my wedding."
Edited by Sahil Bhalla