Govt making Aadhaar mandatory for schemes is nothing but coercion, say activists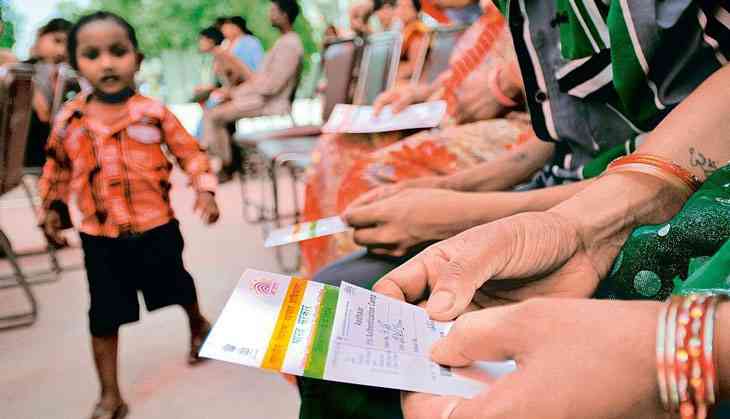 (Priyanka Parashar/Mint via Getty Images)
The NDA government making Aadhaar cards mandatory for availing social welfare schemes is not only illegal as it violates the Supreme Court orders, but has also created unnecessary barriers to access hard-won legal entitlements for the people, said independent legal researcher Usha Ramanathan and other activists on Tuesday.
The activists were addressing a press conference in Delhi on the impact of the UID project on people, especially on women and children. According to them, the government's notifications about making the Aadhaar number mandatory for one scheme after another was nothing but coercion.
The latest notification issued on 28 February states that children who don't enroll for the Aadhaar number by 30 June will not get their meals in school, guaranteed under the Right to Education Act.
The Aadhar was also made mandatory for the Public Distribution System (PDS) for:
– Women rescued from trafficking
– The disabled to get assistance
– Educational scholarships
– Availing pensions, among hordes of other things.
Meanwhile, even as the case against the UID project is still pending in the Supreme Court, the apex court in 2016 passed an order upholding earlier orders disallowing the state from making UID mandatory.
"Why do children have to be numbered and marked to get meals? Making Aadhaar mandatory will not address any of the problems in the mid-day meal scheme. Most countries in the world provide cooked meals to school children. We in India are saying that meals will be cooked in schools but some children will eat while the others will not?" asked Dipa Sinha of the Right to Food Campaign.
Ramanathan said the UID had become a way to deny people their entitlements rather than making the process of delivery smoother, as the government claimed. She said the UIDAI services also did not have any policy for dealing with biometric exceptions, as sometimes faced by disabled people.
Ramanathan also spoke of concerns about privacy and sharing of personal data, citing the breach in the PDS database of Kerala. She said the "vulgar desire to put everyone on a database" was fed by corporate interests, as a database would create data points out of people for the benefit of businesses.
"What we are seeing today is rampant and shameless illegality by the state. The UID inverts the idea of transparency. It makes people transparent, but the state is opaque," she added.
Matters of exclusion
The speakers said making UID mandatory was leading to exclusion both at the stage of applying for entitlements as well as at the stage of delivery. By way of examples, some women beneficiaries from Delhi who had faced trouble in getting their ration shared their stories.
Anwari Devi, a resident of Jagadamba Camp, who supports four children and has a husband who is mentally unwell, said she could not get a ration card as she and her family did not have Aadhaar numbers. When she did enroll and got the number, she was sent back because apparently the quota of issuing ration cards had been exhausted. Gita from Laal Gumbad shared a similar story.
Talking about a pilot project in Delhi, where 42 ration shops were installed with Point of Sale (POS) machines to be used for biometric authentication, Anjali Bhardwaj of the Satark Nagrik Sangathan said there were serious connectivity issues that inhibited the process.
"Official data showed that out of the 42 shops where the pilot project was originally carried out, only 18 shops remained by March 2017. When we did an audit, we found out that the shopkeepers had returned the machines because there were too many difficulties in distributing grains using the POS machine."
Amrita Johri of Satark Nagrik Sangathan explained, "Aadhaar relies on internet and electricity. This is not a problem only of rural areas. Even in South Delhi, in East Mehraam Nagar, there is a ration shop with no signal, no network. But officials said we have to show Aadhaar as a success. So the POS machine was hung on a jamun tree so it could work."
"When there are so many failures, why is there no acknowledgement of this by the government?" she asked.
The number game
Importantly, Bhardwaj said the official data of the Delhi government shows there is 0% failure rate in biometric authentication.
"Whereas on the ground, we have found many people whose biometrics never match with the machine. Those with biometric failures are shown as not coming to collect rations. If they don't collect rations they are shown as bogus and their cards are cancelled. Then these are declared as savings," she explained.
Bharadwaj talked about how the PM had said in the Lok Sabha in February 2017 that nearly four crore ration cards were found bogus through use of Aadhaar in PDS, but there was no information in the public domain about these bogus cards and no action had been taken against officials who issued these bogus cards. Instead, the people were penalised.
Magsaysay award winner Bezwada Wilson of the Safai Karamchari Andolan ended the press conference by stating that the UID was not only anti-poor, but it was especially problematic for the vulnerable, stigmatised communities as Aadhaar would further entrench their identities forever.
"We (manual scavengers) want to bury our identity but society doesn't allow us. Aadhaar is a stigma upon us forever. I want the choice to make my identity. In some places, I can choose to say I am the son of a scavenger. It's not my choice to be a scavenger, you made me a scavenger. But as a citizen, I must have the right to reveal or hide my identity, whatever it is," he said.
"Why is Aadhaar being forced upon the citizens? Why is there not more discussion about this?" Wilson asked.
Edited by Jhinuk Sen