Farmers threatening to quit the business completely. Is Vidarbha the tip of the iceberg?
Parth MN
| Updated on: 10 February 2017, 1:51 IST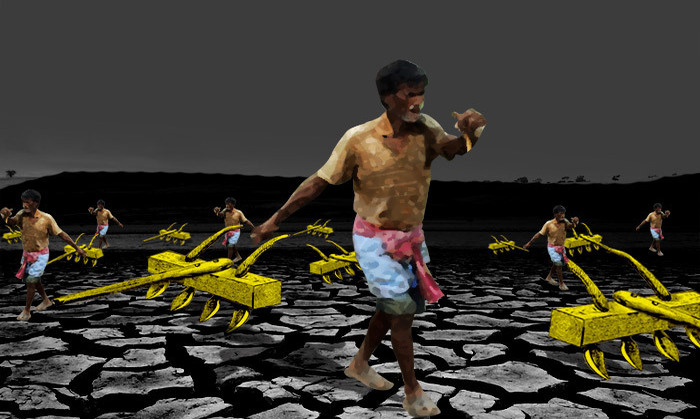 Last 15 years
More than 100 young girls waiting to get married in Sukali village
Farmers cannot afford to fix their dented tin roofs
The lake nearby has dried up and irrigation facilities are in doldrums
Perni Band Andolan
The movement kicked off in mid-February by Jamdara village in Manora taluka in Washim
An end to sowing and planting
Seventh village to take part in these protests
Around 120 villages in Arni taluka, comprising of 3 lakh people, are contemplating an end to farming
More in the story
Will there ever be a separate Vidarbha?
Will this mean an end to farming in the region?
What are the alternatives to farming
Once a prosperous village, today no more - that's the difference all of 15-years makes in the village of Sukali in Vidarbha's Yavatmal district.
The farmers led a relatively comfortable life with the water flowing in the nearby lake being a major source of irrigation.
Today, the village finds itself drowned in debt. More than 100 young girls are waiting to get married. Farmers cannot even afford to fix their dented tin roofs. The lake has dried up and Irrigation facilities are in doldrums.
Also read - 15,747 villages, 25 lakh farmers drought-hit. Will Centre's Rs 3,049 cr bring relief to Maharashtra?
Vivek Dahifale, farmer from Kavatha Bajar, a nearby village to Sukali, said the authorities have neglected the maintenance of the lake, which is the reason behind its current unproductive state.
On Monday, 4 April, the village of Sukali gathered in front of the Tehsildar office and presented its decision to participate in the Perni Band Andolan, an end to sowing and planting, thus becoming the seventh village to partake in the protest.
Suicides and protests
In 2015, Maharashtra's Vidarbha region witnessed 1,280 suicides. 2016 has not started on a promising note either. Yet, the state government has not declared drought in the region, so far. To draw attention of the state officials, villages in Vidarbha took the extreme step and decided to abandon farming. "If the state had declared drought, farmers would have at least received Rs 6,800 per hectare," said Santosh Arsod, a leader of the farming community in Yavatmal district. "Since it did not happen, farmers had to sell off their pigeon peas at a throwaway cost."
An end to farming?
The movement was kicked off in mid-February by Jamdara village in Manora taluka in Washim district. After a thorough discussion, the gram panchayat arrived at this conclusion and other villages in neighbouring Yavatmal district followed its footsteps. Around 120 villages in Arni taluka, comprising of 3 lakh people, are contemplating an end to farming. With the apathy of the government, observers note, the movement can only grow more infectious.
In the run up to the 2014 general elections, Narendra Modi held a chai pe charcha in Yavatmal, in which he promised to enforce the recommendations made by the Swaminathan Commission. However, the failure to meet the promise so far, has left the farmers dejected.
"The government has enough agriculture produce stacked up," said Arsod, who used to be a journalist with Lokmat in Yavatmal, and two years back took up farming to intricately understand the crisis. "The moment people and authorities start feeling the pinch of the paucity of agriculture produce, they will increase the market cost."
Production dwindling
Vidarbha is a region where namely cotton, soya bean and lentils are predominantly cultivated but the production has dwindled to less than a quarter of what it used to be due to successive droughts, said Dahifale. "Persisting with farming in any case gives a lot of psychological stress," he said. "It is better to die without that stress instead of dying with it."
Former Maharashtra Attorney General, Shreehari Aney, who recently triggered a controversy by asking for a separate Marathwada, expressed solidarity with farmers from Vidarbha. "Currently Vidarbha is Maharashtra's lowest priority. Eighty per cent of its population, farmers and tribals, are not getting attention and justice. The need for budget expenditure for farmers can only be met when the small state of Vidarbha is created," he told Mumbai Mirror.
Around 120 villages in Arni taluka, comprising of 3 lakh people, are contemplating an end to farming
Activist Amar Habib called the Perni Band Andolan a 'Satyagraha'. "It is a desperate cry for help," he said. "When all means fail, this seems to be the last throw of the dice. But one needs a sensitive government for the protest to succeed."
Arsod said behind every acre, farmers incur around 10,000 rupees, but they have not been able to recover even half of that for the last three years. "The only way to stop suicides is to stop farming. Farmers have had to sideline critical medical expenses," he said. "It is high time we look at other alternatives to earn our bread. It is no longer economically viable. We are explaining this technically to farmers about how the cost fluctuates as per the international market and how the government's promises are hollow."
He further explained how the crop loan has been ineffective in providing solace to farmers. "The money is required in June when the sowing starts," he said. "But the money is released in August and we do not get the money when it is needed the most."
Also read - Uproar in Maharashtra assembly over Shreehari Aney's demand for Marathwada state
Alternatives to farming
The search for alternatives has already begun in Vidarbha. Vilas Tathod, founder of Yuva Rashtra Sanghatana, and a sales manager for an MNC, is helping farmers explore new skills and set up small businesses as a substitute for farming. In Akola, he is working with a cluster of 15 villages, as a catalyst in order to develop marketing skills in both men and women.
"Branding and sales of products like incense sticks, wafers, peanut chutney, spices, pani puri, washing powder, and so on is conducted as a major activity," he said, adding that he and his colleagues are helping farmers' kids to prepare for educational exams at his coaching centre so they do not carry the baton of farming forward. "For the business to expand, initial capital is the biggest hurdle. We help farmers with it."
Gajanan Amdabadkar, senior activist, said the option to explore alternatives could not hurt. "If it works, it would only save lives. When the farmer is not willing to sow, it clearly means the economy around farming has collapsed," he said. "Poverty is not the reason why farmers commit suicide. Losses and depression that follows after the expectations are devoured is the main cause. A crop yield for a farmer is as dear as a newborn."
Arsod said the response to Tathod's initiative is encouraging. "Our plan is to get one member away from farming, then a family and then the whole village," he said. "The progress is so far satisfactory."
However, farmers are considered the backbone of India, where more than half its population depends on its activities. Arsod said it is an "unnecessary glorification" of farmers. "How can a farmer, who cannot even tend to his own family these days, be called the backbone of the country?" he asked. On being asked if, as predicted by most, the expansion of this protest would make farming extinct in India in the long run, Chandrakant Wankhede, senior journalist from Vidarbha, said, "How would farming survive if farmers do not?"
Edited by Sahil Bhalla
More in Catch - We have got a lot wrong on farm policies: Maha agri minister Khadse
Irrigation scam: 2 retired VIDC officials among those booked by ACB