"I killed in cold blood": what the Manipur cop's confession says about political impunity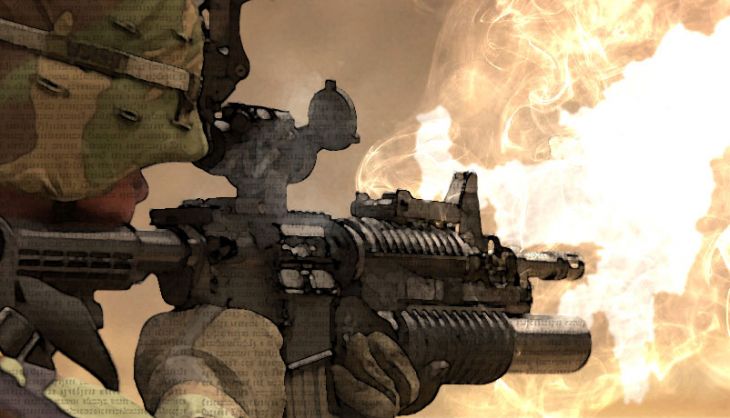 It was an open secret that security forces have carried out extrajudicial killings in the Northeast - 1,528 so far in Manipur alone. Now, for the first time, an accused police officer has confirmed the ghastly truth.
Head constable Thounaojam Herojit Singh's sensational "confession" that he had shot Chongkham Sanjit, 22, a former insurgent, in cold blood on the order of his superior officer confirms a chilling story, exposed by the newsmagazine Tehelka in 2009.
2009 Imphal encounter: Herojit Singh is 'safe and sound' but is hiding in fear
It puts Congress Chief Minister Ibobi Singh on the mat and raises troubling questions about India's political-security complex.
This complex comprises the security establishment that does the killing, the political class that enables impunity through secrecy and cover-ups, and the media that legitimises it.
In the dark
What has enabled the security forces to get away with murdering so many innocent people for so long? Not just in the Northeast but also in Kashmir, and increasingly in the country's tribal heartland.
The Armed Forces Special Powers Act is chiefly responsible but it doesn't explain the entire rot. After all, the AFSPA applies only to the military, not the police. And Herojit Singh is a policeman, currently suspended.
As human rights activists have argued, prolonged periods of abuse under such laws have given confidence not only to the military but also to police forces to commit atrocities without fear of legal reprisal.
"Sanjit was killed in 2009, just five years after Manorama was raped and murdered by the forces. Both these cases, which were given good coverage by media, happened in the Imphal valley where AFSPA doesn't apply," says Sanjoy Hazarika, Director, Centre for Northeast Studies and Policy Research, Jamia Millia Islamia.
"This is how dangerous this law is. The AFSPA has seamlessly, without any amendments, become automatically applicable to the police and to all areas in Manipur."
But how has such insidious expansion of this law - which, as it is, stretches the limit of democratic conscience - become possible?
In cold blood
After all, such crimes haven't been entirely unknown. In this very case, there was never much doubt about how Sanjit met his end. It was in the middle of a marketplace in Imphal, on 23 July 2009.
The townsfolk had provided eyewitness accounts and a photographer had captured frame by frame Sanjit being led into a pharmacy by the Manipur policemen, in full view of the public, and being brought out dead moments later.
If there was any doubt that Sanjit's was an extrajudicial killing, the CBI's chargesheet against the nine accused policemen, including Herojit, had dispelled it not long after.
Also read- I was threatened before I withdrew the case against Amit Shah: Rubabuddin
Yet, the police and the state kept insisting that it was a "genuine encounter" of a terrorist. It's a script they have run ragged.
Not that their lie has never been nailed. Several media reports and inquiry comissions have pulled the veil back on such atrocities. Yet, how many army and police personnel have been prosecuted for such crimes, let lone punished?
Who's to blame?
This is why the "confession" of Herojit - whatever his motivation - is so significant. It leaves the political-security complex little room to argue its way out this time. In particular because Herojit has denied personal agency in the crime. He has alleged to have killed Sanjit on the order of then Additional SP of Imphal West Dr Akoijam Jhalajhit, who is now SP of the district.
Herojit has talked at length about the incident. His colleagues had caught Sanjit, who was buying medicine for his uncle, and were roughing him up. Herojit decided to talk to him. But then his boss, Jhalajhit, arrived and ordered that Sanjit be killed.
"I was startled. I told him this is not the right place for an encounter. He said just do it. I again pleaded that there was a huge crowd of public at the spot by then and a lot of mediapersons. He said, 'Don't worry about the media, I will lead them away'."
At which point he asked other officers to clear away. He went inside the pharmacy and fired "six or seven" bullets on Sanjit, killing him instantly.
This revelation indicates that such crimes are an institutional failing, not just the handiwork of a "few bad apples" as we have been led to believe. Indeed, Herojit has subsequently claimed to have carried out 133 such extrajudicial killings. It's impossible to believe that he would have done all this on his own.
As Babloo Loitongbam, Executive Director of Human Rights Alert in Manipur says, "The question more important than who killed Sanjit is on whose order he was killed. Herojit has answered this. He has said he didn't have personal enmity with Sanjit. It was on the order of his superior, who now shares the culpability."
"It's quite an important admission."
Nailing the lie
Former Supreme Court justice Santosh Hegde has first hand knowledge of such cases. He led a commission, appointed by the Supreme Court, to look into seven such cases in Manipur where the official account was radically different from what was alleged by some petitioners.
In his report, Hegde had found that these cases, which had officially been described as encounters, were straightforward extrajudicial murders.
Read more: Why the Home Minister is shielding Intelligence officer Rajinder Kumar. The Ishrat Jahan case explained.
He says the whole issue really boils down to using excessive force against civilians and that Herojit's admission should be taken with a pinch of salt.
"We have examined seven such cases where people were picked up by the police or the military, taken far away and asked to run and were then shot dead. We found that the pistols the forces claimed had been used by the dead to retaliate was the same pistol in all seven cases," Hegde says.
"This is the problem of using armed forces against civilians. These forces know only how to kill people, they can't be used to maintain law and order for such a long time."
This is the problem of using armed forces against civilians. They know only how to kill: Santosh Hegde
As for this particular case, Hegde says, "I am not quite aware about it, but I have my doubts about why this police officer chose to speak after such a long time. It could be a case of personal rivalry or some other mischief. And only on the questioning of his senior will we find out the truth."
Still, Herojit's "confession" can not only be used to prosecute Sanjit's killers, but to probe if, and why, the state's senior police officers had supervised other such murders. It can also become part of the bigger case against extrajudicial killings currently being heard in the Supreme Court.
However, as Hazarika says when asked if Herojit's revelations would give hope to those fighting against the AFSPA and extrajudicial killings, "Hope for what? Hope that when people are killed they will know who has killed them?"
"This case doesn't change much if it doesn't make the state realise how crucial it is to end violence and pain by repealing the AFSPA."
This doesn't change much if the state doesn't realise how crucial it's repeal AFSPA: Prof Hazarika
It's a realisation that is long overdue - not just for the state but the country's wider society as well.
More in Catch:
Sulking seniors, angry Dalits: 5 reasons Amit Shah is in for a tough second stint
Taking from those who've already lost it all: Denmark to seize refugees' valuables
25 artists. 100 shipping containers. One amazing idea. Delhi's St+Art festival is back
Did he or didn't he? The curious case of ICHR chief YS Rao's resignation