Durga Puja: Calcutta High Court's restrictions leave smaller organisers in a fix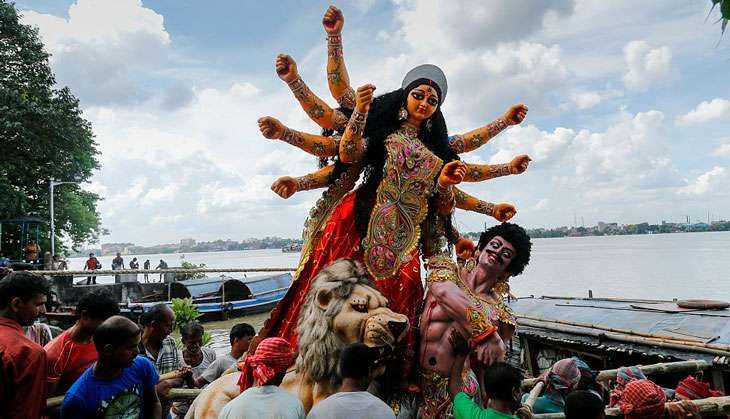 The Calcutta High Court's order that the immersion of Durga Puja idols must be done by 6 pm on 11 October has left smaller organisers of the puja in a fix. To add to their difficulty, the court has also barred any processions during the immersion.
The high court's order was passed on a challenge to the Bengal government's directive to puja organisers to wrap up idol immersions by 4 pm. Apparently, this was meant to ensure the security apparatus is not overstretched given that the Muharram processions will be taken out that evening and the next day. The challenge was brought by three households that are organising the puja.
Also Read: Durga Puja - a time of mourning for Mahishasura's descendants
Although the Hindu Jagran Manch of the RSS, through its Bengal secretary Swarup Dutta, has appealed the Mamata Banerjee government to remove the restrictions, it is highly unlikely the court's order would be overridden.
Conscious of this difficulty, many puja organisers have decided to postpone the idol immersion. This, though, would not only cost more money, it would also mean, as one organiser noted, "breaking the tradition of immersing the Durga idol on Dussehra".
The organisers of bigger pujas have already decided to immerse the idols after Lakshmi Puja on 14 October.
Also Read: Dummies guide to Durga puja: a look beyond the prayers
"We have no option but to keep the deity for another day and bear the extra cost. According to Hindu scriptures, immersion of the idol must be followed by a procession, but we're not sure how that can happen after the high court's order," said Tapan Roy of Sanhati Club, which is organising a puja at Jodhpur Park, Kolkata. Roy said it would cost the club at least Rs 50,000 to keep the deity for another day as "electricity charges have increased".
The puja organisers at Indira Park in Basirhat, North 24 Parganas, implored the government to remove the restrictions. To ensure the festivities are held peacefully and the security and administrative apparatus is not overstretched, one organiser argued, the state can "identify the areas where idol immersion and Muharram-eve processions are both going and see to it that their timings do not coincide."
Also Read: Here's why immersing idols into water bodies is not a religious practice!