DU polls: ABVP on a winning streak, NSUI returns with one post
There were no surprises in the Delhi University Students' Union (DUSU) elections this year, as the RSS-backed Akhil Bharatiya Vidyarthi Parishad (ABVP) won top three of the four posts on the central panel.
Though the right-wing student organisation did fall short of a clean sweep by one post as the Congress-backed National Students' Union of India (NSUI) managed to make its way back into the union with the position of joint secretary.
Besides, the NSUI also captured 33 college panel positions out of 44, while ABVP won 11.
As results were announced on 10 September, Amit Tanwar of ABVP became the new DUSU president with 16,357 votes, defeating his nearest rival, Nikhil Yadav of NSUI, by a margin of 4,680 votes.
Priyanka Chabri of ABVP won the vice-president's post with 15,592 votes, winning by a margin of 2,455 votes from her closest rival.
Ankit Singh Sangwan of ABVP won the secretary's post after winning 15,518 votes, trumping his closest rival by 1,383 votes.
Mohit Garid of NSUI bagged the fourth post of joint secretary with 16,526 votes, defeating ABVP's Vishal Yadav by 2,466 votes.
Kawalpreet Kaur, the presidential candidate of the left-wing All India Students' Association (AISA), got around 6,000 votes.
There were 17 candidates contesting for the four central panel posts. AAP's Chhatra Yuvaound Sangharsh Samiti, which debuted last year and was washed out, did not contest this year.
Saket, an ABVP activist at DU, had told Catch on polling day that ABVP was quite confident of winning again this year, as it had worked for the students throughout.
NSUI activist Ameet Singh Teema had also said earlier that the group had a pretty good chance of winning the joint secretary's post this year.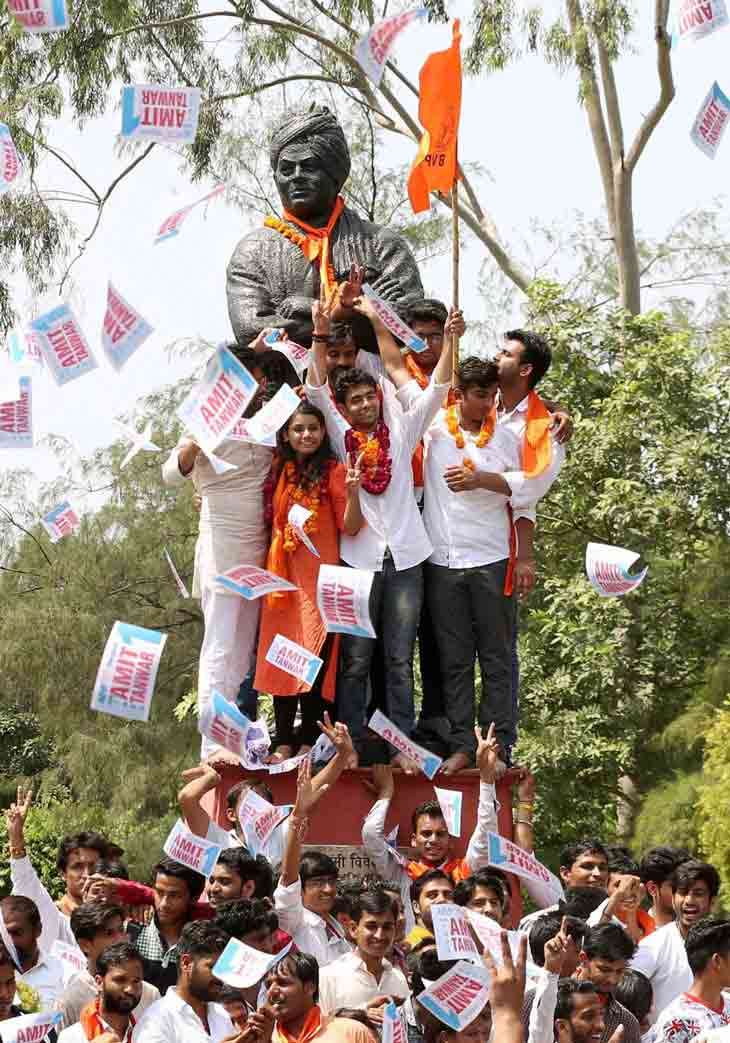 Winners of the DUSU elections celebrate with their supporters after declaration of the results in New Delhi on Saturday (PTI)
However, the voter turnout for these polls, which took place on 9 September, was rather low. In an electorate of 1,23,241 students across 51 colleges, the overall voting percentage was a little more than 36%, down from 43.3% recorded last year.
One of the reasons for the low turnout was that some colleges - such as Ramjas College and the Faculty of Law - did not hold their college-level elections this time.
College-level polls take place at the same time as DUSU polls, and it is usually unlikely that a majority of students would troop to the polling booths to cast their vote only for the university-level elections.
What's more, almost 40% of the total voters chose NOTA (None Of The Above), an option that DU students were exercising for the first time. But NOTA votes are not counted during the final tally.
Edited by Jhinuk Sen
Also read: DU election results 2016: ABVP bags 3 crucial positions, NSUI gets 1
Also read: JNUSU and DU elections: ABVP set for mixed fortunes in student polls
Also read: Battle for #DUSU: Election in the times of social media