Demonetisation fallout: Noida's daily wagers are out of jobs, food & patience
There is a palpable air of fury and desperation at Noida's Labour Chowk at Barola. Some 500 workers have been here since 7 am in the hope of finding construction work.
By 11 am, about 20 have managed to find something. The rest wait on their haunches as they have ever since they heard about Prime Minister Narendra Modi's late night demonetisation announcement on 8 November.
Panic, hunger and anger
At first, they wait, knowing that patience is the need of the hour. But since the PM made his second appeal on 13 November - to give him 50 days to normalise the situation - patience is running thin and giving rise to panic and anger.
Also read -Currency ban: Delhi's labourers left hungry & jobless as work staggers to a halt
"We ate chutney and roti for breakfast," says Rekha, a mother of five who is one among the hundreds of labourers waiting at the Chowk, jobless since Wednesday.
Rekha and her husband Bhudev, both beldaars, had Rs 4,000 between them on 9 November when they heard the news.
During the brief spells Rekha could not find work at the Chowk, she would go clean at a large company in Sector 100, where she was paid Rs 300 a day. But when she showed up the day after the currency ban, they told her that there would be no work from now on.
After exhausting their hundred rupee notes, they went to the nearest SBI, where they have their sole account, to exchange money. The crowds stretched a mile and the security guard at the bank shooed them away.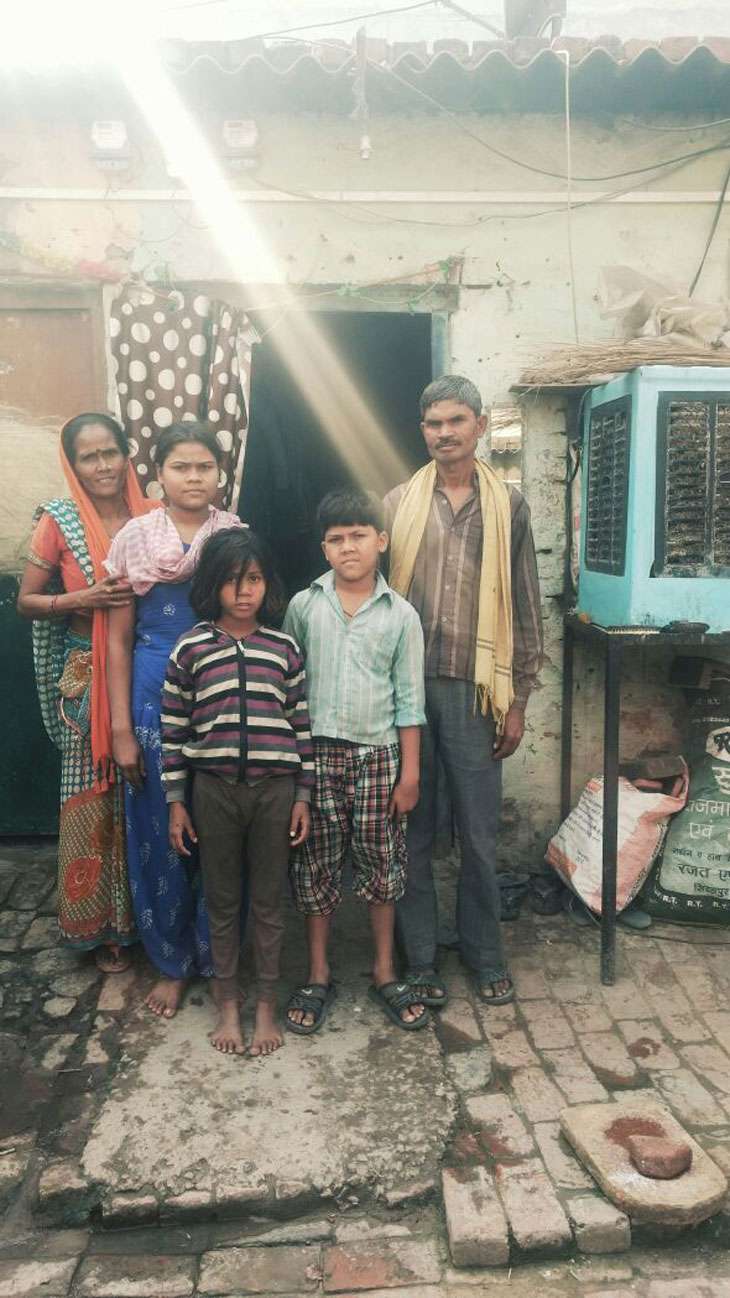 Shriya Mohan/Catch News
"They can see poverty written on our faces. Banks are only meant for the rich," says Rekha.
Their plan, like everybody else's, was to stretch what they had. But with a steady rise in the prices of basic commodities, it is becoming a losing battle for Rekha and Bhudev, and their bare kitchen tells it all. For the last six days, meals at Rekha's one-room tin roofed household have been either rice or roti with chutney made from crushed onions and green chillies - so spicy that it kills your appetite.
Rise in prices, fall in wages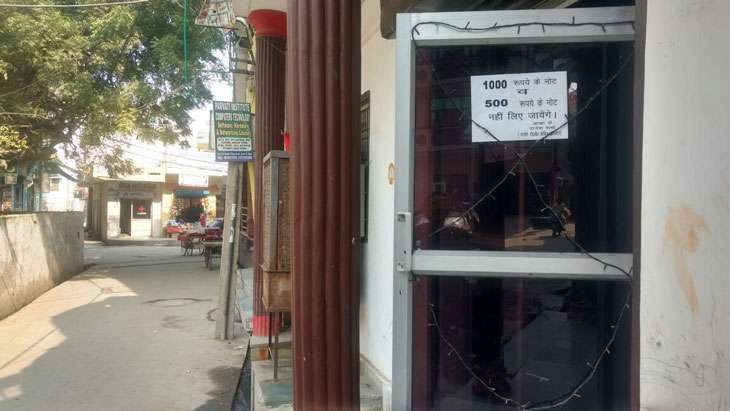 Shriya Mohan/Catch News
Labourers rant off a price list at the Chowk when you ask them what's changed since demonetisation.
Rents that were earlier Rs 2,000 a room are now Rs 2,500. You could buy a huge sack of atta for Rs 300, but it now sells for Rs 500. Grocers charge a commission for taking old notes and have stopped giving groceries out on credit.
Worse, daily wage rates have fallen significantly. Those getting Rs 350 a day are only offered Rs 300 a day for the same amount of work.
"Fear and uncertainty has gripped us all. How long will this last? What else is in the pipeline?" asks Jitendra, a 40-year-old daily wager.
Does it mean that all construction work has stopped?
"Labourers come in two categories," explains Azad of the Nirman Shakti Sangathan, a trade union working on labour rights. "New Delhi has 30 lakh construction workers. Only 30% of these are engaged in constructing new projects, bridges and metro. These are all contractual. But 70% fall in the unorganised labour category and wait at labour chowks, unsure what each day will bring. These work on small time constructions and are paid for the day. Demonetisation is crushing them since people are willing to hold off their small time constructions and repairs," he explains.
Bank accounts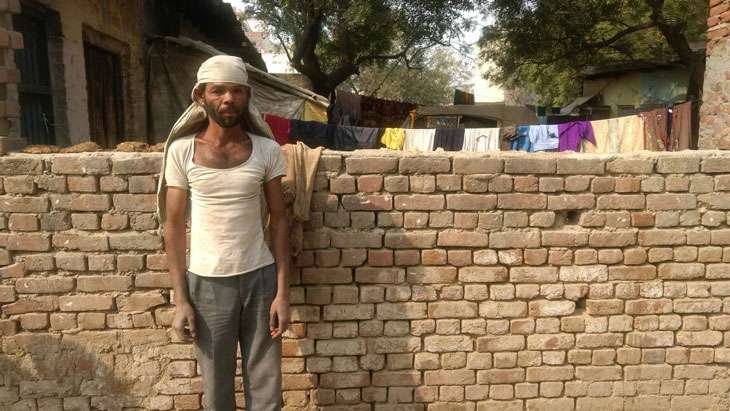 Balram found mason work for the first time since last week and will be paid Rs 350 and finally get a full meal. (Shriya Mohan/Catch News)
According to a report by PricewaterhouseCoopers India, India's unbanked population was 233 million in 2015. Within the ambit of construction workers that figure, although undocumented, is predicted to be far higher.
A World Bank-Gallup survey found that a gaping 43% of accounts in India were dormant accounts.
A simple headcount at the labour chowk of those without bank accounts showed up nearly a fourth of the population.
"Where do we go with our notes?"
"Do we need to hold accounts in banks to get notes exchanged?"
"There are such long queues anyway outside banks, how can we go to make an account?"
There are many questions and chaotic cross talk.
But didn't the Pradhan Mantri Jan Dhan Yojana ensure them bank accounts? "We were too busy to take days off to create bank accounts. Plus what's the point? We spend what we earn and don't have that kind of money to put in it anyway," says Suman, a daily wager and mother of five.
"I had an account a long time ago, but it had no money. Now would be no different. Eventually it was shut," says Ram Das, a construction worker, unable to understand demonetisation.
Rekha's five kids had caught Chikungunya last month. She spent Rs 5,000 in two weeks to get them treatment at a private clinic. That wiped out a third of her life savings.
She shudders to think of another such episode. Given her fragile existence post demonetisation, all it needs is another bout of something unforeseen to put them out on the streets without a roof over their heads.
"The Prime Minister has done us grave injustice. In his 50-day experiment we might just be jobless, homeless and dying of hunger. Who will take the responsibility then?"
Edited by Aleesha Matharu
More in Catch - Children's Day special: Rs 500 in hand but no money to eat; your black money is making street kids starve
Anarchy across India as people pay the price for govt's cashless dream