Dalit gets ration after dying of hunger, pradhan finds water for village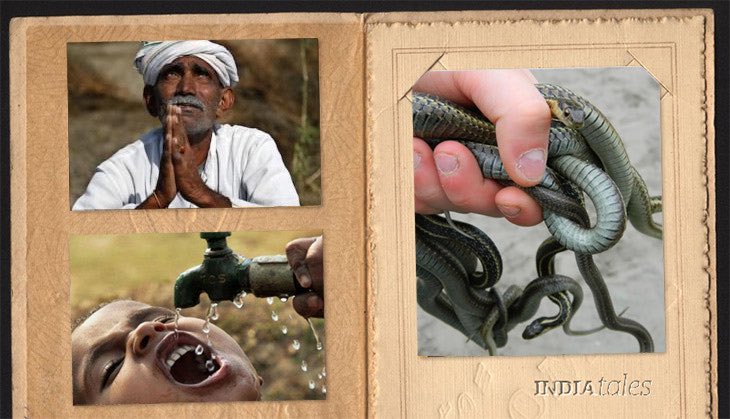 Hungry for four days, Dalit labourer dies on way to collect free food
After going hungry for four days, Nathu Prasad, 40, a landless Dalit farm labourer from Mungus Purva village in Banda, Uttar Pradesh, learned that officials were distributing food packets in the neighbouring Ela village. He rushed, but died on the way. Of hunger.
It was only after his death that officials scurried to deliver a few packets of food to his house. Nathu is survived by his wife and six children, who live in a tin shack donated by relatives.
After drought struck Banda, Nathu and his wife couldn't find any farm work. Nor was there work under MGNREGA scheme. The family's situation was so dire that Nathu's juvenile sons - Dilip, 17, and Sandeep, 14 - were forced to leave home in search of work; they are now in Nashik selling ice cream. For four days before Nathu died, the family had no food to cook.
Read- Trading innocence: the tale of two kids 'sold' for cash, cell phones
Ela is about a kilometre and a half from Mungus Purva. Nathu set out in scorching heat despite being too weak from hunger. According to witnesses, he stopped at a hand pump on the way to drink water. He had barely taken a few sips that he collapsed.
As news of Nathu's death spread and mediapersons started arriving in the village, the local officials were awoken from their slumber. Naraini deputy collector hurriedly sent 35 kg of wheat and rice to his family.
Nathu had an Antyodaya ration card, which enables poor families to receive subsidised ration, but Munni said the ration they got wasn't enough to feed a family of eight. It would last them barely a fortnight, after which they mostly went hungry, but for the little food offered by neighbours.
Yet, local officials, apparently to save their skin, refused to declare Nathu's a "starvation death" even though they didn't do a postmortem. After visiting the grieving family, the SDM of Naraini declared Nathu's death was "not caused by hunger but by heart attack". Banda district magistrate Yogesh Kumar held up the SDM's report to insist that "there are no facts pointing towards death from hunger".
Thinking head: how a UP pradhan solved his village's water crisis
Uttar Pradesh's Hathras district is reeling from an acute water crisis. Wells and hand pumps are running dry, while submersible pumps are defunct for want of electricity. To aggravate the crisis, power cables have been stolen from many places.
Now, the gram pradhan of Ruhal in Sasni Tehsil has come up with a solution. He has installed an alternator on a tractor to draw water from the submersible pumps in the village. The water is collected in tanks and then supplied to the residents of the village. "Strict watch is kept to ensure that nobody wastes our water," says a resident.
Daredevils: young women from Holland take lessons in snake catching
Most people are frightened by the very sight of a snake. But not this group of 20 young women from Netherlands who recently landed in Udaipur in Rajasthan to take lessons in catching and rescuing snakes. It helps, of course, that they are university students on a "wildlife study trip".
Their teacher in Udaipur is Chaman Singh, Director of Wild Animal Rescue Centre. The centre boasts of having rescued more than 50,000 snakes so far.
Also read- Save water or pay fine in Chayal; dine at 'women's eatery' in Rajsamand
"Fascinated by his experience and knowledge", said a person who works at the centre, "the students asked to learn the "tricks of catching and handling snakes". They take their lessons in the field, accompanying the rescue centre's teams when they are called to catch or rescue snakes in the city.
"Chaman Singh is giving them lessons in everything from the identification of different snakes to complicated tricks in handling them," the person said. "By the time their training finishes on 22 May, the girls would have learnt to handle pythons, rat snakes, red sand boa, trinkets etc." Snakes abound in the Netherlands, though most of them are non-poisonous.
Edited by Mehraj D. Lone
More in Catch:
Buddha in a diplomatic jam: Nepal-China take on India over Buddhist heritage
Tension: the Great Indian Diagnosis (and what it's got to do with Kangana Ranaut)
Jammu & Kashmir: Mehbooba proposes amnesty for militants. Will it work?
Telecom operators to benefit from SC's verdict on call drops; Digital India hurt