Collector blames police for the Kollam temple fireworks tragedy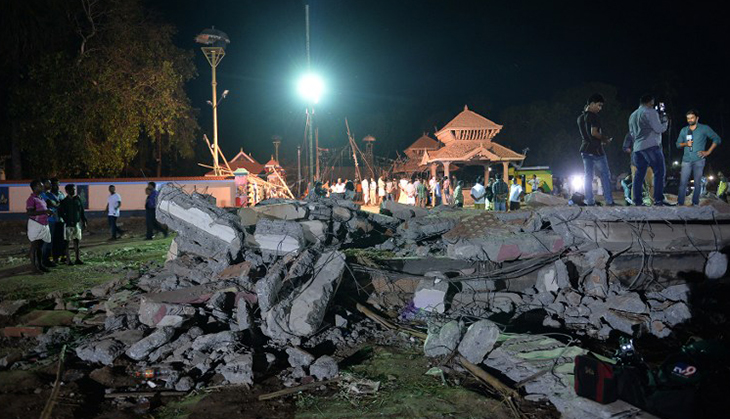 Kollam District Collector A. Shainamol has put the blame squarely on the police for the fireworks explosion at Puttingal Temple in Paravur that killed more than 100 people and injured many more on Sunday. 
Talking to a television channel on Monday, she said there was a clear order from the Additional District Magistrate denying permission to the temple authorities for conducting the fireworks display. "The power to give or deny permission to conduct a fireworks display is vested with the ADM," she iterated. 
Shainamol said the ADM, acting on an application from the temple authorities, had called for reports from his subordinate tahsildar and the police. "Both gave their reports (on 6 April) against giving permission for the display pointing out space restriction around the temple and also stating that what was being planned was a competitive event. It was clearly mentioned in the festival programme notice that they were organising a competitive fireworks display," she said. 
Further, there had been complaints against holding the event from those residing in the immediate vicinity of the temple. They had said the fireworks display in the previous years had damaged their houses. These complaints were found true on inquiry and it was on this basis also that the ADM had rejected the application from the temple authorities, she said. 
Shainamol pointed out that the ADM completed his proceedings on the application on 8 April, and his order rejecting the application contained specific directions to the district chief of police, to ensure that the event was not held.
She said that on 9 April, while she was in the State capital to attend an official conference, her office informed her over the phone about a second report from the police favouring the fireworks display. This was a total turnaround in the position the police had taken on 6 April recommending the event be scrapped. 
She said she would seek a clarification from the district police chief as to why the police had changed their stand, and why they did not act on the basis of the ADM's order. 
The police officer declined to comment on the district collector's statement, saying that a judicial inquiry was being conducted into the tragedy. 
Asked whether there was political pressure on her to allow the fireworks display, the collector said no. "In similar cases one or two persons might have asked [whether it was not possible to have the ADM 's order revoked], but it should not be classified as [political] pressure," she said.
Edited by Anna Verghese
More in Catch:
Kolkata shopkeeper Shanti Haldar: Only Mamata cares about the common man
Assam polls: non-Bodos may hold the key in multi-ethnic Bodoland
Cheers! Jayalalithaa joins prohibition bandwagon. But can she afford it?
Painting yourself black will not tell you s*#@ about being Dalit