Cold, hungry, homeless: the tragedy inflicted upon slum-dwellers of Mehrauli
Tuesday was the coldest day of the season. Hundreds of men, women and children, whose houses were demolished two days ago in Delhi's Mehrauli, could feel the chill. At around 2 am, the minimum dropped to 11 degrees Celsius. Monday was no better and Wednesday is forecast to be worse.
Shamshaan Ghat in Mehrauli, which was home to over 3,000 people until Monday morning, looks like it's been hit by an earthquake.
Also Read: In pics: Homes bulldozed, slum-dwellers face bleak winter in Delhi's Mehrauli
Until a few weeks ago, most of people here had jobs and roofs over their heads. Then demonetisation was announced and their wages, earned from sweeping floors and pulling rickshaws, stopped. About a month later, their houses were bulldozed.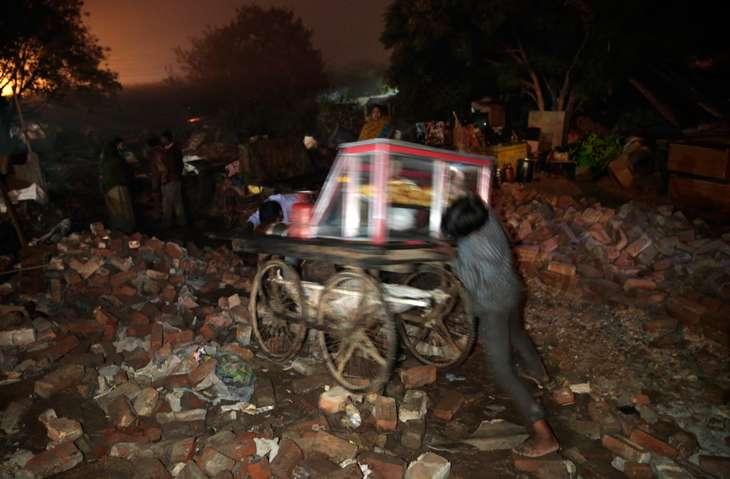 Vikas Kumar/Catch News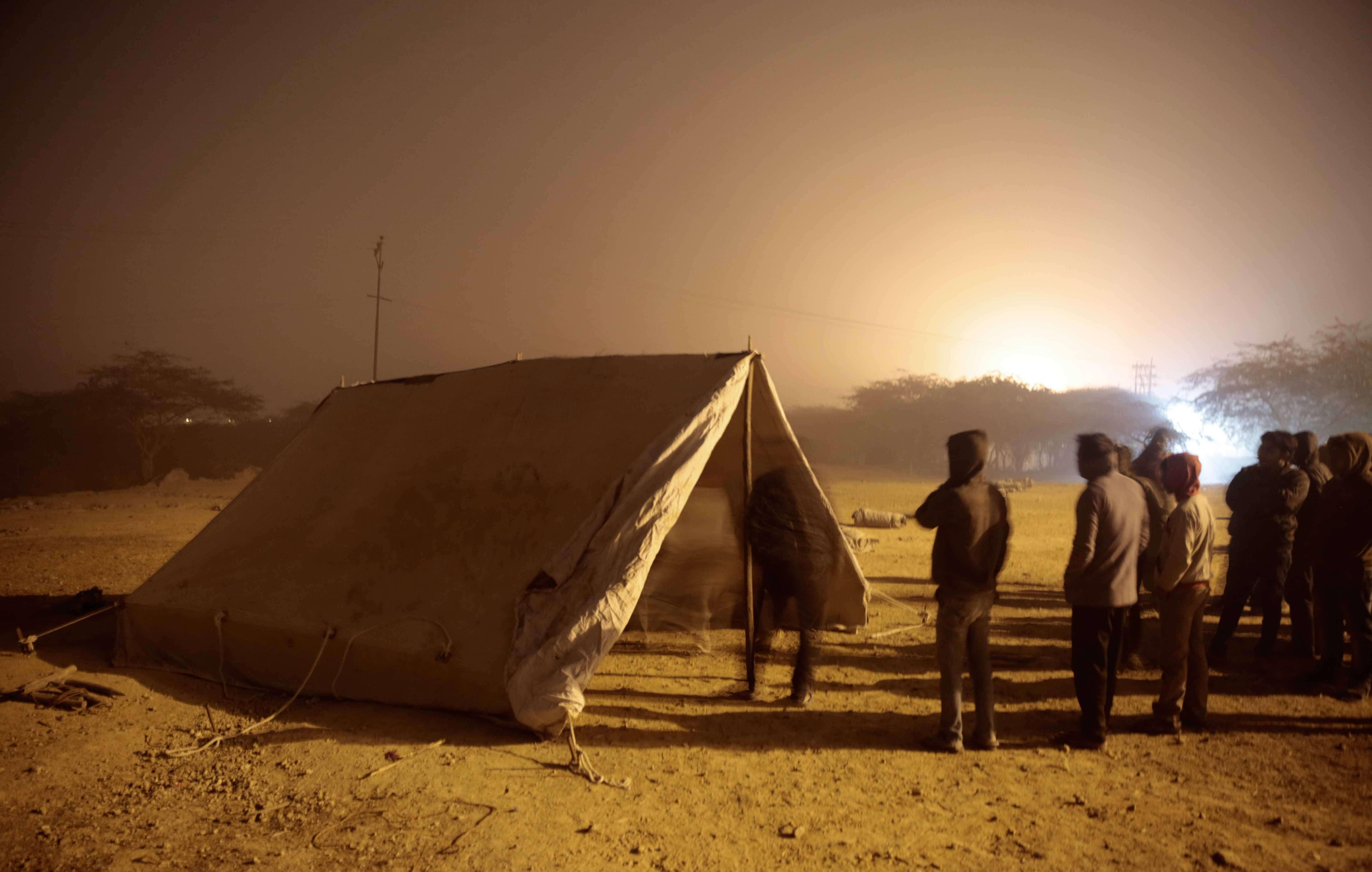 Vikas Kumar/Catch News
Penniless and left out in freezing cold, the people, thousands of them, are now trying to survive one day at a time. "I have had Rs 20 in my pocket for the last two days. What will I feed my wife and children? I fed a handful of puffed rice to my son this afternoon and that is all our family has had for the last two days," said Mehar Singh, holding up two Rs 10 currency notes on Tuesday night.
A few feet from him, Anwar, an 11-year-old boy, said all he had eaten in the past two days was a bag of chips. Was he feeling hungry? Anwar nodded.
To survive the cold night, the people made bonfires of what was once their furniture - beds, dressing tables, roofs, gates.
A little past 12:30, a truckful of rice and kadi from a nearby gurdwara rolled in. Also, some tents were set up in an vacant plot adjacent to the demolished basti. It took some effort for this mostly hungry lot to queue up, but everyone ate. Another truckful of food arrived Wednesday morning and again at noon.
The local sub-divisional magistrate supplied 25 tents, each of which could accommodate only one small family. Since there were over 3,000 homeless people, 15-20 women and children were stuffed into each tent for Tuesday night.
Some like Sheoli begged their relatives living in pucca houses to take in their children for a few nights.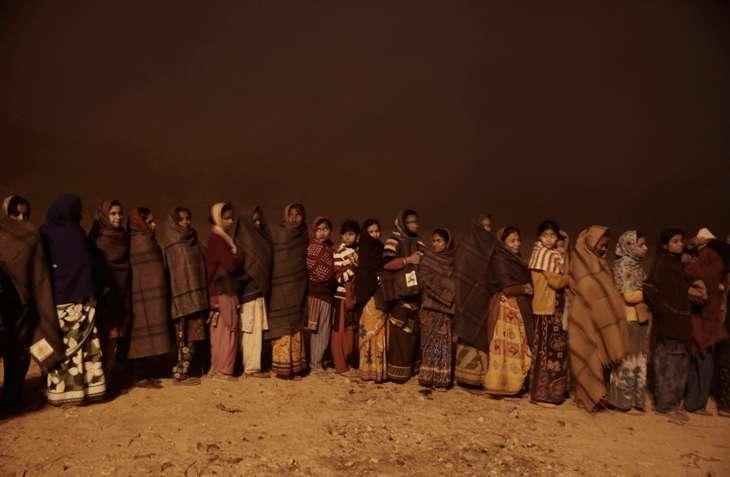 Vikas Kumar/Catch News
The people aren't sure how long they can continue to live like this. "What will happen when the trucks stop coming? Somebody was telling us that the government will come and pack away these tents in three days. Where will we go then?" asked Hazira Bibi.
Also Read: Half of slum children in India's national capital are underweight: study
The women, most of whom work as house maids in nearby areas such as Vasant Kunj, haven't been to work in four days. Many of them are unsure if they can keep their jobs. Same is the case with the men employed at petrol pumps and as small time mechanics.
"Where will we go? How can we leave our children and belongings here? When all this ends we'll have to look for work again," said Radha Kumari, who's come here from Cooch Behar. "Who will compensate us for our loss. Who will give us new jobs?"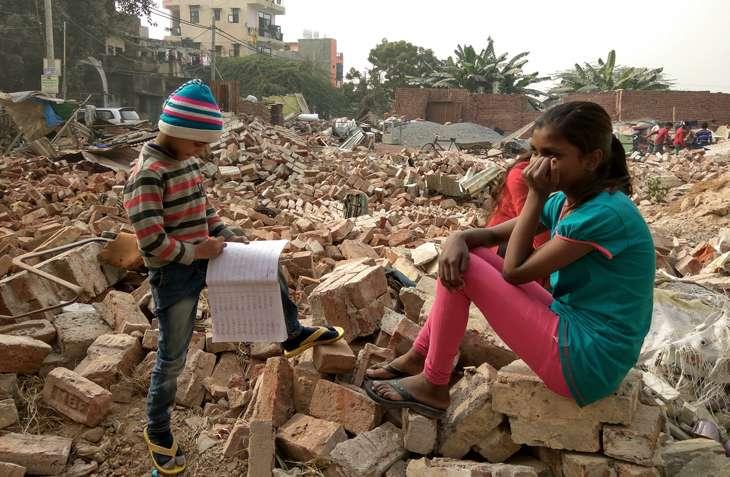 Vikas Kumar/Catch News
An AAP worker conducting relief work in the area was asked why his party and its leader, Delhi Chief Minister Arvind Kejriwal, had come to their only after a long delay. Why had they not raised this matter with the South Delhi Municipal Corporation that demolished their homes, and why was the relief material so scarce? He replied, "These jhuggis were not listed under Jhuggi Jopdi clusters available with us. They seem to be illegal."
Sandeep, the secretary of AAP's Jhuggi Jhopdi Cell, gave the same excuse. "There are 675 Jhuggi Jhopdi clusters listed in Delhi and unfortunately, this one isn't among them. We will help them on humanitarian grounds for now but beyond that we can't do much. We can't rehabilite them."
Confirming the residents' worst fears, Sandeep said the tents will be rolled up Thursday afternoon. Also, no food will be provided thereafter.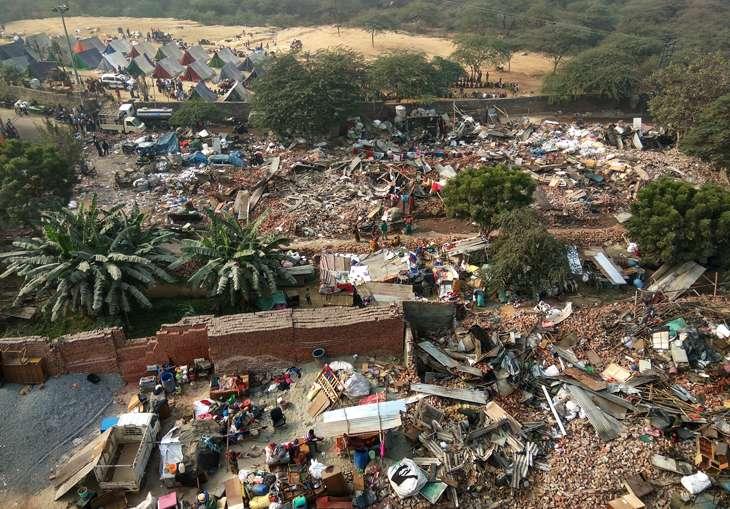 Vikas Kumar/Catch News
Neither Naresh Yadav, the AAP legislator who represents this area, nor spokespersons for the South Delhi Municipal Corporation and the Delhi government would respond to repeated questions about this incident.
And this indifference from the government of Kejriwal, who had vowed not to allow any jhuggi to be demolished.
Also Read: Shakur Basti is not alone: 2 million people live in 6,343 slums in NCT Delhi