Mehrauli is not alone: 2 million people live in 6,343 slums in NCT Delhi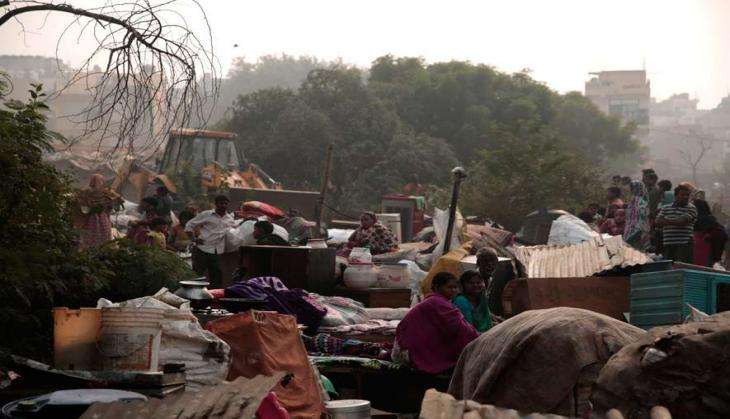 The Shamshaan Ghat slum in Mehrauli, home to more than 3,000 people was in for a rude shock late Tuesday night when the slum was demolished by Municipal Corporation of Delhi.
Significantly, gifting Delhi's marginalised people a chilling winter has become a habit of state agencies- be it centre or the state. Last year, during this same time, railways razed Shakur Bustee, inviting displeasure within its own quarters.
Proponents of economic development support such demolitions. They can say that most of these slums are illegal. However, they sometimes forget that even their drivers, maids, security guards and garbage collectors may live in such colonies, and an incident like this disrupts everybody's lives.
Read: Not just the Shakur Basti slum, residents' entire lives were demolished
There are many important sociological questions to be answered: Who are these people? Why did they come here? What are our politicians doing for them?
The answer is that they reside on the margins, have no future plans and live under constant fear of eviction, without basic facilities.
About 217 slums were demolished in Delhi between 1990 and 2007, affecting thousands. The worse part is that there is no record of people being resettled.
In the last few years, there have been major eviction drives, which escalated ahead of the 2010 Commonwealth Games.
Number of slum dwellers in the National Capital Territory, more than states like Punjab, Haryana and Bihar. They mostly hail from villages.
85% of them are migrants from the backward districts of Uttar Pradesh and Bihar like Ballia, Azamgarh, Siwan.
Of these, 1.1 million people are categorised as 'non-workers', which suggest that these people are the families of cultivators, agricultural workers and household industry workers.
Every slum contains about 160-170 households on an average. Most slums are located along railway tracks.
There are a total of 6,343 slums in New Delhi. About 90% of them are built on public land, and are not recognised under any state acts.
22% of these slums do not have any latrine facility, 84% do not have underground sewerage,and garbage is collected from only 31% of these slums.
Number of migrants in Delhi, according to Census 2001.
Census 2011 has not released migrant population numbers, making it more challenging to ascertain the present number of migrants.
Hypothetically, if one were to take the 6 million number as static, one-fourth of these people live in slums.
Search for livelihood is one of the major reasons why people migrate to Delhi.
Also read: Shakur Basti residents spend a night shivering in the open after demolition drive
The percentage of people who live in slums in Delhi as of 2010.
In 2001, this number was 16.88%, which means that share of slum population has decreased in a decade.
Interestingly, research finds correlation between decline in slum population with increasing urban growth. Delhi has the highest urban growth in India in recent times.
Such facts clearly show the exclusionary nature of urbanisation - from slum evictions to inadequate infrastructure.
The number of houses Delhi needs by 2021 to provide homes to its burgeoning population.
Half of these houses need to be built for Economically Weaker Sections and Lower Income Groups.
It is a herculean task, given that government schemes have poor achievement rates, land is not easy to find and houses that have been built by the government lack basic standards.
The average cost of purchasing one room in a slum (pucca, semi-pucca and kutcha) in a Delhi slum.
This is six times more than what a slum dweller earns per month, on an average.
The monthly rent for one room in these slums works out to Rs 847.
The social fallout of demolitions is not small, and "government should be ready to adjust this cost," said the now-defunct Planning Commission.
However, in case an alternative accommodation is provided, slum dwellers often rent out their places.
Proportion of households who think migration to Delhi is the right decision despite living in slums.
All of them agree that their income, children's education and assets ownership has increased manifold after moving to the city.
89% of slum households in Delhi say they are not willing to move away from their area due to the fear of job insecurity.
"Given the nature of jobs the slum dwellers are engaged in, relocating them in suburban areas would be too costly for their survival. There is a synergy between the means of livelihood, current locations of slums and the job markets," the Planning Commission had said.
Read more: Rahul Gandhi visits Shakur Basti slum; Suresh Prabhu addresses demolition in Parliament
Strategies that Delhi has been following to deal with slum settlements.
Improvement of the slum environment: Pay and use Jan Suvidha complexes containing toilets and bathrooms, mobile toilet vans; water supply either through water hydrants, hand pipes or water tankers; street lighting; dustbins for collection of domestic waste; paved pathways and drains.
Relocation of slums: Since 1990, about 60,000 families have been rehabilitated at Dwarka, Rohini, Narela, Bawana, Holambi, Molar Bund, Madanpur Khadar & Sawda Ghevra, keeping in view the scarcity of land in Delhi and as per the directions of the Delhi government and the Government of India.
Upgradation and rehabilitation: Private parties join hands with the government and construct rehabilitation units. Some of the rehabilitation units house commercial activity to benefit promoters. Example- Rehabilitation units have come up in Prayog Vihar, Ekta Vihar and Shanti Vihar.
But basic amenities are still a problem: Jagdamba Camp in Malviya Nagar has a population of about 10,000 but there is only one public toilet complex and two tube-wells.
The number of years a slum-dwelling family in Delhi expects to stay in the slum.
86% of these households also feel that the government will not let slums continue.
Most of them have no future plans in place.
If governments are serious, then there are enough successful models to follow when it comes to evicting and rehabilitating slum dwellers. They need to look no further than Mumbai's Dharavi for inspiration.
But the trouble is exactly that - can the authorities be relied upon to do a proper job? Slum dwellers certainly don't think so - they will any day trust an NGO rather than the government.
More in Catch:
US Fed is set to raise interest rate. How will it affect India?
100% Pawar Play: excerpts from Sharad Pawar's just-released autobiography
Banksy just reminded us that Steve Jobs was the son of a Syrian immigrant
Nadal & Federer in New Delhi: epics are made of these