CBI visits Virbhadra to probe graft, and that's just the start of it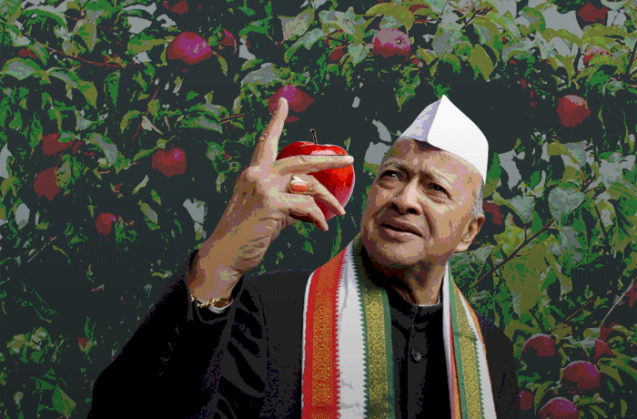 Under a cloud
CBI raids 11 properties linked with Virbhadra Singh
As steel minister, he allegedly amassed over Rs 6 crore illegally
FIR also names his wife Pratibha, son Vikramaditya, daughter Aparajita
Storm on the horizon
PIL in Delhi HC alleges he also indulged in corruption as CM
He helped a contractor in return for unsecured loans to family, OSD
Petitioner asks for a CBI probe into these allegations as well
The row over the Jangi hydel project hasn't yet subsided, but Virbhadra Singh has already landed in trouble with the CBI.
The agency on 26 September raided 11 addresses linked with the Himachal Pradesh chief minister as part of its investigation into a case of illegal wealth against him.
Also read: Is Virbhadra Singh favouring Gautam Adani to get CBI off his back?
The places include his residences in Shimla and Delhi, farmhouse in Sarhan and ancestral house in Rampur Bushair.
In Shimla, when the CBI team reached his house, Virbhadra was away at a temple for his daughter Minakshi's wedding. Though he soon returned to host lunch for his guests, the raid continued.
What's the case against Virbhadra?
An FIR filed by the CBI in June accuses the chief minister and his family of amassing Rs 6.1 crore beyond their known sources of income when he was the Union steel minister from 2009 and 2011.
Those named in the FIR include his wife Pratibha, son Vikramaditya, daughter Aparajita as well as an LIC agent Anand Chauhan.
Virbhadra allegedly invested this money in life insurance policies through Chauhan. It came to notice when he filed revised Income Tax returns for 2009-10, 2010-11 and 2011-12, showing a huge increase in income from his apple orchards. Chauhan was also a manager of these orchards and the CBI has raided his house as well.
After the discrepancy was noticed, the NGO Common Cause, in November 2013, petitioned the Delhi High Court for a probe, supervised by the CBI or the director general, Income Tax.
The petition levelled the following allegations:
1) In late 2010, documents seized during a tax raid on a multinational steel company indicated it had paid Rs 2.28 crore to Virbhadra between 2008 and 2010 when he was the steel minister.
2) While Chauhan was being probed for tax evasion, it was found that he had deposited nearly Rs 5 crore in cash in his PNB account in Shimla and paid LIC premiums totalling Rs 5 crore in favour of Virbhadra, his wife and children.
The CM came home to host lunch for guests at his daughter's wedding, only to find the CBI raid team
3) To explain the unaccounted for money, Singh filed revised I-T returns for 2009-10, 2010-11 and 2011-12, showing revised farm income of Rs 2.21 crore, Rs 2.80 crore and Rs 1.5 crore - a 30-, 18- and 6-fold increase, respectively, over the previous income.
4) To justify the LIC premiums, Virbhadra produced an MoU with Chauhan, dated 15 June 2008, entrusting him the management of the orchards. It was, however, found that he had inked an agreement with one Shri Bishambar Dass on 17 June 2008 for managing of the same orchards for the same period. This established that the MoU with Chauhan had been backdated to explain away the unaccounted for money.
More trouble in the bank
In January 2014, Common Cause filed a fresh application in the high court, saying it had "come in possession of certain documents that show Virbhadra Singh has indulged in other serious acts of bribery and corruption that need a thorough independent investigation".
"But since these charges pertain to his current tenure as the CM of Himachal Pradesh, the CBI can only investigate them either on a reference by the state or on an order of a writ court," the NGO added. Hence, the fresh application for a direction to probe the charges.
And the charges?
According to the NGO, the government of BJP's Prem Kumar Dhumal had allotted a hydel project at Sai Kothi to Venture Energy & Technology Pvt Ltd on 14 June 2002. The company didn't execute the project on time despite several extensions.
After Virbhadra came to power in 2003, his regime granted Venture another extension of 10 months. This decision was a result of quid pro quo, the NGO alleged.
The proof? In his affidavit for the 2012 Assembly election, Virbhadra didn't list any loans received by him or his wife from Venture or its promoters.
But when Pratibha filed her nomination for a Lok Sabha bypoll on 30 May 2013, she stated that one Vakamulla Chandersekhar had given an unsecured loan of Rs 1.50 crore to her and Rs. 2.40 crore to Virbhadra. Chandersekhar, it turned out, was the director and promoter of Venture.
Virbhadra's explanation for his Rs 6 crore unaccounted income: it came from apple orchards
Chandersekhar had also given unsecured loans of Rs 49.9 lakh and Rs 1.50 crore to Maple Destinations & Dreambuild Pvt Ltd, which is fully owned by Vikramaditya and Aparajita. The interest-free loans were given from the accounts of Tarini Sugar & Distilleries, in which Chandrasekhar has a 17.5% stake.
Tarini Infrastructures Ltd, of which Chandrasekhar is the majority owner, gave 9,80,000 equity shares of Rs 10 each to the chief minister's family - 3,40,000 each to Pratibha and Aparajita, 3,00,000 to Vikramaditya. Even Virbhadra's OSD Amit Pal Singh received 10,000 shares.
The NGO also furnished a letter written by the then Leader of Opposition in Rajya Sabha Arun Jaitley to PM Manmohan Singh and forwarded to the CBI. The letter, dated 29 December 2013, refers to the shady dealings of Venture Energy and Tarini Infrastructures.
On the basis of these submissions, Common Cause has asked the high court to order a court-monitored probe by the CBI or a Special Investigation Team against Virbhadra for bribery and corruption.