CBI faces heat after Chhattisgarh murder accused commits suicide in custody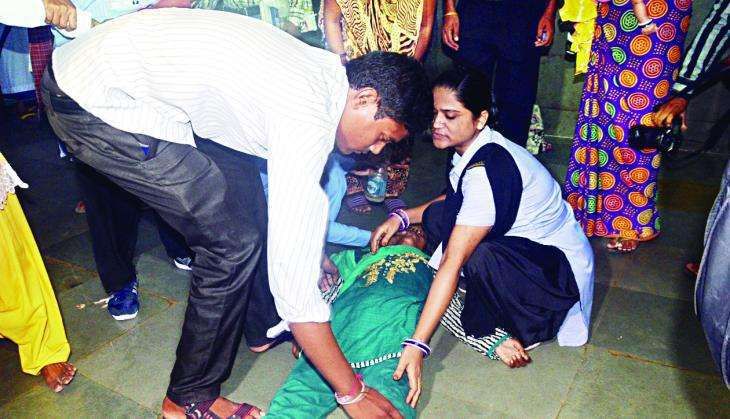 Shiv Kumar Vaishnav, an accused in journalist Umesh Rajput's murder, died in a government hospital in Raipur on Monday, 3 October. Vaishnav had attempted suicide while in the Central Bureau of Investigation's custody, and had been admitted to the Dr BR Ambedkar Memorial Hospital on 29 September.
Vaishnav's family reached the hospital as soon as the news of his demise broke, and created a ruckus. After clashing with police officials and hospital staff, the family members sat on a dharna inside the hospital premises.
Soon, heavy security was deployed on the hospital campus. Vaishnav's relatives, including his wife Maya, were barred from entering the ICU ward. The police as well as the family had a hard time pacifying the bereaved wife.
The family has demanded that Vaishnav's autopsy be recorded on camera.
Wife's allegations
Maya has accused CBI's Deputy Superintendent of Police Namo Mishra of 'murdering' her husband. "We have no reason left to live. We will also commit suicide," she lamented.
The police is keeping a close watch on Maya, her daughter, daughter-in-law, and Vaishnav's mother. Female police guards have been deployed outside their residence.
Maya alleges that the CBI was trying to forcibly extract a confession from her husband. She claims Vaishnav had told her about the threat to his life from CBI officers.
According to Maya, DSP Mishra and his team had accepted a bribe to frame her husband and son.
Vaishnav and Rajput, the murder victim, were close friends, if she is to be believed.
"Umesh possessed a video clip of a sting operation indicting the mining mafia. The mafia killed him for the fear of getting exposed. They suspected Umesh had also shared the clipped with my husband. This was the reason he, along with my son, were falsely charged with the murder. My husband was brutally beaten in CBI custody," alleges Maya.
A magisterial probe has been ordered into Vaishnav's death. CBI special judge Shantanu Kumar reached the Ambedkar hospital after Vaishnav's death and examined the dead body before sending it for post mortem.
CBI officers flee Raipur
ASI Anwar Khan, who is probing Vaishnav's suicide, has revealed that CBI DSP Mishra and his team members have fled from Raipur. When Khan and his colleagues went to question the concerned CBI officers in the transit hostel at the Police Lines, their rooms were found locked.
The city's SP, Vijay Aggarwal, refused to comment on the matter.
Politics over suicide
The issue is reverberating in the political corridors of Raipur. State Congress chief Bhupesh Baghel has demanded a high-level investigation into the matter. He compared this incident to the suicide by the family of former IAS officer BK Bansal in Delhi, allegedly because Bansal was hounded by the CBI.
Both the cases have raised serious questions about the style of functioning of India's premier probe agency.
Expressing grief over Vaishnav's suicide, former Chief Minister and Chhattisgarh Janata Congress president Ajit Jogi has demanded a compensation of Rs 25 lakh for Vaishnav's family.
Implications for murder probe
Vaishnav's suicide has come as a big setback for the investigation of Rajput's murder. The CBI had named him as the main accused in the case.
Rajput worked for a local Hindi daily at Churra near Gariaband, about 100 kilometres from the state capital. He was shot dead by two unidentified assailants in 2011.
The CBI had arrested Vaishnav and his son Vikas on 25 September. Cases were registered against them under the stringent Arms Act. Both were sent to four days of CBI remand by the court. They were kept in the transit hostel at the Police Lines.
On 29 September, DSP Mishra allegedly went into Vaishnav's room to question him. After a little while, Vaishnav hanged himself in the bathroom.
He was initially taken to the district hospital, and later referred to the Ambedkar hospital, where he died.
Edited by Shreyas Sharma
More in Catch
NCRB Report : Custodial deaths on the rise, but cops hardly convicted
#FreeThePress: Chhattisgarh is not a great place to be a journalist. I'll tell you why
BK Bansal suicide: Is Amit Shah influencing the CBI?