Butting heads: A letter to Mr Mohandas Pai and his ilk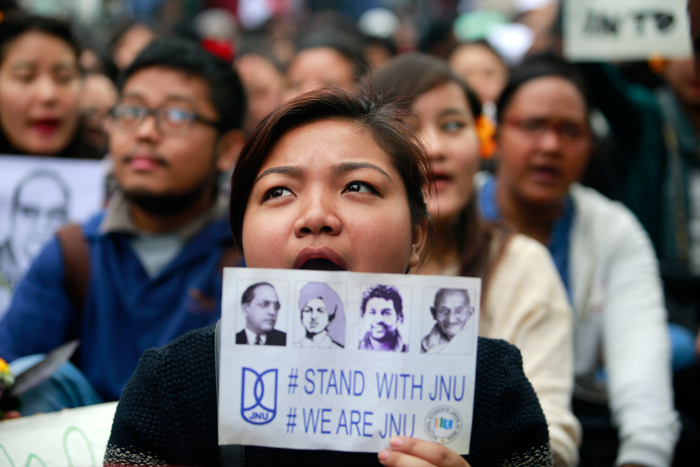 Dear Mr. Pai,
I wanted to address you as Mohan Das, but this name reminds me of someone else whose vision is completely antithetical to you and your ilk.
Your ideas are crystal clear and I salute you for espousing the cause of the institutions you helmed until a while ago.
I wish that the vice-chancellor of Jawaharlal Nehru University (JNU) had been as steadfast in his support to JNU and its ethos as you are to your institution. We fully understand your angst against what is happening in the university.
Also read - Jadavpur University reacts to 'anti-nationalism' with vandalism on campus
Your problem lies not only with JNU, but also with the kind of people JNU attracts. We understand that you want every university to be a clone of 'Moneypal', where only money can buy a seat (so much for the votaries of meritocracy).
Where people should not feel concerned about thousands of farmers dying in Maharashtra, they should also not feel perturbed when someone who's been incarcerated for 10 years is being freed because he was found not guilty for a crime - for which he spent his golden period of life behind bars.
You want an institution that does not bother itself with the stories about how our armed forces and police forces have been staging encounters to get prize money and promotions.
You don't relish JNU because people here discuss the ongoing terror regime in Chhattisgarh, where adivasis are being looted and killed (sorry, people like you call them vanvashi), and women are being raped arbitrarily.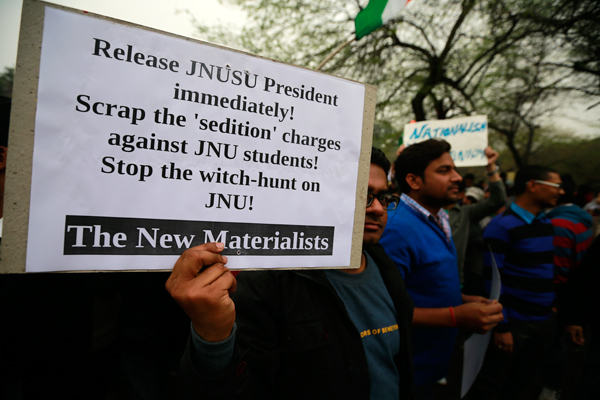 We appreciate your argument that students should be charged the cost which is being invested in educating them (I intentionally use this word, knowing your background) because the return on the investment is negative.
That's primarily because you believe that JNU has repeatedly failed to produce the kind of knowledge and scholarship that would make sure that students like Rohit, Kanhaiya and Chandu do not get a chance to avail of the opportunity of arming them with the wherewithal to challenge the status quo and ask embarrassing questions to the state and people like you.
I fully sympathise with you for the discomfort JNU and its students has repeatedly caused to people such as you. We understand that you would like universities to produce robots that can instantly fit into assembly-line production units that people like you want to turn this country into.
People who discuss Pash, Samsher, Dhumil, Vijaydan Detha, UR Ananthamurthy and others like them would certainly not fit into your scheme of things because they ask questions. Questions about which model of development you advocate, questions about the rights of the workers, the rights of the LGBT community, the irreparable damage to environment and even questions regarding the huge waiver people like you get from banks.
In reality, people like you are afraid of questions and those who ask too many questions. For you, asking questions is synonymous with sabotage.
Also read - MHA seeks report pro-Afzal sloganeering in Jadavpur University
You're worried they'll sabotage the grand plan people like you have for India where farmers won't be around to embarrass you again and again by committing suicide; where people would no longer ask that instead of spending 6% of GDP on education, why private participation in higher education is not only being encouraged, but supported by state-run banks with loans on favourable terms.
And in case you fail to repay, you won't meet the fate of those farmers who are sullying the image of Mother India by committing suicide, but banks will be groveling before you with extended terms of loan payment and reduced rate of interest.
We understand that why a 'small' university like JNU attracts the attention of "big shots" likes you. But we will like to remind you that this university is not run by the money, which is being paid as income tax by corporate likes you because you get your money back multifold.
You know much better than us that in the last 25 year how profit started touching the stratosphere, courtesy tax sops, incentives and last but not the least loan waiver running into lakhs of crores.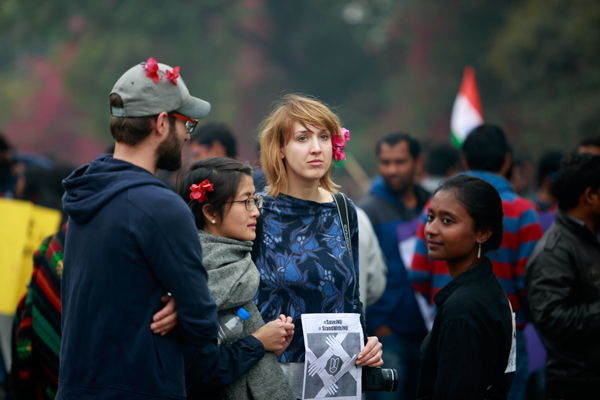 On the other side, the per capita income of average Indian, spending on health and education have remained stagnant or fallen (if we take, inflation into account). But this fact is hardly of any relevance for people like you.
We know it well that our presence in metropolises and institutions like JNU is like an eyesore to your aesthetic sense. But universities like JNU arm us with enough courage and knowledge to put our feet into the doors, which people like you have been guarding so religiously for so long.
You must know that the admission policy of JNU is one of its kind and request you to go through this, and being a true 'nationalist', please join us in making this a norm in all government as well as privately run educational institution.
But we know you won't go through it because you are not in the business of education, but for you education is a business. You will not bother yourself with the knowledge that most of the faculties in JNU is not Leftist. Some of them, you see every day on television defending JNU are not Leftist by any stretch of imagination.
There is a series of eminent professors in JNU who are not Leftist but such kind of differentiation is for ordinary mortals like us. Your naivety is so imminent when you argue for providing space in JNU for contending ideologies.
In a university, where all hues of political ideologies - from Vidyarthi Sena to DSU - are not only present, but also continuously engaging with each other, only people having blinkered vision would miss it. You seem hardly aware that from the current Cabinet of BJP to RSS mouthpieces Organizer and Panchjanya, have students of JNU at very responsible positions.
We fully understand that the nature of government has not changed from 1975 to 2016. I will like to remind you that even the tyranny of Emergency had not been able to steamroll us and we prevented the reigning empress Indira Gandhi from entering into the campus. We won't let the nefarious design of the present dispensation of changing the characters of JNU succeed as well.
Last, but not the least, please stop worrying about the money you pay as tax. Your money is going to the corporate as tax exemptions and the pseudo-profit (I term it pseudo, because if we calculate the money given as tax sops to corporate, it will be much higher than the so-called wealth created by you people).
The money used for running institutions like JNU is the money of the toiling masses of this country and we are duty-bound to defend them and their interest. And we won't change. You must understand that our resolve has never been so strong as today. We will defend this institution come what may.
We can commiserate with your discomfort that a system, which is fully in-tuned to spawn institutions like Money pal is repeatedly being thwarted in its attempt by some mindless student like Rohit and Kanhaiyas at present and students like Chandu in the past.
Please don't hesitate to drop in one of these days at Ganga Dhaba if you really want to understand JNU. I will be waiting for you with a cup of that famous tea.
Edited by Joyjeet Das
More in Catch - Wondering why some JNU students protested for Afzal Guru? Here's your answer
#JNUCrackdown: politics of paranoia around sedition can singe Rajnath
Why the Sanghi zombie apocalypse is upon us (and how to save yourself)