Buddhadeb Bhattacharjee pens second memoir, blames former Bengal guv for Singur, Nandigram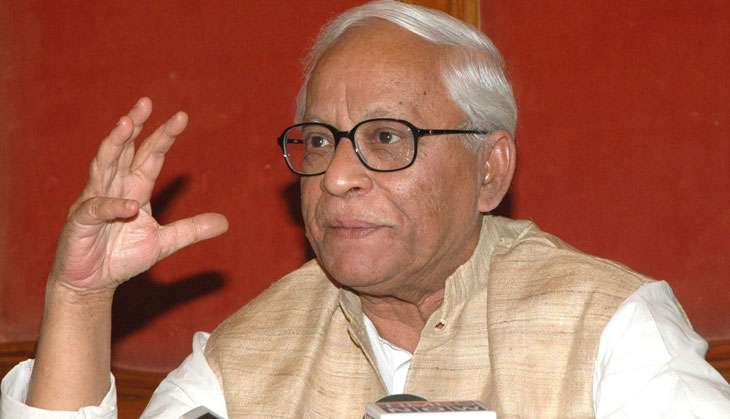 With Nandigram and Singur agitation, that lead to the downfall of CPI(M) in Bengal, as backdrop former chief minister of Bengal, Buddhadeb Bhattacharjee, has penned his second memoir. Phire Dekha II, his second book after Phire Dekha, is a review of the Left Front government's last 10 years in power.
The book has Bhattacharjee recalling the days of turmoil in Nandigram and Singur along with the agitation against the forcible land acquisition movement lead by then Opposition leader Mamata Banerjee. When Bhattacharjee was CM, from 2000 to 2011, current Banerjee was the principal Opposition leader in the state.
In this book Bhattacharjee has taken a dig at Bengal's former governor, Gopal Krishna Gandhi, holding him responsible for the dismal progress of industrialisation in the state.
Bhattacharjee has written that in 2008, Gandhi tried to mediate between Banerjee and Bhattacharjee on Tata Motor's Nano project in Singur , but had failed. Gandhi's intervention drew ample flak from the Left Front.
The book also mentions how Bhattacharjee had taken the innitiative himself and had recommended Gandhi's name for the post of the Governor of West Bengal.
"When Prime Minister Manmohan Singh requested for a suggestion for the incumbent at Raj Bhavan, I was happy because usually, the Government in Delhi did not show any such courtesy before sending any body for this post, and I suggested the name of Shri Gandhi. Later I developed a very good relationship with him. But all of a sudden why did he (Gandhi) take so much initiative to protect the interests of the Opposition?" Bhattacharjee writes.
Giving an instance of a conversations that happened between - Gandhi, Left Front ministers Surya Kanta Mishra and Nirupam Sen and Mamata Banerjee - at Raj Bhavan to sort out the imbroglio, Bhattacharjee has written that the state would remember Gandhi as long as it suffers from a lag in industrialisation.
In his book, Bhattacharjee has also questioned the role Gandhi played after the firing at Nandigram that saw 14 people dead.
"I was quite surprised at his 'cold reaction'," writes Bhattacharjee talking about a statement issued by Gandhi where he slammed the Left Front government for fresh violence in Nandigram after the firing.
"He knew people were being killed there (Jungle Mahal) mercilessly, Maoists had become hyperactive. The state government sent police there to maintain law and order. But instead of supporting the police action he issued that statement, crossing his limits. Who did he want to please?" Bhattacharjee asks in the book.
Phire Dekha II shows that Bhattacharjee is no mood to blame his government for their failure to control the Singur and Nandigram agitation. And he also has written in his book that the Tata's leaving Bengal hit the state hard.
"It was an irreparable damage to the state. Sometimes I wonder where I made the mistake. Was it land acquisition itself or was the process of land acquisition that was wrong? Was I too soft on the Opposition? We will take the lesson from that experience," Bhattacharjee writes.
Edited Jhinuk Sen