Bihar topper scam rate list: 20 lakh for first rank, 40k for first division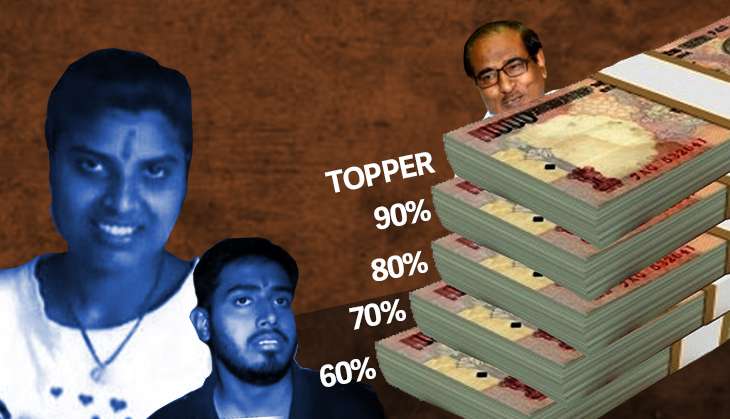 With new revelations almost every day, the controversy over the topper scam continues to rock Bihar politics. The former Bihar School Examination Board (BSEB) chairman Lalkeshwar Prasad Singh is believed to be the kingpin.
According to the Bihar Police's Special Investigation Team (SIT) probing the case, Lalkeshwar Prasad was running a cheating racket in the state. He had allegedly earned acquired properties worth crores through these activities.
The investigation suggests Lalkeshwar's wife Usha Sinha was also an active part of the entire illegal network. A former MLA of the ruling JD(U), Sinha was principal of Patna's Ganga Devi College until recently.
Police sources claim Lalkeshwar Prasad used to charge a hefty bribe for official recognition to schools and inter-colleges. In addition, bribes were taken for fixing toppers of various exams. Lalkeshwar and his accomplices reportedly also took money for fudging the marksheets. The rates were fixed as per the marks allotted.
Also read - Bihar topper scam: Special Task Force arrests five
The buy-off for recognition to schools and inter-colleges was around Rs 4-5 lakh per case if senior police officials are to be believed. Similarly, the money taken for giving first division (above 60% marks) to any candidate was between Rs 40,000-50,000. The cost for topping the exam was a whopping Rs 15-20 lakh.
Although, Lalkeshwar was careful enough to not accept bribes directly. His son and son-in-law purportedly handled all illegal transactions while his wife is also said to have played an active part in the shady dealings.
The officials of private schools and colleges contacted these people for a deal. They, in turn, paid Lalkeshwar after deducting their share. The responsibility of preparing all the necessary documents was also entrusted to his son, wife and son-in-law. Lalkeshwar's role was to give approval to the proposals.
The police officials say Singh never signed a file before receiving his share of the money. This is despite the fact that his aides were his close relatives.
Lalkeshwar had allegedly invested most of the graft money in real estate. The police has seized documents of flats in Patna, Nalanda, Delhi, Gurgaon and other cities from Singh's residence.
BSEB data reveals that around 100 inter-colleges were accredited during the past year. Additionally, over 200 schools were allowed to conduct examinations of secondary level classes in the same period.
The probe
The state government is now probing the recognition given to all these educational institutes."We are investigating all such schools and colleges. The recognition of all the institutes found violating the rules would be cancelled," assures state education minister Ashok Chaudhary.
The state education board appeared to be particularly benevolent in giving marks to the students of private schools and colleges during Lalkeshwar's reign. For instance, no student of the Vishnu Roy College secured less than 60% marks this year. This Vaishali-based institute is at the centre of the whole probe.
SIT officers suspect that Lalkeshwar also misused his post to unduly benefit his son Rahul Raj. Raj works as a manager in United Bank of India. According to sources, the official account of BSEB is in Allahabad Bank, but Lalkeshwar Prasad opened yet another account bank in the branch where his son worked. Rs 54 crore were deposited to the account within 24 hours of its activation.
As a result, Raj was felicitated by his bank as an employee who brought maximum business. Interestingly, Raj's mother Usha Sinha was invited by the bank to confer this honour upon him.
Both Prasad and Sinha have so far claimed innocence. Lalkeshwar has reportedly passed on the entire blame on the former board secretary Hariharnath Jha during questioning. According to him, it was Jha that dealt with all the controversial files. The SIT is preparing to arrest Jha soon.
Also read - Bihar toppers scam: SIT arrests ex-BSEB chairman Lalkeshwar Singh, wife Usha Sinha
However, it was Usha Sinha's response that astounded SIT investigators. Replying to the queries of SIT chief and Patna SSP Manu Maharaj, she said, "Today, it is your moment, SSP sahab, but remember my day will also come."
This scam has exposed the rot within the education system of Bihar. As NK Chaudhary, the former professor at Patna University, puts it, "The real condition of the education system under Nitish Kumar's rule is now out in the open. However, there are doubts whether the government is really serious about getting to the bottom of this matter."