Bid for NSG: why India's risky diplomacy could backfire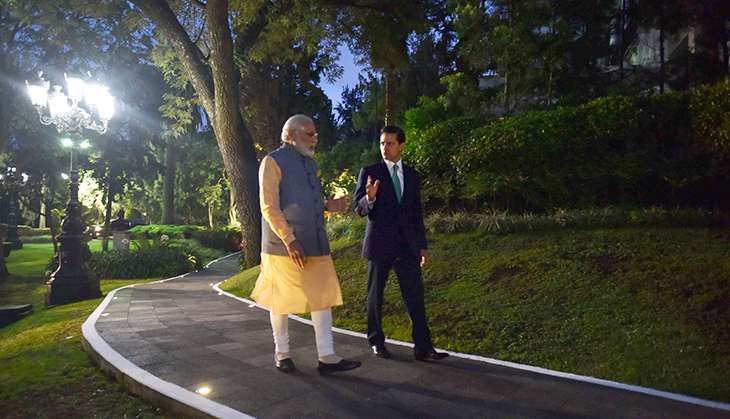 Sushma Swaraj is a consummate politician who knows when to deflect a question. She was asked, at her annual press conference on 20 June, "What would happen if India does not get the NSG membership?" Swaraj replied that those who contest Lok Sabha elections do not think of not succeeding. In making any effort, one has to remain focused. Hence, she said, she had not "heard" the question.
There is a difference, though, between contesting elections and entering an international group. A failures in the latter arena impacts the nation, not just politicians or their parties. That said, Swaraj's response to a straightforward question cannot be faulted. She was being cautious as the traditional style of Indian diplomacy demands.
The diplomats she leads, however, seem to be marching to a different tune. They argue that in high-stakes diplomatic games such as are needed to usher India into the exclusive NSG club, strong moves have to be made; prudence and sobriety are by inference of secondary importance. This borders on the neocon approach, which cares little for consequences. Some commentators are hailing this as the bold new style of diplomacy, quite apart from the decrepit, timid and tired patterns of the old. Failure and its consequences do not seem to matter anymore.
Also Read: Dangerous folly: the case against India's bid for an NSG seat
Risk of failure is part of the diplomatic game and should not inhibit action. But the impact of failure, especially after high-octane diplomacy, is usually far-reaching both internationally and domestically. Hence, caution, patience and prudence are diplomatic virtues. It is like game of chess, where every country meticulously evaluates its interests before making a move. These assessments are seldom straightforward or easy.
Thus, for those seeking far-reaching change - as India's entry into the NSG is supposed to bring - quiet and persistent work, and a bit of empathy for the compulsions of others is often necessary to bring an alignment in interests. Sometimes, heads have to be knocked but that too requires quiet, determined and long-term work, not signals that can be misconstrued. The worst is when a signal hasn't been sent, yet, during the contentiousness of active and intense ongoing diplomacy, it may be so taken. This must be avoided at all costs for it only complicates matters.
There is merit in seeking to be a member of the NSG. Swaraj was right when she said it was one thing to be in the room and quite another to be outside. In its bid to be in the room, though, India has compromised on the key question of Pakistan joining the NSG, assuring that it won't stand in the way.
At what cost?
Pakistan's proliferation record is established enough for many NSG members to argue that it is ineligible to join the group. Thus on "merit" alone, Pakistan does not have much of a case. Islamabad's claim is being pushed by China and Turkey. The latter in particular would like both India and Pakistan to join simultaneously even though Islamabad has not even begun the necessary processes while New Delhi has completed them. India hopes that the US would get around Turkey but it may prove more of a stumbling block than envisaged.

Also Read: What is the Nuclear Suppliers Group and why does India want to be a member?
With China, it is now high-stakes poker. An all out and public effort is being made to persuade it. Foreign Secretary S Jaishankar just made a quiet visit to lobby the Chinese while Swaraj, risking a rebuff, made conciliatory noises about Beijing's stand vis-a-vis India and the NSG. A kind of rebuff came which adds to the current signs of China's insistence that the NSG should work out a criterion for non-NPT states that should apply to all, an obvious reference to Pakistan.
Since France joined the NPT only in 1992, years after it did the NSG, China's "criterion demand" is only meant to get Pakistan in.
In Indian diplomatic tradition, the prime minister was seldom brought into play unless there was a near certainty that his intervention would succeed. This was not only to shelter him from domestic criticism, but also because lack of success at that level inevitably vitiates a foreign relationship. This was clearly the case with Switzerland and Mexico, whose leadership would have been sounded in advance, and where Modi was successful - and deserves credit for it. This doesn't seem to be the case with China despite Jaishankar's visit. Still, in pursuit of the NSG seat, caution is being ignored and Modi is leading the diplomatic charge himself.
It's being said that this is an opportune time to push the case for an NSG seat since President Barack Obama is on board and the next US president may not be. This argument in itself raises questions about the India-US relationship, but let's leave that aside for now. Why is there such intense focus on getting the membership at this year's NSG plenary? A more relaxed view could have been taken about the timing of India joining the group. But, perhaps, for the current diplomatic establishment that would be too traditional, harking back to a time when diplomacy was considered a process, not an event.
Also Read: 18 years after Pokharan, security eludes India and dangers have become more serious