Bengaluru workers' protest exposes dark underbelly of garment industry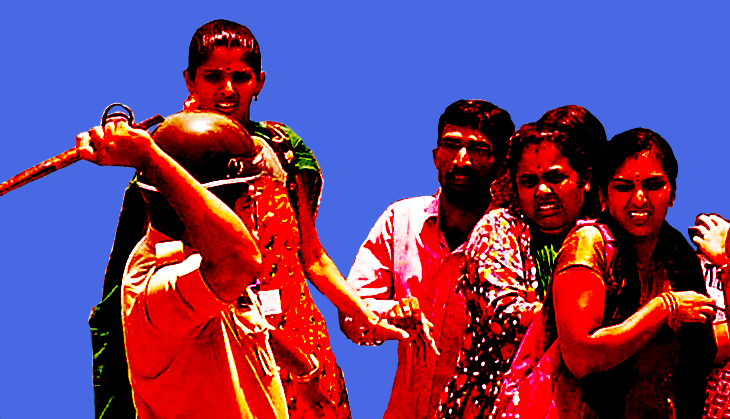 The agitation
Tens of thousands of women who work in Bengaluru\'s garment factories took to the streets for a furious agitation
They were protesting against the Central govt\'s new rules for PF, with employer\'s contribution only available post retirement
The conditions
The agitation put the spotlight on the workers\' plight - they work in sub-human conditions
In some factories, even drinking water and toilets are considered luxuries
More in the story
Bengaluru\'s garment industry, and what it contributes to the country
Why the workers were so angry about provident fund rule changes
Last week, thousands of garment workers in Bengaluru took to the streets to vent their fury about the new provident fund rules, which were to come into effect from 1 May.
The spontaneous agitation exposed the dark underbelly of an industry which practices modern-day slavery of the worst kind.
Read- Bengaluru: Garment factory workers protest Provident fund withdrawal deadline
The new rules would have denied workers the right to withdraw their savings as they wished, with the employer's contribution only becoming available upon retirement at 58 years of age.
This served as the trigger for the eruption of pent-up anger among largely women employees, who work under sub-human conditions.
Tens of thousands of women employed by the garment factories in Peenya, Bommanahalli and Hosur Road limits poured on to streets, blocking traffic and fighting pitched battles with the police for almost three days.
Heavily out-numbered, the police resorted to brutal lathi charges and bursting of tear-gas shells, even firing, as the industrial areas of the city remained gridlocked.
Taken aback by the intensity of the agitation, the Central government initially tried to postpone the implementation of the rules to August. But when the workers refused to relent, the government announced a complete withdrawal of rules by late Wednesday.
It was the second roll-back of provident fund 'reforms' by the Narendra Modi government, as an earlier decision to levy tax on PPF withdrawals had also been withdrawn after strong protests by trade unions and non-BJP political parties.
Trade union tradition
Bengaluru has seen a very vocal trade union movement in the past, having been chosen soon after independence by the Jawaharlal Nehru government to host a number of public sector industries, including HAL, HMT, BEL, ITI, BHEL and BEML. These were described by Nehru as the 'modern temples of India'.
Also read: Bengaluru: Violence mars 2nd day of factory workers protest against PF withdrawal
Like in the rest of the country, trade unions and their activities have taken a back seat in the last three decades or so. With fiery leaders like M Suryanarayana Rao, MS Krishnan and Pampapathy having passed away and the new generation not resilient enough to take on powerful managements, workers in various industries have been left to fend for themselves.
Key numbers
Garment factories made their appearance in the 1990s, amid the wave of liberalisation. Industries ruthlessly started taking advantage of the weak bargaining power of the workers, the reality of their poverty and the desperate need for jobs.
Bengaluru is one of five major garment production hubs in India, directly employing close to five lakh people in around 1,200 big, small and medium-sized factories. None of them may be well known, but they do crores of rupees worth of business by exporting stitched garments to the US, Europe and some West Asian countries.
The garment industry contributes around 17% of foreign exchange earnings and employs nearly 3.5 million people.
Karnataka accounts for about 20% of the national garment production, but it rules the roost in apparel, accounting for almost 80% of the Rs 9,500 crore readymade garment export market.
Major international brands like Gap, Levi's, Adidas, Reebok, and chains like Tesco, Walmart and Marks & Spencer source their requirements from India, which ranks second only to Bangladesh in this sector.
Where drinking water is a luxury
It is no secret that the garment industry follows some of the worst labour practices, crowding hundreds of women in sweatshops with poor ventilation and hardly any basic amenities.
A labour leader, who did not wish to be identified, says: "Most of these factories are like horror chambers. The women are made to work continuously, stitching in bent position for eight or nine hours, with hardly any breaks. If someone goes to the toilet, the male supervisor follows her and asks her to hurry up. In order to avoid such humiliation, many workers even avoid drinking water at the workplace."
Read more: Following protests, Government rolls back PF withdrawal norms; old system to continue
In fact, in many factories, drinking water and toilets are considered a 'luxury', not meant for everyone on the shop floor.
Insiders say there are no job guarantees, and women are given excessive workloads and constantly put under pressure of removal.
There are broadly two salary brackets - Rs 4,000-5,000 and Rs 8,000-Rs 10,000, but no one is allowed to complete five years of service, to avoid payment of gratuity.
Salaries in Bengaluru are said to be 25-30% lower than in Delhi or Mumbai, though the cost of living is higher, but there is no one to question the management.
Paid leave, medical benefits, transport or creche for small children have not been heard of in this industry, which, the union leaders say, works smugly under the benign patronage of the labour department officials.
PF the lifeline of the poor
As most families lead a hand-to-mouth existence, they look upon provident fund savings as an emergency fund, to be tapped when needed. There are restrictions even in the existing rules, but workers resort to desperate means to avail it.
Rajesh, who worked as a tailor at a Bommanahalli unit for four years, urgently needed money for his father's operation. He quit his job and stayed home for two months, so that he could draw both his and the employer's contribution at one go, as per rules.
Read- Govt to tax interest on EPF: what's the point of saving for retirement?
For people like Rajesh, the government's proposal to make available the employer's contribution only on retirement (after attaining 58 years of age), made little sense.
Factory owners spread the word among the workers that the new rule would be applied with immediate effect, as they foresaw a huge bounty of unclaimed funds remaining at their disposal. Panic-stricken employees struck back in the only way they knew, and the government beat a hasty retreat.
If the government really cares about the welfare of the poor people in the unorganised sector, it ought to take immediate steps to enforce decent minimum wages and humane working conditions in the garment industry.
Edited by Shreyas Sharma
More in Catch:
Target Sonia: AgustaWestland helps BJP gun for Cong in Parliament
Save the Children launches #EveryLastChild campaign on street children
This powerful dance-drama just showed us the everyday cycle of patriarchy & nationalism
Chief Justice's tears: spare some for poor litigants, your Lordship