Bengal to set up panel to rein in private hospitals, nursing homes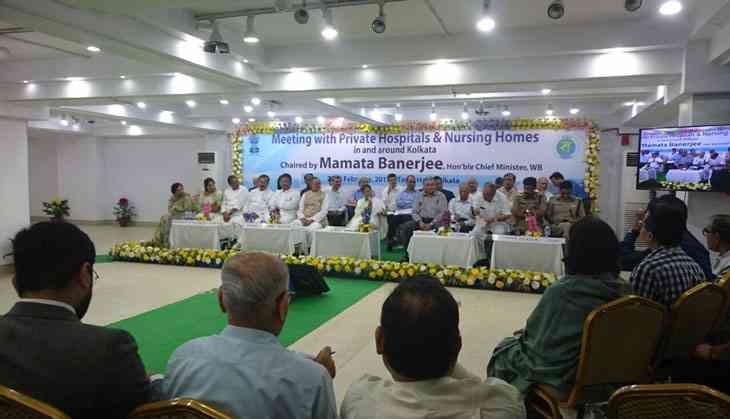 To curb "unethical moneymaking practices" by private hospitals and nursing homes and to redress complaints of medical negligence, the Mamata Banerjee government is setting up the West Bengal Health Regulatory Commission.
A legislation in this regard is set to be introduced in the assembly on 3 March.
The 10-member commission is proposed to be headed by a retired judge and will have representation from the government, the medical fraternity and the consumers. It will submit monthly reports on the functioning of private hospitals and nursing homes as well as grievances of patients to the chief minister.
Also Read: Busted: A child trafficking racket run by nursing homes & NGOs in Bengal
Based on these reports, the government will take "necessary action against the concerned hospitals, nursing homes, doctors and nurses found guilty". "If a doctor or a nurse is found involved in any illegal practice or medical negligence," a senior health official said, "the government will ask the Medical Council of India or the Indian Nursing Council to cancel their professional licences."
The commission will also ensure that cashless treatment facility is offered by all private hospitals and nursing homes; many of them have been reluctant to do so.
Further, the commission will ensure that:
Excess fees are not charged from patients by private hospitals and nursing homes.

Patients are not referred to ICCU or put on ventilator support or advised expensive treatment unnecessarily.

Case details of the patients are not denied by private hospitals and nursing homes.

Emergency patients are taken care of by private hospitals and nursing homes immediately, without insisting that fees be deposited first.

No unethical medical practice is conducted.
On Wednesday, Mamata claimed that her government has cancelled the licences of 33 private hospitals and nursing homes and sent show cause notices to 70 others for violating norms. Bengal has 2,088 registered private hospitals and nursing homes.
Also Read: Bengal BJP in hot water: CID finds connect between BJP woman leader & child trafficking racket
The action came after a survey conducted by the state government revealed that around 200 private hospitals and nursing homes had forced their doctors to sent patients to conduct tests at only designated diagnostic centres in order to earn commissions.
"It has come to our notice that although the state government gave land for setting up their establishments, private hospitals are not interested in getting empanelled for the Swasthya Sathi scheme of subsidised treatment for poor patients. This cannot be tolerated. The commission will look into such issues, too," Mamata said.
Just last week, two private hospitals in Kolkata – CMRI and Peerless – were vandalised by relatives of some patients who were agitated over the charging of "excessive fees" from them.
Mamata has since instructed private hospitals to give e-prescriptions and preserve digital records of every patient, apparently to stop the practice of repeated diagnostic tests.
Appealing the hospital authorities to be humane, Mamata asked them to hand over dead bodies to their relatives even if they cannot immediately settle their bills. "Private hospitals and nursing homes are not shops. They must be more
humane," the chief minister said.
Meanwhile, reacting to the decision to set up the commission, the CPI(M) and the Congress urged that government to devise "such a mechanism for state-run hospitals as well as cases of medical negligence are reported from those too".
"We will comment on the bill once it is placed in the assembly. But we appreciate the chief minister's initiative to meet the authorities of private hospitals and nursing homes and point out their issues," said CPM leader Sujan Chakraborty.
Also Read: To protect private hospitals from vandalism, Bengal seeks to change law