Bengal farmers on the brink: without cash, will suicides follow?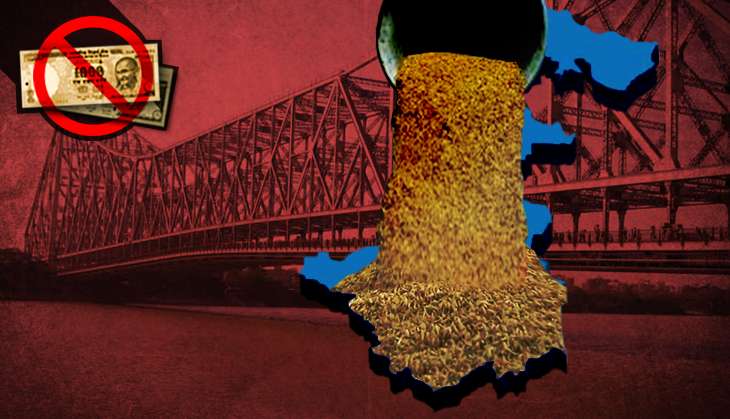 November is the time of the year when aman paddy is cultivated in West Bengal. 'Aman' refers to the crop that is sown in the monsoons and cultivated in early winter.
But the Central government's demonetisation drive has affected farmers in a major way. The move to take Rs 500 and Rs 1000 currency notes out of circulation has led to a dearth of cash, and most farmers are not getting their dues from rice mill owners, as paddy procurement has already started.
Senior state government officials say they will convene a meeting next week with the farmers associations and rice mill owners, and depending on the situation, the government is going to take necessary action.
Farmers have nowhere to go
In West Bengal this year, an estimated 1.5 crore metric tonnes of aman rice was produced, with over seven million farmers engaged in its cultivation. The state government had fixed the minimum support price for the rice at Rs 14.20 per kilogram.
But all that positivity seems to have gone down the drain since Prime Minister Narendra Modi's announcement of demonetisation last week.
Bishnu Saha, a paddy farmer from Burdwan, has had sleepless nights ever since. He sowed aman paddy on about 20 acres of land, and had been expecting a bumper production of around 800 bags of rice. But now, he is in trouble.
"I won't get the right price, and if I don't get the money within the next week, it will difficult for me to live out the rest of the month. I hope that both the state and Central governments should take steps, so that we are not deprived of our dues," he said.
Ranjan Upadhyay, a rice mill owner in Burdwan, chipped in with the other side of the story. "How can we get Rs 100 notes in huge amounts to pay the farmers? We've been queuing up at the bank since early in the morning, and are still not getting the adequate amount at one go. The Centre should've made some arrangements before announcing such a decision."
Sources in the state agriculture department said there was a chance of a higher number of farmers committing suicide, if they did not get their dues within a stipulated period.
Tapan Das, a farmer from Birbhum, concurred: "I want to ask the Modi government: who will take the responsibility if a farmer commits suicide due to dearth of money?"
According to Das, if this situation continues for long, farmers were bound to commit suicide.
District administrations have already informed the Chief Minister's Office about the complaints received from various blocks regarding the dismal position of farmers. Most of them are facing shortage of funds.
Pradip Majumder, agricultural advisor to the CMO, said the office had received complaints from various blocks, and was looking to convene a meeting with the CM next week, to chalk out strategies on how to resolve the crisis.
Agricultural tax waived off
One thing the state government has already decided on is to waive off agricultural tax for the next three days for big trucks that carry agricultural materials.
The move comes after it was found that drivers were having difficulty in paying the agricultural tax, since toll plazas on most highways were not accepting Rs 500 and Rs 1000 notes.
It's not a problem restricted to Bengal - trucks all over the country carrying essential goods and perishables are facing a huge cash shortage.
Truck driver Sasi Mahanta, who was carrying around 450 kilograms of vegetables, including brinjal and tomatoes from Noida, said: "We are facing a great difficulty in providing agricultural tax. The initiative of the West Bengal government needs to be lauded."
Chief Minister Mamata Banerjee also tweeted about the matter.
Thousands of trucks carrying vegetables & other essential products are stuck at different state borders because they cannot pay toll tax 1/3

— Mamata Banerjee (@MamataOfficial) November 14, 2016
Waiting for 3 days. To save farmers and commoners, perishable vegetables should not be allowed to spoil 2/3

— Mamata Banerjee (@MamataOfficial) November 14, 2016
Bengal government has decided not to impose any agricultural tax on movement of trucks for next 3 days 3/3

— Mamata Banerjee (@MamataOfficial) November 14, 2016
Edited by Shreyas Sharma
More in Catch
Rotting fish, wilting flowers: Demonetisation has hit Ghazipur mandi hard
After infant dies in Mumbai, Maha govt orders hospitals to accept cheques
No festive cheer on Gurupurab: Punjab farmers reel under demonetisation