Bengal child trafficking: Union official helped Juhi Chowdhury renew licence, says CID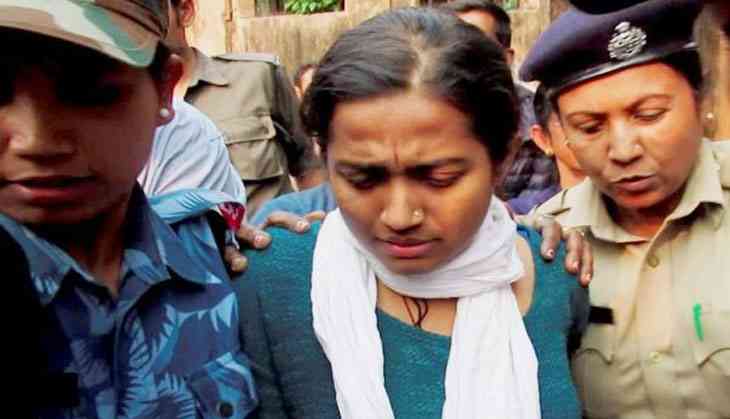 The West Bengal Criminal Investigation Department has alleged that Juhi Chowdhury, the former BJP women's wing leader who was recently arrested for running a child trafficking racket, was helped in her criminal activities by an "influential" officer of the Union finance ministry.
The unnamed official allegedly helped Chowdhury renew the licence for her "adoption centre" in Cooch Behar, "bypassing the regular process". A senior CID official said Chowdhury got a meeting with the official in Delhi through a senior BJP leader.
A CID team is travelling to Delhi next week to "access more information about the official concerned" and "find out if other officials are involved", the official said.
Also Read: Bengal child trafficking: BJP's Juhi Chowdhury arrested, others under scanner
Along with Chowdhury, the CID has held Chandana Chakraborty and several government officials in Cooch Behar and Jalpaiguri districts for their alleged involvement in the racket. Chakraborty runs an NGO, Ashray, in Jalpaiguri.
Interrogations of Chowdhury and Chakraborty has revealed that babies have been trafficked from Cooch Behar to places such as New Delhi, Mumbai and Pune, the CID official said, adding that children could have been trafficked to foreign countries as well.
The official claimed that the CID has so far found at least 17 "baby selling rackets" in Bengal, and they are working leads linking government officials from the neighbouring states of Bihar and Jharkhand to these rackets. Some politicians, including BJP general secretary Kailash Vijaywargiya and Rajya Sabha MP Roopa Ganguly, are already under the scanner of the investigators.
According to the CID official, the investigators "believe" that "senior leaders of the BJP holding prestigious posts in Delhi have helped Chowdhury and her associates spread their tentacles".
While Vijaywargiya could not be reached for comment despite repeated attempts, Roopa said, "Juhi Chowdhury is not the prime accused and I am hopeful she will come out clean." Asked about her name been mentioned, the MP said, "I don't have anything to say. I'll take legal recourse on this matter."
Also Read: Bengal BJP in hot water: CID finds connect between BJP woman leader & child trafficking racket