Beef ban: HC provides relief to beef-eaters. Trade remains destroyed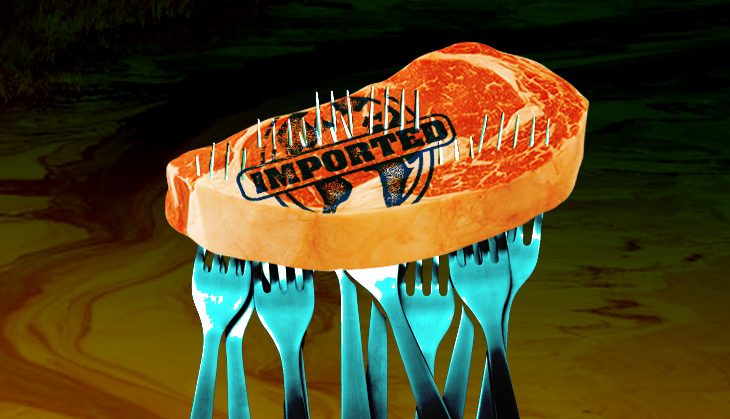 The decision
Bombay HC has lifted Maharashtra govt\'s ban on consumption & possession of beef
The ban on cow progeny slaughter remains
This provides relief to restaurants, but not to the millions dependent on beef trade
More in the story
After being deprived of their favorite delicacies for over a year, beef lovers in Maharashtra have reason to rejoice. The Bombay High Court on 6 May lifted the ban on consumption and possession of beef imported from other states. However, the High Court upheld the ban on cow progeny slaughter in Maharashtra.
Also read - Cowed down: how the beef ban is killing India's leather industry
Beef lovers will soon start getting their favourite beef dishes at various restaurants in Mumbai and other parts of the state. However, the partial relief has no meaning for millions of people who were dependent on beef trade and have been rendered jobless for over a year now. They are finding it difficult to make ends meet.
The decision
The Maharashtra Animal Preservation (Amendment) Act was enforced in February 2015 after it was approved by the President of India. According to the Act, cow progeny slaughter is prohibited in Maharashtra. Not only this, even possession and consumption of beef became a criminal offence and attracted fine of Rs 2500 and imprisonment of one year.
Terming this provision "illegal" and a "violation of fundamental rights", Mumbai-based lawyer Harish Jagtiyani had filed a Public Interest Litigation (PIL) in the Bombay High Court. Apart from Jagtiyani, Advocate Vishal Seth and student Shaina Sen and few more people had also moved the Bombay High Court challenging the ban. Jagtiyani had challenged Section 5(D) of the Act, which prohibited possession and consumption of beef in Maharashtra, even slaughtered outside the state.
Hearing the petitions, the division bench of the Bombay High Court comprising Justice Abhay Oka and Justice SC Gupte lifted the ban on possession and consumption of beef in Maharashtra. Jagtiyani contented that Section 5(D) of the Act was arbitrary and against the cosmopolitan culture of Mumbai, where people from different religions and cultures live. Many of them want to eat beef. It was the violation of their fundamental right, he argued.
No relief
The ban on cow slaughter destroyed business worth several crore rupees. This included Mumbai's beef and leather trade. Mohammed Ali Qureshi, one of the petitioners and president of Bombay Suburban Beef Traders' Association, said, "The beef trade in Maharashtra is worth Rs 30 lakh per day and hide trade is to the tune of Rs 24 crore per annum. According to our calculation, the collective turnover of beef and hide was in the range of Rs 1.5 billion per year. All this business has been finished since the government imposed the ban on cow progeny slaughter."
The raw material required by the leather industry in Chennai and Kolkata was supplied from Deonar Slaughter House in Mumbai. The daily supply was in the range of 450 to 500 hides, each costing Rs 1500. Apart from the business in Mumbai, there are millions of people who were solely dependent on animal slaughtering.
"There are over 1.5 crore people from the Qureshi community who essentially work as butchers. They cannot do anything else. Ban on cow slaughter has rendered them jobless," Qureshi said.
Though hotels and restaurants in Mumbai will recover the losses suffered over the last one year, it would be impossible for the people from Qureshi community to recover from the loss, he said.
When it imposed the ban, the state government did not have any rehabilitation plan for these people, who were solely dependent on beef trade. "Not only butchers, farmers are also suffering due to acute drought and unproductive animals. These animals have become a burden on the farmers. They can neither keep them properly nor sell them to slaughter houses. It would have provided much needed relief to them, if the ban on slaughter in state would have been lifted," Qureshi said.
However, he feels that the partial relief is also of some benefit as it might prevent cases of wrongful penalisation for possessing buffalo meat. "There have been many cases in which people carrying or possessing buffalo meat were wrongfully penalised, assuming it to be cow meat. Now at least such harassment will stop," Qureshi said.
He also said that the High Court order will be challenged in the Supreme Court.
The High Court order lifting ban on possession and consumption of beef in Maharashtra could come as blessing in disguise for many people, including farmers. A senior High Court lawyer, who did not wish to be named, said, "Now cattle smuggling from the state will rise. All the farmers in distress due to drought will sell their cattle to butchers. All these animals would be slaughtered in neighbouring states where cow slaughter is permitted and the beef will come back to Maharashtra."
More in Catch - Despite all the politics, India's share in world beef export increases
[EXCLUSIVE] Latehar hangings: Chilling confessions of gau rakshaks
Supporters of Dadri 'beef' murder use social media to wield their weapons